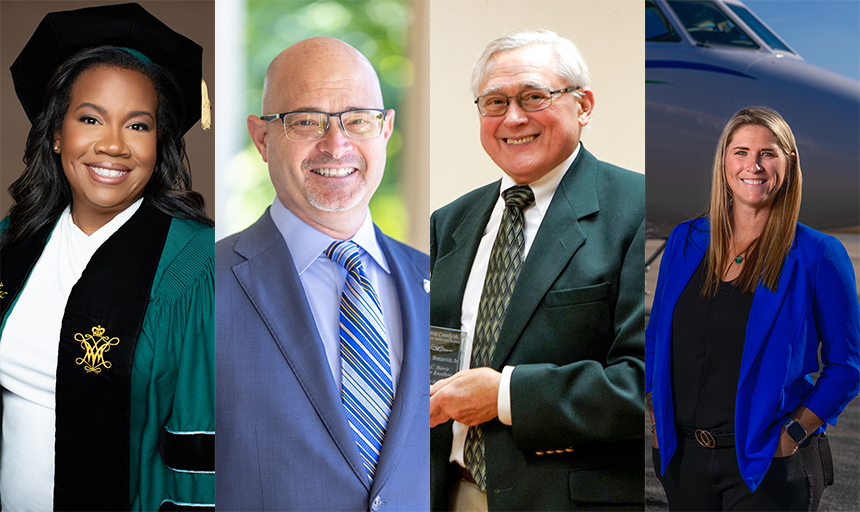 Cathie Anthony '10, Steve Esworthy '91, Bill Brenzovich '71 and Ashley Thorsen '06
Alumni News - January
William "Bill" Brenzovich Sr. '71 received the Jean C. Harris Award for Excellence from the Hanover County Community Services Board in Hanover, Virginia. Named for a founding board member, the Harris Award is given annually to recipients who are passionate about serving the community. Brenzovich has dedicated more than a decade in service to individuals with behavioral health and developmental needs. He represented the Mechanicsville District on the Hanover County Community Services Board from 2011-2019 and was just reappointed for a new three-year term. He also has represented his region on the Virginia Association of Community Service Boards since 2016, serving as vice chair and chair. "The VACSB is stronger for Bill's tenure and statewide advocacy efforts," board leadership said. "We are grateful for his generous service to better the lives of Virginia's most vulnerable residents."
Steve Esworthy '91 is the new chief advancement officer for the Pi Kappa Phi Foundation. Prior to that, he served Roanoke College for 10 years as associate director and then director of development. Esworthy also worked in various roles for Cengage Learning, including as a district sales manager and custom solutions editor. He earned a degree in political science and was an initiate of Pi Kappa Phi's Xi Chapter at Roanoke.
Ashley (Pierce) Thorsen '06 has been named a 2022 Airport Business Top 40 Under 40 by Aviation Pros magazine for her work as an operations manager at South Bend International Airport in Indiana. Thorsen received a B.A. in sociology at Roanoke, an associate's degree in air traffic and aviation management from Hampton University and a Master of Science in aerospace and aviation management from Purdue University. Prior to her current position, she was an operations officer at Raleigh-Durham International Airport.
Cathie Anthony '10 received her Doctor of Education degree in K-12 educational policy, planning and leadership from The College of William & Mary in May 2022. Her dissertation, "Virginia Local Education Homeless Education Liaisons' Approach to Student Supports During COVID-19," highlights the pandemic's impact on K-12 students experiencing homelessness between March 2020 and March 2021.
Following her dissertation, Anthony worked with Project HOPE-Virginia at William & Mary, which is Virginia's Program for the Education of Homeless Children and Youth. William & Mary administers the program for the Virginia Department of Education. Anthony helped develop an assessment and evaluation plan for Federal American Rescue Plan funds allocated to school divisions for students experiencing homelessness in the commonwealth. She also presented at the National Association on the Education of Homeless Children & Youth in San Diego on her research and evaluation efforts.
Anthony earned a degree in sociology at Roanoke, then went on to receive a Master of Social Work from Virginia Commonwealth University. In October, she finished requirements to become a licensed clinical social worker in Virginia. She is the full-time lead social worker for York County Schools in Yorktown and serves as an outpatient therapist with Touchstone Counseling Services in Richmond.
Help us stay abreast of alumni accomplishments! Share your news or news about fellow Roanoke College alumni by sending an email to rcmagazine@roanoke.edu.