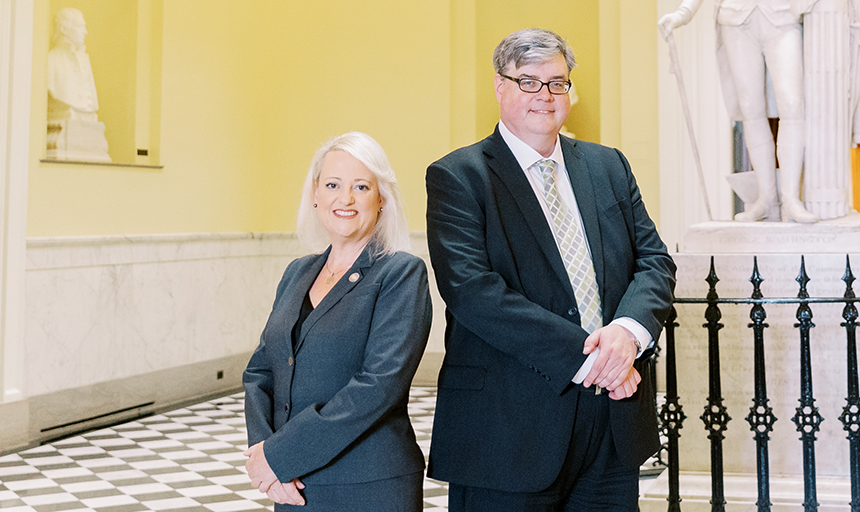 Nicole Riley and Bryan Horn stand in the Virginia State Capitol. Photo by Ashley Eagleson '20
Two Roanoke alumni appointed to Virginia state leadership positions
When Virginia's new governor, Glenn Youngkin, took office in January 2022, two Roanoke College alumni assumed new positions in the Commonwealth as well. Bryan Horn '89 is now serving as the Director of the Department of Housing and Community Development, and Nicole Riley '95 now serves as the Deputy Secretary of Commerce and Trade.
Neither envisioned themselves pursuing a career in politics when they stepped on the Roanoke campus as freshmen, but both say that skills learned at the College have proved valuable.
Horn, who grew up near the College in Glenvar area of Roanoke County, always thought he wanted a career in experimental physics. It wasn't until the summer following his sophomore year, when he completed a National Science Foundation Summer Research Fellowship at Duke University, that he had second thoughts. While he enjoyed the physics research, he concluded that, he couldn't envision it as a career for him.
While Horn continued working toward his B.S. in physics, he considered other fields. Law caught his interest, and with Dr. Harry Wilson, professor of political science, emeritus, as his pre-law advisor, Horn self-studied for the Law School Admissions Test (LSAT). He did extremely well, so he applied and was accepted to Duke University School of Law, where he earned both a J.D. in law and an L.L.M in international and comparative legal studies in 1993.
Horn spent the next 28 years practicing law in Richmond with the firm Florance Gordon Brown. He specialized in the areas of construction law, eminent domain, business disputes and litigation, experience that prepared him for his present directorship of the DHCD.
Horn, who belonged to the College Republicans at Roanoke, began volunteering for the Henrico County Republican Committee in 2015. He has served as its chair since 2017 and applied for the DHCD director position when Youngkin won the gubernatorial race in November 2021.
"I think the fact that I did 20 years as a construction lawyer and eminent domain lawyer for VDOT [helped me secure the position]," Horn said. "I know something about housing, and I took care of taxpayer dollars. Those are two things that describe our department — housing and grant management."
Horn's day-to-day work involves managing all the department operations, supporting the governor and helping to implement his policies.
"It's like running any other business," he said. "Problems come up that you need to solve. I always look at problems as opportunities, and I try to solve them in ways that enable us to learn from them or improve something."
Even though Horn now finds himself far from his early vision of a career in physics, he values his major. "Physics prepares you for problem solving," he said. He especially appreciates Roanoke's liberal arts philosophy. "Roanoke College gave me the breadth of experience to know what the bigger picture is. And the bigger picture is what helps."
Horn's favorite campus memory is meeting his wife, Vivian Wilmouth Horn '89, whom he married in Antrim Chapel in 1993. The couple has two children.
"Roanoke College gave me the breadth of experience to know what the bigger picture is."
Bryan Horn '89
Riley earned a B.A. in political science and a certification in secondary education from Roanoke. Her goal was to teach secondary-level social studies, but, following graduation, she found there were few job openings in her preferred subject area. After teaching Latin for a while, she reconsidered her career.
Riley had always enjoyed politics and current events, and she decided to test the political waters by seeking out a volunteer internship for her summer break. "I was able to go to an event where most of the local elected officials were attending," Riley said. "And I hit them all up for internships!"
To her surprise, Virginia Del. Steve Landes offered her a full-time job as a legislative aide instead. She accepted and worked for him for more than four years. She eventually moved to Richmond and worked briefly in the attorney general's office before making a move to the private sector as a contract lobbyist.
One of her clients was the National Federation of Independent Business, a trade organization that represents the interests of small business owners. She soon accepted the role of NFIB's Virginia state director, a position she held for 11 years.
"I could really focus my efforts on public policy that impacted small businesses," said Riley, whose work included advocacy, lobbying, policy and communicating with the press. She has a "real affinity" for small business because her father is a retired small business owner and her uncles run small businesses, too.
Riley met gubernatorial candidate Youngkin through the NFIB at a time when she was ready to shift to the administrative side of her field. Initially appointed Deputy Secretary of Labor, Riley soon transferred offices and accepted a new role as Deputy Secretary of Commerce and Trade. There, she will support the governor's job creation efforts and work with nine major agencies, among them the Department of Labor and Industry, the Virginia Employment Commission and the Department of Housing and Community Development, where she will work alongside Horn.
"Roanoke has always been great about providing opportunities for students to learn and make connections outside the classroom."
Nicole Riley '95
Much of Riley's job revolves around meeting with agency staff and others who have interests in some of the issues her office is working on. She was very busy during her first General Assembly session. "Those days can be long," she said. "You're trying to have meetings, catch legislators on different issues, be prepared to testify in committees, those kinds of things."
Riley credits Roanoke with giving her "a really good broad base in regard to political science and different pieces and parts of it." Like Horn, she had Dr. Harry Wilson as her advisor, and she also worked closely with Dr. William Hill, Henry H. and Trudye Fowler Professor of Public Affairs, Emeritus.
"Roanoke has always been great about providing opportunities for students to learn and make connections outside the classroom," she said. She helped Wilson with community polling and volunteered for a local political candidate's campaign.
Riley said that her position as a resident advisor taught her leadership skills and how to work with people. "Those all certainly came in handy later in my career … how you work with stakeholders, and how you try to include people, hear people out on their concerns, ask the right questions. A lot of those things certainly came out of my time at Roanoke."
Riley shares her Richmond home with her niece and 1-year-old great-niece.