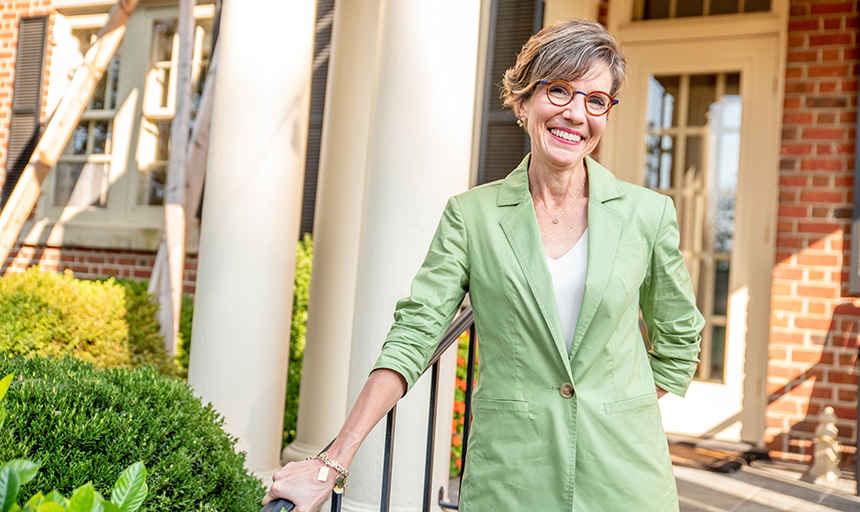 The Rev. Kelly Shushok outside the President's House in Salem.
From the magazine: Side by side
As her husband settles into the Roanoke College presidency, the Rev. Kelly Shushok is ready to put her own strengths to work for their new community.

In small-town Texas, it was nearly impossible to miss the arrival of a new boy from Dallas at McKinney High School. It was even more difficult for 15-year-old Kelly Whisenant because the preppy new kid, Frank Shushok Jr., was assigned the locker right next to hers.
He clearly made a good impression, because Frank and Kelly Shushok have been side by side ever since. They've been married for 31 years, raised three children (Brayden, 23, Christian, 20, and Ivy Anne, 18) and supported each other's careers, but their professional pursuits have never fully converged – until now.
When Frank was offered the presidency at Roanoke College, his partner – who insists on being called "Kelly" instead of "first lady" – knew it would be a whole-family, bet-the-farm kind of decision. And after the family voted unanimously in favor, Kelly knew she wanted her background in education and ministry to play a role in her husband's mission to strengthen the College, support every student, and lead the community with creativity and enthusiasm.
"We've long lived parallel lives, but we've always wondered what it would be like to have the same focus," Kelly said. "It's beautiful to say, 'You love this thing, so I'm going to love it, too.' But it's a whole other level to say, 'We're going to love this thing together, and we're going to see where it takes us together.'"
From a young age (first grade, to be exact), Kelly knew she wanted to teach. She earned a degree in elementary education from Baylor University and a master's in education from Northern Arizona University, then taught elementary school for 12 years.
The call to ministry caught her by surprise, popping into her thoughts unbidden one day at a teaching conference. For a woman who grew up Southern Baptist, the idea of going to seminary felt "as foreign as if I had had the thought, 'I think I should be a belly dancer,'" she said. She found encouragement from her husband and her beloved paternal grandmother, whom she and her sister called "Mommu."
"I began following this pathway into ministry at a time when it wasn't very open to women, and when lots of people had lots of opinions and advice about that," Kelly said. "Mommu is the one who said 'Well, we say that God can do anything.' She leaned into what she knew to be truest and didn't worry about the rest of it. Everybody should have a cheerleader like that."
Kelly Shushok drives nails alongside students at R House Day in July.
"This developmental space is among the most sacred spaces that exist in life, and that's why Frank and I are so excited to do this together, because I'm not sure there's another moment in life that holds as much imagination and possibility as this one does."
~ Rev. Kelly Shushok
By the time Kelly graduated from Baptist Theological Seminary at Richmond in 2013, she'd already transitioned to the United Methodist tradition and become pastor at edges, a progressive congregation of Blacksburg Methodist Church. At edges, everyone was invited to join conversations about God, even those who did not necessarily believe. "If it can't be for everyone, I don't believe it speaks for God, and so that was the bottom line," Kelly said.
Under her leadership, the edges congregation grew exponentially, but after almost a decade at edges and 20 years in church ministry, she began to crave a change. She and Frank had always wanted a small farm, so they bought 42 acres in the Catawba Valley and "a closet full of overalls," she said. That's when the Roanoke College opportunity came along, and that felt "real, sacred and a lot of fun." For now, the farm has become a weekend getaway and a future place to board Ivy Anne's horse, Dagwood, while the Shushoks focus intently on shepherding Roanoke into the next era.
Kelly Shushok snaps a photo of her husband, President Frank Shushok Jr., with Cooper Neeble '23 during the Family Weekend research showcase in Fintel Library.
For both Kelly and Frank Shushok, learning is like breathing. At any given time, they have at least a dozen books scattered across their bed, and they are both avid podcast listeners (her favorite is "On Being" with Krista Tippett; his is "The Daily"). As a result, they see college as a critical phase in many young people's lives.
"For many students, it is the first time they ask themselves, 'What are my own thoughts?' 'What are my own values and principles?'" Kelly said. "This developmental space is among the most sacred spaces that exist in life, and that's why Frank and I are so excited to do this together, because I'm not sure there's another moment in life that holds as much imagination and possibility as this one does.
"I think our job is simply to partner with students as they claim who they are deep in their bones, and our job is to bring that to the surface in a way that they can become themselves with courage, hope and promise, and without too much fear as they do and believe new things."
When she looks around Roanoke College, Kelly sees a strong community of people who are capable of helping students succeed on those journeys. She also sees history and tradition alongside so much future potential, and she believes that mixing those juxtaposed qualities is a recipe for excellence in all walks of life.
"I think it's so important to understand the story that we've come into and to hold that with great care," she said, "and at the same time, in order to go forward, we have to find new language and new ways of being. I think that's the role of the church, that's the role of the academy, and I think that's the role in every family. I think that is what love looks like."
Kelly Shushok showers a pooch during the pop-up dog park on Aug. 26 at Alumni Field.