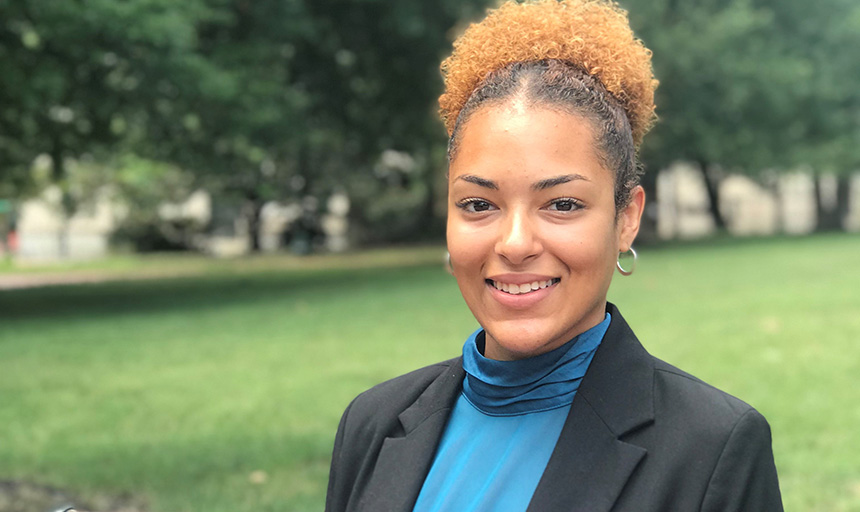 De La Cruz heading to Belgium as a Gilman Scholar
Michelle De La Cruz '20 has been named a Benjamin A. Gilman Scholar. De La Cruz, a criminal justice major with a concentration in legal studies, is the 12th Roanoke student to receive a Gilman Scholarship.
De La Cruz is from Rockingham, Va. She will study at Vesalius College in Brussels, Belgium in the fall semester and will focus on law and criminal justice courses.
The U.S. Department of State's Benjamin A. Gilman International Scholarship enables students to study or intern abroad, thereby gaining skills critical to our national security and economic prosperity. It is a congressionally funded program of the Bureau of Educational and Cultural Affairs at the U.S. Department of State and named after the late congressman Benjamin A. Gilman from New York.
This summer, De La Cruz is a 2019 Governor's Fellow, working in the Secretariat of Agriculture and Forestry in Richmond. She is the second youngest in her fellowship class and the first and only Roanoke College student to participate.
"I've had some incredible opportunities to learn about two of Virginia's largest private sector industries," she said. "I've participated in helping the Northam administration tackle food insecurity, strengthen urban agriculture, and support rural economic development and preserve farmland. Some of the highlights included interacting with numerous Secretariat officials, witnessing the intense dynamics surrounding the Special Session on July 9, and planting over 20 million oyster larvae."
Last year, De La Cruz interned in the Department of Justice Programs and Events office in Washington, D.C., where she helped to plan, organize and host two major events, the Attorney General's 66th Annual Awards Ceremony and the 36th Annual Justice Management Division Ceremony. Attendees at these events included then Deputy Attorney General Rod Rosenstein, Principal Deputy Associate Attorney General Jesse Panuccio, and Lee Lofthus, Assistant Attorney General, Justice Management Division.
De La Cruz said the internship provided great experience.
"I learned wonderful life-lessons and skills," she said. "I learned policy and policymaking at the federal level; how to converse with senior leadership in a professional setting, how to live and work independently in a demanding and highly competitive workspace, how to deal with last minute changes and deadlines, and how different agencies and departments at the federal level collaborate and affect state politics."
"I hope to compare and contrast the criminal justice system present in Belgium versus that which is present in the United States. I want to learn about how crime and violence, race and racial disparity, and how laws are supported, implemented, and dealt with in Belgium. "
Michelle De La Cruz '20
She was in Washington -- specifically the Department of Justice – at a critical time. While working there, then U.S. Attorney General Jeff Sessions resigned.
"I learned the delicacy and intensity within which the federal government operates," she said.
De La Cruz also worked closely with Glenn Kivlen '01, assistant director of the DOJ Programs and Events office. "Glenn Kivlen is a great mentor who taught me how to plan for my future after college," she said, "and gave me great advice on what my short-term career goals should look like. "
A Gilman Scholarship enables American students to gain proficiency in diverse languages and cultures, skills that are critically important to their academic and career development. De La Cruz will be fully immersed in the French culture while abroad and will participate in a home-stay with French-speaking host parents. She said she hopes to enhance her French, to compare and contrast the Belgian and United States criminal justice systems, and to learn how laws are supported and implemented in Belgium. She said she also wants to gain Europeans' perspective of Americans and the current presidential administration.
"I want to see what kinds of issues Belgium is combating," she said. "Are they any different from some of the issues we're having in America such as gun violence, police brutality, and the rising cost of higher education."
For more about major scholarships and fellowship opportunities, visit this page.