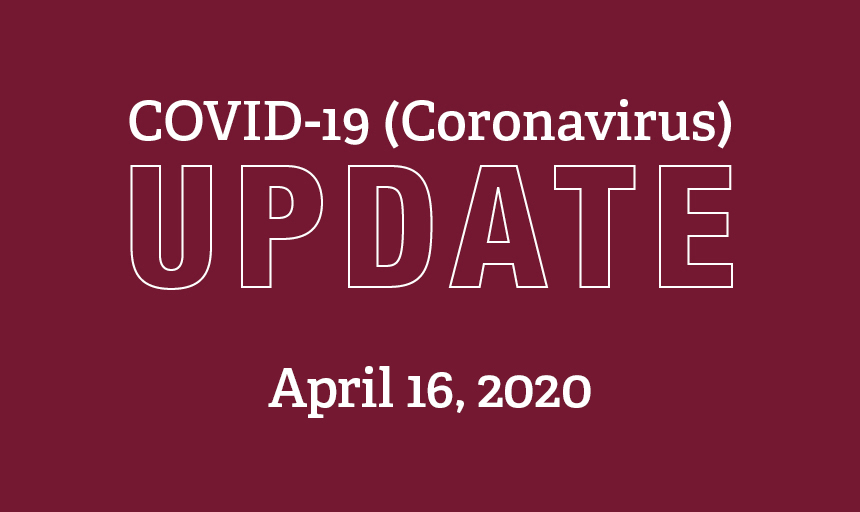 COVID-19 Update: Timely Warning - Student tests positive
Dear Roanoke College Community,
Today, Roanoke College confirmed that a student has tested positive for the novel coronavirus (COVID-19). Student Health and Counseling Services is in contact with the student for assistance and support.
The student lives off-campus in the City of Salem. The student is isolated at the off-campus residence and has not been on campus since the last day of face-to-face classes five weeks ago (March 13). The student is currently asymptomatic and the virus was likely contracted after leaving campus five weeks ago. Student Health Services is conducting appropriate follow up with the student.
Roanoke College has prepared for this moment. Our Incident Command Team is working through our pre-planned response measures and will provide ongoing support for anyone in our community diagnosed with COVID-19. This timely warning to the Roanoke College community is issued to comply with the federal Jeanne Clery Disclosure of Campus Security Policy and Campus Crime Statistics Act (Clery Act). Per health care privacy guidelines, the College has a responsibility to protect the student's identity. We are working to protect this student's privacy while also keeping you informed.
If you have questions or concerns, we ask that you call the local Virginia Department of Health office at (540) 857-6473 or our Health Services office at (540) 375-2286 or healthservices@roanoke.edu. Even if you are not on campus and you test positive for the virus, we ask that you call Health Services to confidentially report your test result so we can keep the campus community informed and as safe as possible. Individual student health information is always kept confidential.
The College continues to urge members of the campus community to take preventative measures regardless of where you are located. Please stay at home as much as possible and maintain six feet of social distance when in contact with others. It has been proven that taking these precautions greatly slows the spread of the virus and protects the community at large. The CDC is recommending cloth face masks be worn in situations when social distancing may be difficult (for example, public spaces such as grocery stores).
We know this news may lead to heightened feelings of anxiety for us all. Though we're not physically together, we can help by supporting one another in the campus community.
It is important to take actions not only to protect your physical health but also your mental health. Please reach out to Student Health and Counseling Services at (540) 375-2286 if you are having difficulty with the current situation. They are here for you regardless of where you are now.
We will continue to keep you updated on our COVID-19 page, and will send out updates via email. We have a page dedicated to frequently asked questions, and have included a few virus-related questions and answers below.
What are the symptoms of COVID-19?
Symptoms include a fever, a dry cough and shortness of breath, and often appear within two to 14 days after a person has contracted the virus.
What should I do if I experience these symptoms or if I believe I have the virus?
Do not go to your health care provider in person without calling first. If you are still on campus or living locally, you can call Health Services, and we can connect you with the Virginia Department of Health. If you do consult your health care provider, please inform us at the College by calling Health Services.
What should I do if I test positive for the virus?
Please inform Health Services as quickly as possible so we can keep others at the College informed and aware.
Where can I direct specific questions?
You can email us at questions@roanoke.edu for queries not addressed here or on the COVID-19 Frequently Asked Questions.
For questions about COVID-19 itself, we recommend reading the Centers for Disease Control webpage and the Virginia Department of Health website. We have a longer list of resources at roanoke.edu/covid19.
Mr. Tom Rambo
Associate Dean of Student Affairs and Director of Campus Safety