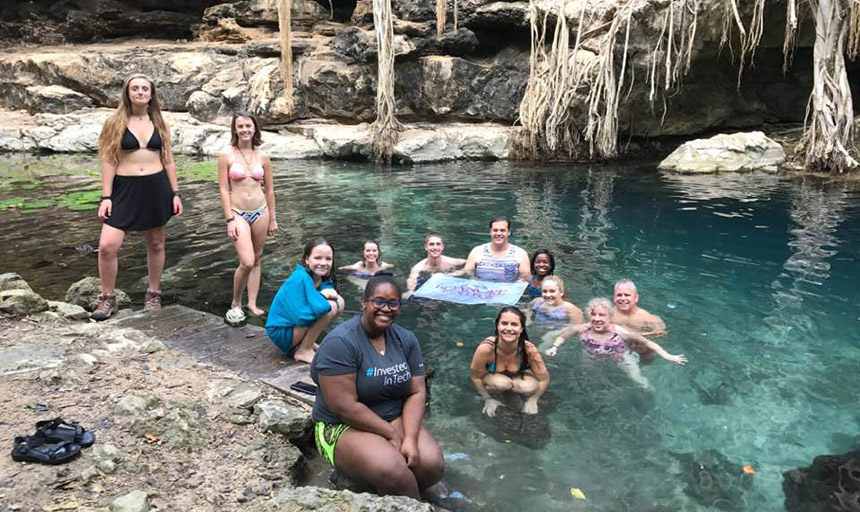 Apply to spend the spring semester in the Yucatan!
Immerse yourself in Mayan communities and learn of their ancient culture. Eat life-changing food in the most vibrant of Mexican cities. Study in the lush, tropical forests that make up the grounds of a biocultural reserve.
The Yucatan Program at Roanoke College offers students a unique, semester-long study abroad opportunity in the Yucatan region of Mexico.
In addition to enrollment in four standard-credit courses, students will experience life across the region through a number of excursions to different communities around the peninsula. The program is open to all majors and there is no language prerequisite required.
Students will spend most of the semester living with homestay families in Merida, the Yucatan's capital city, and in shared small dormitories at a research center in the Mayan town of Oxkutzcab. Accommodations for excursions are included in the cost.
"It has definitely been the most memorable experience of not only my RC career, but my life," says Catriona Brunnemann '20, who participated in the Yucatan semester in 2018. "I met so many incredible people and experienced so many fantastic things, like climbing pyramids, zip lining, snorkeling and learning how to cook local food."
The program costs $1,600 on top of Roanoke College tuition and room and board. The deadline to apply is October 1st. You can apply here. Email Carmen Boggs-Parker or Dr. Pamela Serota Cote with questions.