English and Communication Studies Department
Majors and Minors
The English and Communication Studies department at Roanoke College offers majors and minors in:
Get Experience through Clubs and Student Publications
Majors in English-Literary Studies, Communication Studies and Creative Writing and any other students interested in building a portfolio of published work should investigate opportunities such as:
Outstanding Faculty
Roanoke's English and Communication Studies faculty are dedicated teachers who encourage and welcome close student interaction. Most are practitioners in their fields. As literary and communication scholars and professionals, and as creative writers, the English and Communication Studies faculty models excellent critical ability and writing mastery. Professors work closely with individual students to help them achieve the learning and skills they will need in the careers they choose. Department includes three winners of a Fulbright grant and a Fulbright Ambassador. A complete list of the faculty and professors can be found here.
Hear From Visiting Writers and Scholars
The English and Communication Studies Department hosts many visiting writers and scholars every year. Recent guests include DJ, Ralph, and Emily Savarese, authors of the book Reasonable People, poet Bob Hicok, former U.S. Poet Laureat Ted Kooser and writer Tim O'Brien. A complete list of recent visiting writers can be found here.
Literary studies majors present at national conference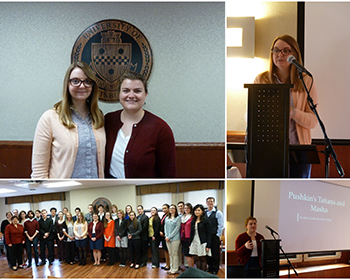 Literary Study majors Emily Gould '15 and Anna Merz-McConnell '15 were selected to present their research at the 2015 Europe: East and West Undergraduate Symposium at the University of Pittsburgh. Gould's piece was titled "Pushkin's Tatiana and Masha," and was an examination of women in Pushkin's prose. Merz-McConnell's paper, titled "Dickens and Dostoevsky Discuss Fathers," focused on father-types in Dickens' "Bleak House" and Dostoevsky's "Crime and Punishment." Both traveled with Dr. Martha Kuchar, chair of the English department, and presented as part of the conference's Humanities section, which is one of the most competitive portions of the program.