The Summer Scholar Program at Roanoke College is a grant program that enables qualified students to conduct intensive, independent research for eight to twelve weeks during the summer. Each summer scholar works with a faculty mentor who guides the project. Over the course of the summer, students and mentors meet for a series of colloquia to share ideas. At the conclusion of the program, a day is set aside to showcase the work of the student scholars. Learn more about the program.
Current Summer Scholars Projects:

2013
Mr. Andrew B. Miles, working with Dr. Ned Wisnefske on "Can the Prisoner's Dilemma Solve the Problem of Enforcement in Social Contract Theory?"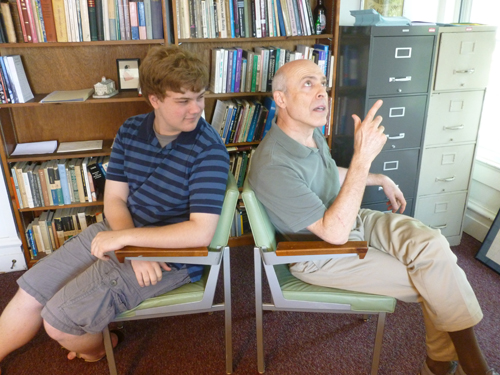 The social contract is a philosophical theory designed to ground morality and legitimate government. Even people who do not believe in altruistic morality can agree to it because it benefits not only society as a whole, but also each person individually. However, this contract must be enforced in order to encourage people to continually cooperate. However, what happens when a situation is not enforceable? This project will look at Social Contract Theory through the lens of a Prisoner's Dilemma, a game where each person can cooperate or defect, in order to study Social Contract Theory's responses to non-enforceable situations.
Andrew Miles is a sophomore from Richmond Virginia. He is majoring in Philosophy with a minor in Creative Writing. On campus he is the captain of the Ethics Bowl team and participates in the Fight Club Poetry readings. He works as a tutor for the Writing Center and as a Research Assistant. After college Andrew plans to attend graduate school and hopes to become a Philosophy Professor after getting a PHD. His main interest is in Ethics and Political philosophy. He also has a pet named Walter who may, in fact, be the cutest dog in the world.
Ned Wisnefske is the Schumann Professor of Lutheran Theology in the Department of Religion and Philosophy at Roanoke College. His most recent book, God Hides, argues that common morality is the best avenue into Christian thought. His most recent project, "The Fate of the Universe and the Faith of Christians," examines the effect contemporary understandings of cosmology should have on Christian understanding. He has taught at Roanoke College since 1985.
Past Summer Scholars Projects:

2012
Mr. Tim Smith, working with Dr. Paul Hinlicky on "Filoque as Key to East-West Division and its Reconciliation"
One of the most painful and embarrassing events in the history of Christianity was the division in 1054 between the Eastern and Western churches. One of its main causes was disagreement over the filioque. This Latin word appears in the Roman Catholic and Protestant versions of the Nicene Creed, but not in the Creed of the Eastern Orthodox Church. This single word has been a major theological point of contention between the East and the West since 1054 and continues to be a theological barrier today. This project will focus upon the theological differences the filioque has caused between East and West and propose a solution that could facilitate ongoing ecumenical dialogues.

Tim Smith is a senior at Roanoke College. He is a Religion major and plans to return for another two semesters to pick up a Philosophy minor and complete a Concentration in the Classics and Mediterranean World. He is also a member of Roanoke College's Track and Field and Cross Country Teams, which he serves as a captain. Tim finished 38th at the NCAA DIII National Cross Country Championship in the fall of 2011 and was named an Academic All-American by the United States Track and Field and Cross Country Coaches' Association. He enjoys running, studying theology, and hopes to continue studying theology at the graduate level.
The Rev. Paul R. Hinlicky, Ph.D., is the Tise Professor of Lutheran Studies at Roanoke College, where previously he had held the Jordan-Trexler Professorship of Religion and Philosophy. He began teaching part-time for Web-based seminary, the Institute of Lutheran theology (ilt.org) in its MDiv graduate program in 2010. Ordained a Lutheran minister in 1978 in a predecessor body of the Evangelical Lutheran Church in America, he has been the pastor of the New River Parish, Blacksburg, Virginia, in partnership with his wife Ellen (2003-2008), and previously assistant to the pastor at St Mark Lutheran Church, Roanoke, Virginia and interim pastor at Christ Lutheran Church, Roanoke. He was Visiting Professor of Systematic Theology at the Protestant Theological Faculty of Comenius University in Bratislava, Slovakia, from 1993-9, where he earned the title "Docent" in 1999 on the basis of the successful defense of his habilitation work, "Buducnost Cirkvi: Co by pre nas mal znamenat lutheransky-katolicky dialog?" ("A Future for the Church: What the Lutheran - Catholic Dialogue Should Mean For Us"). He holds the B.A. from Concordia Senior College, Fort Wayne, IN; the M.Div. from Christ Seminary-Seminex, St. Louis, MO; the Ph.D. (1983) from Union Theological Seminary, New York, NY. He has published numerous academic articles and book reviews and chapter length contributions to books, as well as many popular and occasional pieces.
Mr. Jonathan Thumas, working with Dr. Marwood Larson-Harris on "Mountain Religion and Ecology: Finding a New Perspective on Modern Shugendo Practice"
This study will observe and interpret the modern rituals and community lives of practitioners from the Japanese religious tradition, Shugendō. Text analysis as well as interviews of devotees and scholars will be combined with fieldwork consisting of travel to sacred areas in Japan in order to observe and develop a deeper understanding of Shugendō on its own terms. The overall purpose will be to find a new perspective on Shugendō by looking at how ecological awareness and activism have worked their way into the religion and also at the community relationships between laypeople and clergy.
Jonathan Thumas was born in Louisville, Kentucky and currently lives in Roanoke, Virginia. He is a junior at Roanoke College, and will be graduating May of 2013 with a major in Religious Studies and a concentration in Anthropology. East Asian religion is his primary area of interest within his major, with the Japanese Shugendō tradition being that which he will devote his Summer Scholar research project to studying further in depth. In addition to his studies and developing work in Shugendō, Jonathan applies some of his knowledge in Asian religions, notably of Buddhism, as president of the "Group Meditation" student organization on campus. In between semesters and during breaks he can often be found hiking around the various mountain trails spread throughout the Roanoke area.
Dr. Marwood Larson-Harris received his BA in History from Reed College and his MA (English), MTS (Theology), and PhD (Religion) from Boston University. He teaches Asian Religions, Native American Religions, and Environmental Studies in the Humanities at Roanoke College. His research interests include Buddhist visual culture and Buddhist film as well as religion and the environment.
2011
Heather Repass, working with Dr. Gerry McDermott on "Freedom or Bondage: Jonathan Edwards and Martin Luther on the Problem of Will"
2010
Cody Sexton, working with Dr. Monica Vilhauer on "Plato on Happiness, Freedom, and Individuality: A Corrective to Modern Views"
2009
Laura Jennings, working with Dr. Monica Vilhauer on "Identity Politics and Maternity Leave"
2004
Adam Hankins, working with Dr. Hans Zorn on "Complexity, Simplicity, Goodness and Knowledge in Ontological Equivocity"
Maria Kulp, working with Dr. Brent Adkins on "Tomas, Tereza, and the Body-subject: Resolving Bodily Tension in "The Unbearable Lightness of Being"
2003
James Willis, III, working with Dr. Paul Hinlicky on "Dietrich Bonhoeffer: German Pastor, Theologian, and Martyr"