Roanoke College celebrates 2023 retiring faculty
May 25, 2023
As Roanoke College bid farewell to the Class of 2023 this month, it also celebrated the six retiring faculty members who have dedicated a combined 206 years of service to the College and its students.
Generations of Maroons have passed through these faculty members' classrooms, art studios, exercise spaces and music practice rooms over the decades, and because of these caring teachers, they have gone on to make a difference in their own communities.
The entire college community would like to thank these professors for their devotion to the school and their profession. We wish them retirements replete with joy, peace and good health.
---
Elizabeth Heil, associate professor of fine arts, emerita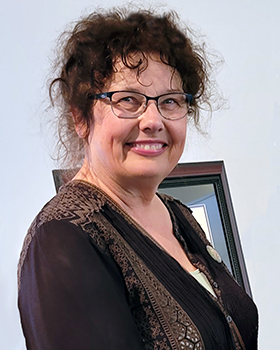 Elizabeth "Eliz" Koesters Heil (artist name Eliz S.-K Heil) joined the Fine Arts Department at Roanoke College in 1981, dedicating 42 years to the College before her retirement this year.
Heil studied photography and film at Southern Illinois University, then went on to study printmaking at the University of Louisville before earning an MFA in drawing and printmaking at Northern Illinois University. Before embarking on her teaching career, she did stints as a coroner's photographer, a photo lab technician and an insurance photographer.
Heil was an early adopter of new technologies, from campaigning for the first mainframe computer at Roanoke in the early 80s to being a pioneer in 3D printing in the 2000s. She set up the first computer graphic studio at Roanoke, pursued state-of-the-art software for photographers and designers in the art program, and was the first artist in the Roanoke area to use performance and video art. She even held Homeland Security clearance for the use of night-vision goggles, which led to innovations in photography and graphics as the field moved from analog to digital methods.
At Roanoke, Heil taught classes in photography, printmaking, design, computer graphics, senior seminar, painting and drawing, and more. Her students have presented their artwork and research at regional conferences and in the galleries of Olin Hall.
Heil's own work, which explores themes such as social interactions, the use of plastics, and women's companionship, have been on display in more than 100 shows and exhibits around the world, including The Art Institute of Chicago and the Cincinnati Museum of Art. In addition, she has brought many renowned artists to Roanoke College as speakers.
In a retirement resolution for Heil, her colleagues wrote, "Olin will miss Eliz's dedication to her students, her ever-presence in the studios, and her willingness, always being involved in everything with everyone!"
---
Jane Long, professor of fine arts, emerita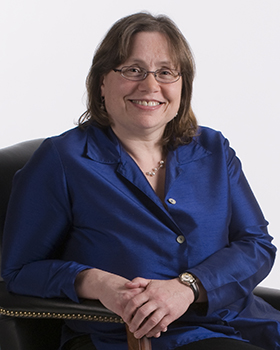 Fine Arts Professor Jane Long, who created Roanoke College's first art history program, retired after 27 years of service to the campus.
Long, who earned her doctorate degree from Columbia University, came to Roanoke in 1996 to teach art history after leading classes at Savannah College of Art and Design, Mary Washington and John Carroll University. Her passion for her work, including an impressive history of scholarship on the Italian Renaissance, made her an enduring presence at Olin Hall.
"Jane has served as a model teacher, always pushing to shape and hone her already excellent courses, a mentor for students and colleagues, and an energetic, creative, compassionate, and leading educator," her peers wrote in a resolution celebrating her contributions to the College.
"Olin Hall will not be the same without hearing the clear, inspirational, and dynamic lectures echoing through the hallway (always a topic you wished you were in the classroom to absorb)."
Long founded Roanoke's art history program in 2005 and rose to become the Joanne Leonhardt Cassullo Professor of Art History in honor of her achievements as a teacher and a scholar. She shared her expertise beyond campus with numerous conference presentations on topics spanning from Botticelli's "The Birth of Venus" to comical representations of dogs; papers published in Renaissance Quarterly, academic collections and more; and book reviews and translations for the Sixteenth Century Journal, which she served as book review editor.
Her scholarship was recognized on a national scale with honors that included a U.S. Department of Education grant, Undergraduate International Studies and Foreign Language program participation, and a CIC Seminar on "Teaching European Art: Dutch Art, Patrons, and Markets" for the High Museum of Art in Atlanta.
She is a past Fulbright Fellow, and in 2012 was one of 25 scholars chosen to study at the National Endowment for the Humanities Summer Institute in Florence, Italy. Long returned to Florence many times throughout her career, including leading May Term courses there for her students, harnessing the unique energy and inspiration offered by studying the works of the masters in person.
Long also devoted her time to the College outside of the classroom, serving on numerous committees, including chairing the curriculum committee and multiple departmental review committees.
---
Charlene Kalinoski, professor of Spanish, emerita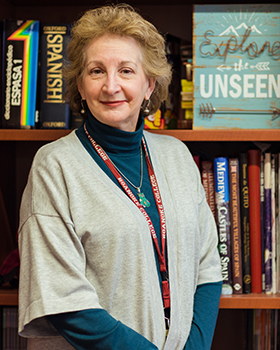 Professor Charlene Kalinoski has served Roanoke College's students, faculty and community in a variety of ways since she arrived in 1988. Her faculty service includes leadership roles over the years as faculty moderator, faculty meeting parliamentarian, chair of the SACS compliance committee, chair of the faculty personnel committee and many other similar positions. She chaired the Modern Languages Department for six years, showing strong leadership and skillfully supporting all seven languages taught in the department.
Kalinoski specializes in 18th and 19th century Spanish literature. She earned her B.A. from the College of William and Mary and her M.A. and Ph.D. from the University of Pennsylvania. She received a Fulbright Scholarship to Portugal and is a member of Phi Beta Kappa. She was involved in the Phi Beta Kappa club for many years and helped Roanoke College go through the process of earning the right to shelter a PBK chapter. She has been a strong advocate for general education and has given conference presentations to share her knowledge on a regional, national and international scale.
Kalinoski helped students experience international travel by leading 15 May intensive learning courses to Spain, Mexico, Costa Rica, Peru and Chile. She hiked the Camino de Santiago (and nursed student blisters), stayed in small villages and big cities, rafted rivers and once rescued a student floating down the river!
Kalinoski was known for her love of students and for shepherding generations of language majors and minors, always encouraging them to achieve at the highest level with her cheerful presence, institutional knowledge and infectious laugh. Professionally, Kalinoski has been a longtime supporter of the Sister Cities program, serving as director of the Florianopolis, Brazil committee and visiting that city on behalf of the group. She also served on the board of directors of the Foreign Language Association of Virginia.
---
Cynthia Edmunds, lecturer, health and human performance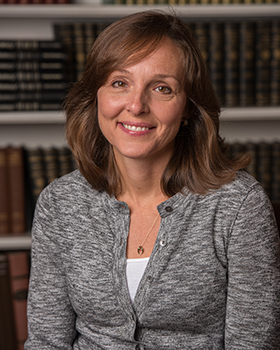 Cynthia Edmunds has been a part of the Health and Human Performance Department since 1997. She has been a compassionate and stable presence to both the students and the faculty for the 26 years she has been at Roanoke College.
Edmunds came to Roanoke College to teach Fitness for Life, including cardiokickboxing, aerobics and water aerobics. In 2000, she was appointed a teaching associate (now lecturer), and she has served in this role for 23 years.
For more than 20 years, she was dedicated to hands-on health and wellness through one of the College's largest general education programs (Fitness for Life and Lifetime Wellness classes.) Thousands of students have experienced this course.
In Health and Exercise Science, she helped create the first 200-level lab in exercise physiology. Students widely reported her influence as being "amazing" and completing the lab course under her leadership was often the pinnacle achievement for students in the major.
Edmunds formalized the credentialing opportunities for students in HHP with the most prestigious professional organizations in the field. She also facilitated 23 independent study experiences over the last 10 years.
Edmunds earned a B.S. in exercise science and an M.S. in education with a specialization in rehabilitative exercise and adult fitness from Virginia Tech. Her early career included work as a group exercise instructor, fitness program coordinator, EKG technician and cardiac rehabilitation intern. She also served as a director of exercise development for the Roanoke Athletic Club (now Carilion Wellness) and as an adjunct faculty member at Hollins University, and she owned and operated her own fitness company, Life Fit.
The faculty resolution about Edmunds said she is a true believer in the value of wellness and physical activity, and she practices what she preaches. She is an active and daily exerciser, and the resolution reads, "to this day, as she leads group exercise classes, she can still outpace most of her students."

Click here to read about these additional faculty retirees:
Jeffrey Sandborg, Naomi Brandon and George Emery Wade Professor of Music Emeritus
Marianne Sandborg, teaching associate and resident musical artist in the Fine Arts Department