Roanoke College prepares for 2023 Commencement
May 04, 2023
The last papers have been written and turned in, exams have been completed, final grades have been calculated and the stage has been set on the front quad as Roanoke College prepares to grant degrees to 436 graduates at the 2023 Commencement on Saturday, May 6.
The celebration will begin at 4 p.m. on Friday, May 5, with Baccalaureate in the Morris M. Cregger Center Arena. Commencement ceremonies will take place at 10 a.m. the following morning on Turbyfill Quad, rain or shine. Commencement exercises are open to all family members and guests, with no tickets required. The ceremony will also be livestreamed.
In the event of severe inclement weather conditions, Commencement exercises will be moved to the Salem Civic Center at 1001 Roanoke Boulevard in Salem. If necessary, the announcement of a move indoors will be made in the morning on Saturday, May 6 via Maroon Alert, social media and the Roanoke College website. More information about the severe weather plan is available here.
This year marks the first Roanoke College Commencement for President Frank Shushok Jr., who will preside over the ceremonies.
An honorary degree will be awarded to American literary icon Nikki Giovanni, an award-winning poet and University Distinguished Professor Emerita at Virginia Tech. Giovanni will receive a Doctor of Humane Letters for her tremendous contributions to American poetry, education, the cause of justice, and the people and culture of Southwest Virginia.
This year's graduating class includes a record seven valedictorians who will deliver brief messages during the Commencement ceremonies. The valedictorians are:
Kasey Truman Draper, of Roanoke, Virginia, earned a degree in business administration with a minor in Spanish and a concentration in marketing. He has been not only an academic stand-out at Roanoke, but also a consummate student-athlete. Academically, Draper is a member of Alpha Chi and the leadership honor society Omicron Delta Kappa (ODK). He also worked in Admissions as a Maroon Ambassador and led a YoungLife athlete group.
Michelle Hagadorn, chair of the Business Administration Department, said, "Kasey's greatest gift is that he understands people. He is sincere in his interactions with others and can relate to anyone and make them feel like he's known them for years. He is a true leader."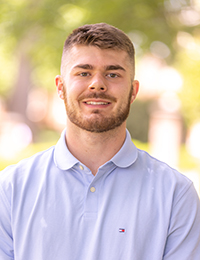 In athletics, Draper was a nominee for the Jostens Trophy, a prestigious prize in NCAA Division III basketball. He also was a two-time ODAC Scholar-Athlete of the Year, First-Team Academic All-American and two-time First-Team All-ODAC in men's basketball. Draper is only the 12th Maroon in program history to score more than 40 points in a basketball game. He also served as team captain for three years. Coach Clay Nunley described him as "one of the best leaders you could find."
Draper's post-graduation plan is to obtain an MBA and play another year of basketball at Assumption University in Massachusetts.
"Roanoke has some special people who are always there for you and genuinely care about you," Draper said. "These people have made my experience at Roanoke so memorable, and I wouldn't trade it for anything."
Luke Herbert Elder, of Richmond, Virginia, is a physics and computer science double major with a mathematics minor. He earned honors in physics and computer science, and he is a member of both the Roanoke College Honors Program and Phi Beta Kappa honor society.
Elder took full advantage of opportunities to explore different areas of inquiry. Faculty members said he is an excellent collaborator and communicator. His research projects include a self-parking robot, a neutrino sensor project, a two-semester project on the biophysics of follicle growth and a research experience on quantum computing for undergraduates at University of Texas Dallas.
For his honors distinction project and honors in the major for both computer science and physics, Elder worked with Visiting Assistant Professor Daniel Hickox-Young on a computational physics research project that involved using machine learning to identify materials that will be good for energy storage. Elder presented a poster of the research at the annual American Physical Society (APS) conference in Las Vegas in March and was recognized as one of the top undergraduate presenters there.
Elder also played piano as an accompanist for wind ensemble and served as a senator for the Student Government Association. He is a member of Alpha Phi Omega, the service fraternity; the secretary/treasurer for the Society of Physics Students; a subject tutor in physics, computer science and math; and a member of Stat Crew, a group that collects statistical data from Roanoke College sporting events.
"Luke has been in my classes for the last four years, and it has been an absolute delight to have him in class and work with him on his research project this year," said Anil Shende, professor of computer science. "Luke strives to learn everything he can about a topic by questioning everything and understanding the deep fundamental aspects of the topic. I am confident that he will go on to make significant contributions to the fields of computer science and physics."
Emma Evangelina Maras, of State College, Pennsylvania, is a literary studies major with a Spanish minor. She is an Honors Program graduate and a member of Phi Beta Kappa honor society.
"What's remarkable about Emma is her pleasant persistence in finding personal meaning in her chosen course of study and in her research," said Chad Morris, professor of anthropology. "She has deep interests in the intersection of literature, gender and mental health, and those interests have led her to research that combines these interests."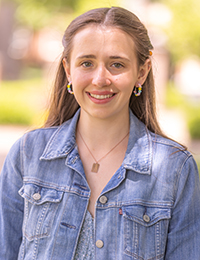 Maras ran track and field for Roanoke College through her junior year and now is a marathon runner.
"She is quiet and shy by nature, but her pen flows," said Associate Professor Dana-Linn Whiteside. "She is such a strong and expressive writer demonstrating strong critical thought. Emma is the most punctual person you'll ever meet; so responsible in every possible way."
Maras will pursue a Master of Social Work at University of North Carolina - Chapel Hill.
"What stands out to me most about my education as I'm graduating is how fast it went because of the pandemic," Maras said, "but also how much I was able to learn and how many valuable relationships I was able to form both with friends and professors during that short time."
Ashtyn Blair Porter, of Midlothian, Virginia, studied international relations and creative writing at Roanoke, with concentrations in Middle East studies and African and African diaspora studies. She is an Honors Program graduate and a member of Phi Beta Kappa and Omicron Delta Kappa honor societies.
At Roanoke, Porter co-founded and helped to design the Genealogy of Slavery research project at the Center for Studying Structures of Race (CSSR). She also completed an honors distinction project on the history of environmental racism in the Roanoke Valley.
"I feel so lucky to have spent the last four years working with Ashtyn, as she is both a colleague and an interlocutor," said one of her advisors, Jesse Bucher, who is director of the CSSR and an associate professor of history. "The projects that she has established and completed are intellectually rich, conceptually rigorous and beautifully composed. Ashtyn will be a leader in her field of study in the years ahead."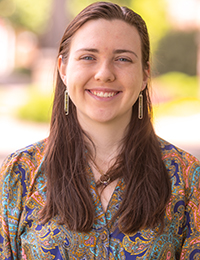 Porter was a member of the College's Quiz Bowl team, serving as president and vice president.
Professor of Public Affairs Joshua Rubongoya, another advisor of Porter's, said she combines a stellar work ethic with a brilliant mind. "Her prospects in the academy are very bright, and I look forward to reading her research with the byline of Professor Ashtyn Porter."
This fall, Porter will pursue a Ph.D. in U.S. history at Indiana University-Bloomington, where she will be part of a select Ph.D. cluster in Histories of Slavery, Freedom and (Un)freedom.
"My time at Roanoke College is something I'll treasure for the rest of my life," Porter said. "I am incredibly grateful for my brilliant professors in history, English and international relations, as well as those I've taken classes with in other departments. I would not have succeeded without them, or without my wonderful friends I've met through Roanoke."
Brayley Anice Whitcomb, of Salem, Virginia, earned a degree in mathematics with a concentration in statistics at Roanoke. She is a member of Alpha Chi honor society.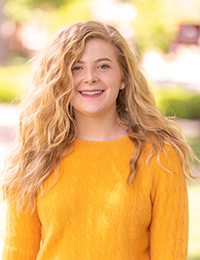 One of Whitcomb's top achievements was being selected for a mathematics internship with the Department of Defense. She also worked with Michael Weselcouch, a lecturer in the Department of Math, Computer Science and Physics, on an independent study on applying machine learning to understand optimal play in the game "Mind Your Numbers."
"Brayley has grown into one of the math faculty's favorite people," said one of her advisors, Professor Roland Minton. "She is thoughtful and intelligent, but most of all just a very good person in every sense of the word good."
Another advisor in the department, Professor Adam Childers, said, "She is a kind and caring member of the department, and she really helped her fellow students be successful this year when they were struggling."
Whitcomb came to Roanoke College at age 16 from a homeschool background, making her an exceptionally young graduating senior at age 20. At Roanoke, she became involved in InterVarsity Christian Fellowship, serving as a small group leader during her senior year. "Being part of InterVarsity's ministry completely changed me, and I have been so blessed by it," she said.
Whitcomb plans to live and work in the Roanoke/Salem area after graduation.
Eli Flynn Wooliever, of Worcester, Vermont, majored in physics and biochemistry at Roanoke. He is an Honors Program graduate and a member of Phi Beta Kappa and Alpha Lambda Delta honor societies.
"Eli is a self-motivated, hardworking student who is driven to create bridges between his science, the environment and the community," said Steve Hughes, associate professor of chemistry.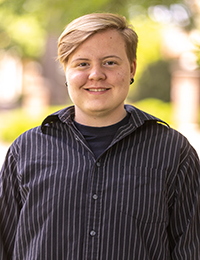 At Roanoke, Wooliever was involved in a number of research projects. Those include a soil analysis project with the Biology Department, a study of microplastics in soil and water samples with the Chemistry/Physics Department, an intensive soil analysis with the Environmental Studies Department, and a project with the Physics Department to build an environmental quality sensor that can assess local streams and soils.
In his self-designed research, Wooliever studied pollution levels of microplastics in Roanoke Valley rivers and streams. He was able to overcome a variety of challenges in the lab, using an array of instruments to analyze the water samples he'd collected from around the area.
In addition, Wooliever was a teaching assistant in chemistry, physics and astronomy, and he served as both vice president and president of the College Quiz Bowl Team during his time at Roanoke.
"I've made lifelong friendships and developed fantastic relationships with many of my professors," Wooliever said, "which I don't think would have been possible at other schools. The students, professors and staff all make campus feel like home, and I'm very grateful to have been a part of the community here."
Wooliever plans to attend the Agricultural and Environmental Chemistry Ph.D. program at UC Davis next year.
Rachel Victoria Yinger, of Dover, Pennsylvania, majored in biology and creative writing at Roanoke. She earned honors in biology with her thesis project, "The Effect of Estrogen on Metabolic Health in Diet-Induced Obesity." She was also named the Senior Scholar in Biology, and she plans to publish her work on zebrafish with Visiting Assistant Professor of Biology Samantha St Clair. She is a member of both Phi Beta Kappa and Alpha Chi honor societies.
Yinger's biology advisor, Professor Marilee Ramesh, said Yinger has been a delight to advise and teach.
"Her work in class was consistently exemplary, with an understanding and depth beyond the scope of the course," Ramesh said. "As a reader on her thesis committee, the same could be said about her research project. She took the results of her study on zebrafish and put it in the greater context of women's health, making connections to diabetes and anorexia nervosa. I expect to see great things from Rachel in the future given the precision and breadth with which she approaches all she does."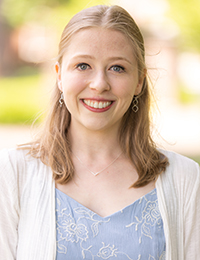 Yinger was an intern and interviews editor with the Roanoke Review literary magazine under the supervision of Professor Mary Crockett Hill and Visiting Assistant Professor Laura Garrison. She worked as a chemistry lab teaching assistant, was president of the health professional honor society Alpha Epsilon Delta, and was a member of Academic Integrity Council and Student Conduct Council.
Outside of Roanoke College, Yinger is a medical scribe, nursing assistant, volunteer EMT, and ballet instructor and choreographer.
"Something about my Roanoke experience that stands out was having the opportunity to learn from such exceptional faculty," Yinger said. "The passion they bring to the classroom has made being a student an extremely rewarding experience. Their dedication to fostering student success is unwavering, and I am grateful for all of the guidance they have provided to help me reach my goals."
Post-graduation, Yinger will prepare for the MCAT and begin applying for medical school.
Details and the schedule for all Commencement Weekend activities can be found at roanoke.edu/commencement, which is updated regularly. The link for the 2023 livestream can be found here.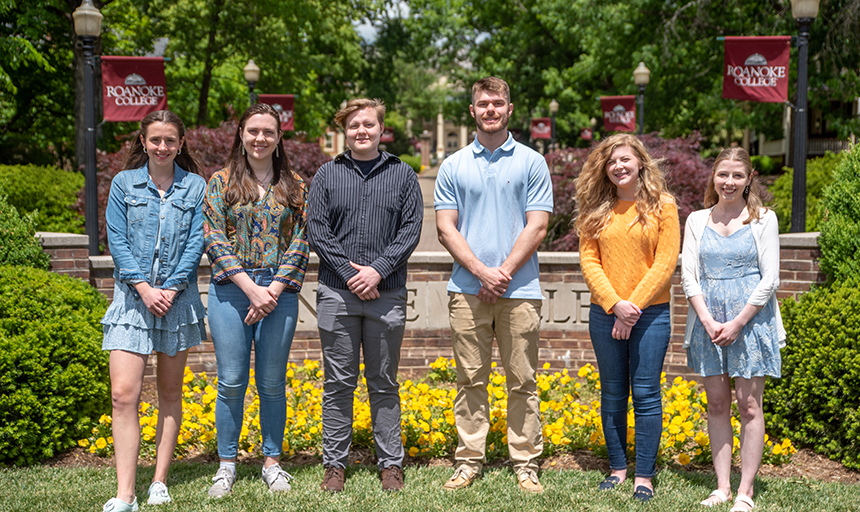 From left to right: Emma Maras, Ashtyn Porter, Eli Wooliever, Kasey Draper, Brayley Whitcomb and Rachel Yinger. Not pictured: Luke Elder.