RC Poll: Clinton, Trump hold leads in Virginia primary elections; Cruz, Rubio in tight battle for second
February 26, 2016
Hillary Clinton leads Bernie Sanders (50%-33%), and Donald Trump leads the Republican field (Trump 38%, Cruz 15%, Rubio 13%), according to The Roanoke College Poll. The Roanoke College Poll interviewed 466 likely Republican voters and 415 likely Democratic voters in Virginia between February 16 and February 24 and has a margin of error of +4.5 percent for the Republican race and + 4.8 for the Democratic contest.

Republicans - Angry electorate favors Trump more than 2-1 over Cruz and Rubio
Donald Trump (38%) holds a commanding lead over his rivals Ted Cruz (15%) and Marco Rubio (13%), with John Kasich (8%) and Ben Carson (8%) trailing the field.
Republicans are mostly divided between being merely dissatisfied with how the federal government is working (47%) and being angry (42%) about how the federal government is working. A significant minority (44%) also feel they have been betrayed by the Republican Party, and more than half (53%) say they prefer a candidate who is outside the political establishment. Those who prefer an outsider are most likely to support Trump (59%), but discontent with the federal government, although ubiquitous among Republicans, makes little difference in Trump's support.
Those who feel betrayed by the party still favor Trump (41%), but they are the strongest group of Cruz supporters (24%). Rubio fares better among those who prefer a candidate with political experience (29%) and those who want a candidate who can win in November (23%). Still, Trump leads in every group except those who prefer a candidate with political experience, who constitute only 30 percent of Republicans.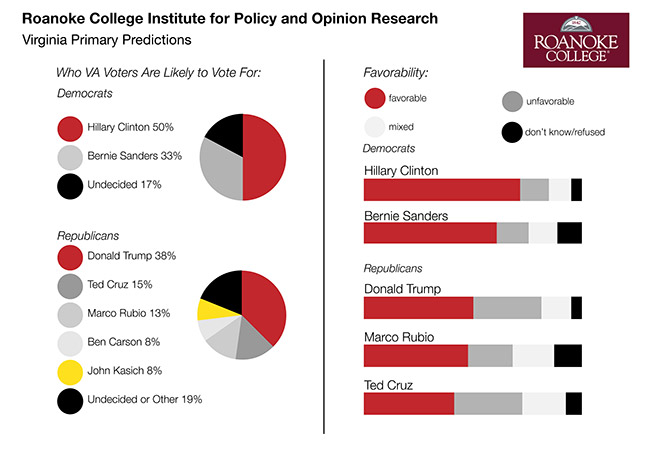 Democrats - Clinton holds solid lead, but has problems with several groups
While Hillary Clinton is far ahead of her rival Bernie Sanders (50%-33%), there are some causes of concern for the Clinton campaign, if not in Virginia, then down the road. There is a very large gender gap, with women preferring Clinton (57%-24%), but men favoring Sanders (44%-42%). And although Clinton does quite well with older voters, leading Sanders by 58-24 percent among those 45 and older, Sanders actually leads among those younger than 45 years old by a 48-37 percent margin. He even leads among 18- to 29-year-old women, (but that is a small sample size and large margin of error.) The Democrats also feature racial differences, with whites virtually split (Sanders 43%, Clinton 42%) and blacks strongly favoring Clinton (58%-24%).
Democrats are significantly less dissatisfied with the federal government than are Republicans, although still more than half are dissatisfied (41%) or angry (13%). Clinton's margin increases among those more satisfied with the government. Similarly, Democrats are less likely to feel betrayed by their party, but Sanders leads (47%-40%) among those who do feel betrayed.
Analysis
"Both Trump and Clinton appear very likely to win their respective primary elections in Virginia," said Harry Wilson, director of the Institute for Policy and Opinion Research. "Trump is taking advantage of the Republican desire for an 'outsider,' while Clinton does extremely well with the more Democrats who are satisfied with the federal government's performance. While both are very formidable candidates within their party, both have issues with some groups of voters which could be problematic for them in the future."
Methodology
Interviewing for The Roanoke College Poll was conducted by The Institute for Policy and Opinion Research at Roanoke College in Salem, Va., between February 16 and February 24, 2016. A total of 466 Virginia Republican likely voters and 415 Virginia likely Democratic voters were interviewed. Telephone interviews were conducted in English. The random digit dial sample was obtained from ASDE Survey Sampler and includes both Virginia land line and cellphone exchanges so that all cell phone and residential land line telephone numbers, including unlisted numbers from Virginia exchanges, had a known chance of inclusion. Cellphones constituted 25 percent of the Republican sample and 32 percent of the Democratic sample.
Questions answered by the entire sample of 466 Republican likely voters are subject to a sampling error of plus or minus approximately 4.5 percent at the 95 percent level of confidence, and the sample of 415 Democratic likely voters are subject to a sampling error of plus or minus approximately 4.8 percent. This means that in 95 out of 100 samples like the one used here, the results obtained for the Republicans should be no more than 4.5 percentage points above or below the figure that would be obtained by interviewing all Republican primary election voters in Virginia who have a home telephone or a cellphone. Where the results of subgroups are reported, the sampling error is higher. The data was statistically weighted for gender, race, and age. Weighting was done to match the Virginia 2012 Republican primary election exit poll and the 2008 Virginia Democratic primary election poll. The margin of error was not adjusted for design effects due to weighting.
A copy of the questionnaire and all toplines and crosstabs may be found here.
The Roanoke College Poll is funded by Roanoke College as a public service.
For more about the Institute for Policy and Opinion Research, click here.
CONTACT: Dr. Harry L. Wilson, Director, IPOR
(540) 375-2415 (Office)
wilson@roanoke.edu