Top 10 Socially-Distanced and Fun Things To Do on Campus
September 18, 2020
Campus looks very different this year, and because of that the opportunities for social interaction are different. However, different does not have to mean boring. After all, we have a beautiful campus with plenty of outdoor spots, common rooms in dorm buildings, and a dorm room with just enough space to do a workout class.
Check out these 10 socially-distanced things to do while on campus:
Get Some Vitamin D!

Grab a blanket to sit on and take advantage of the sunshine or the shade on the Back Quad or any of the beautiful lawns. Or pick a colorful chair by the volleyball courts. You can have a picnic or a paint night with your friends, or all of you can just sit and talk while soaking up the sun in Sunny Salem. Here you will find a

map

of some of the best outdoor spots on campus.


Cycle Through Salem!

Check out a bike

from Fintel Library and go for a bike ride through the neighborhoods surrounding the college. Head over to the Lending Services desk in the library during regular operating hours, ask for a bike, and have your Maroon Card handy because they will want to see it. Before you get the key to unlock the bike, they will ask you to sign an RCycles release form, and then you will be free to cycle around the streets for three days.

Roanoke College Has You Covered!

Take advantage of the activities hosted by the College. So far this semester, the Campus Activities Board (CAB) has held a tie-dying event and virtual BINGO, and Residence Life and Housing hosted a field day tournament. CAB hosts a

Silent Disco

this weekend! WRKE is still airing radio shows, and the Outdoor Adventures club plans to hold a few opportunities for hikes.

Zoom Can Be Used for More Than Class!

Set up a Zoom call and do a virtual spa night with friends. You can still paint nails and do face masks while chatting about the latest rom-com you watched. Or join the Chaplain for

Theologies on Tap (TOT)

.

Bring Out Your Sporty Side!

Throw a football, toss a Frisbee or kick a soccer ball with some friends. Challenge some of your hallmates to game at one of the volleyball courts, or take on your suitemates in a tennis match. You could even practice karate on the quad.

Unleash Your Introversion! Now is the time to binge your favorite TV show, have a movie marathon, or spend the afternoon playing video games and not feel bad about all the time spent glued to your screen. Netflix, Hulu and Disney+ all offer free trials, so take advantage of it if you don't already have an account. The RC Craft Minecraft Server continues to be an outlet for students on campus and our virtual students.


Stroll Through Salem!

Clear your mind with a nice walk around Salem. There are some great views up the hill of Red Lane that make the perfect scenery for an evening walk.

Bring Your A-Game in the RC Gameroom!

From 5 p.m.-11 p.m. on Mondays-Fridays as well as 11 a.m.-11 p.m. on Saturdays and Sundays, the Gameroom is open for a game of billiards or video games. Students can also check out items for corn hole, frisbees, croquet, dodgeballs, kickballs and bases, wiffleball, soccer, golf, putt putt golf, and horseshoes. Citronella candles are also available here for your next evening picnic.

Work out in Your PJs (or workout clothes)!

Find yoga, Pilates, H.I.I.T. (high-intensity interval training) or cardio dance workout videos that you can do in the comfort of your own room but still break a sweat. Try to be mindful of the people next to and below you when picking which video to try.

Madfit

has some great dance workouts, and

Yoga with Adriene

is a great place for beginners or experts.

Pick up a new hobby!

Now you can finally answer the dreaded question — "What do you like to do for fun?" — by trying one of these new hobbies: make your own jewelry or clothes; paint or draw; learn calligraphy; learn and study a new language; try a new sport; read (you can get a free two-month trial with the Kindle app); play a new board game; learn how to master chess; start a new DIY project; crochet or knit (your product could be a holiday gift for a loved one); or listen to podcasts.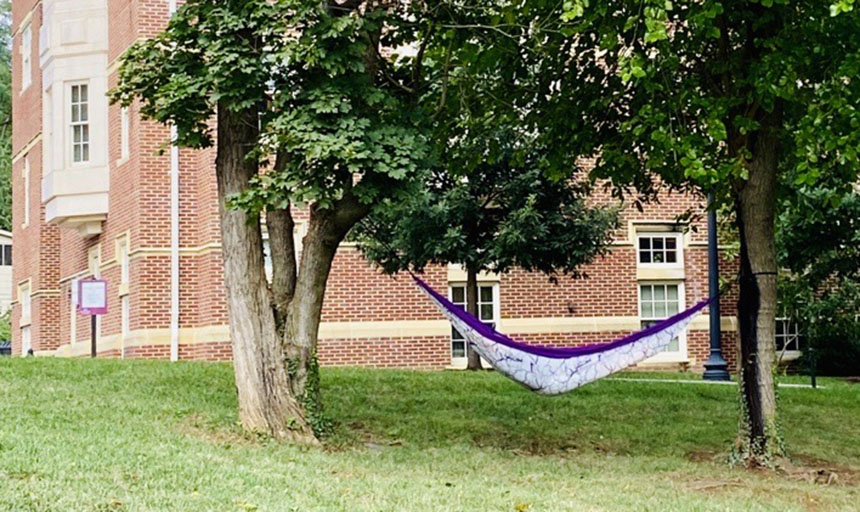 No matter how you choose to spend your time, remember that the Roanoke College community appreciates your effort of social distancing and wearing a mask. If we want to stay on campus, then we must find healthy ways to connect and have fun while keeping the Maroons family safe. Stay healthy, Maroons!