Office of Multicultural Affairs
Our Mission
The mission of the Office of Multicultural Affairs (OMA) is to contribute to an inclusive learning environment by supporting the institutions efforts to retain and graduate students prepared for a diverse global society. We provide mentorship opportunities, deliver diversity education and inclusion training, celebrate the cultural diversity of all students, and advocate for underrepresented groups in the Roanoke College community guided by the College's mission and our professional CAS standards.
Our Vision
The vision of OMA is to develop citizens who are more culturally aware, supportive, and accepting of others who may be different from themselves and to foster a climate within the campus community which recognizes the value that diversity brings to the total educational experience. We envision a Roanoke College where people of all identities and experiences are heard, respected, and fully included in the community in order to allow equitable treatment and outcomes to prevail.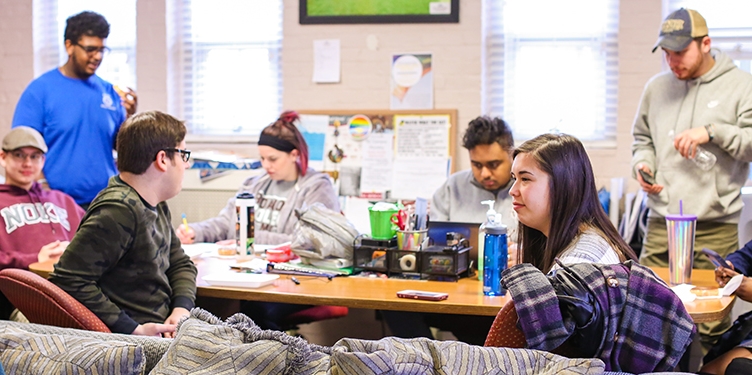 In our office, there is one main common space. This space is used throughout our business hours as a lounge by students to have a place to study and hang out between classes. Students are also allowed to hold meetings in this space with prior notice.
Our lounge is equipped with:
Lounge area
Television access with a DVD Player
A conference table
Two desktop computers
Wireless Printing
Wii and board games
Refrigerator, microwave, water cooler, and coffee machine
There is also a Computer Lab for students to use if they prefer study space in our office.
The lounge is available for reservation beyond these hours by calling 540-375-2099 or e-mailing oma@roanoke.edu
Office of Multicultural Affairs
Second Floor Alumni Gymnasium
Salem, VA 24153
540-375-2099