First Year Experience
First Year, Transfer, Residential & Commuter Students
Acclimating to college life does not happen quickly and we acknowledge this by providing an orientation program that spans from your admissions process through the end of your first year beginning with Summer Orientation, continuing with Welcome Week at the start of your first semester, and extending into your second semester with Welcome Back.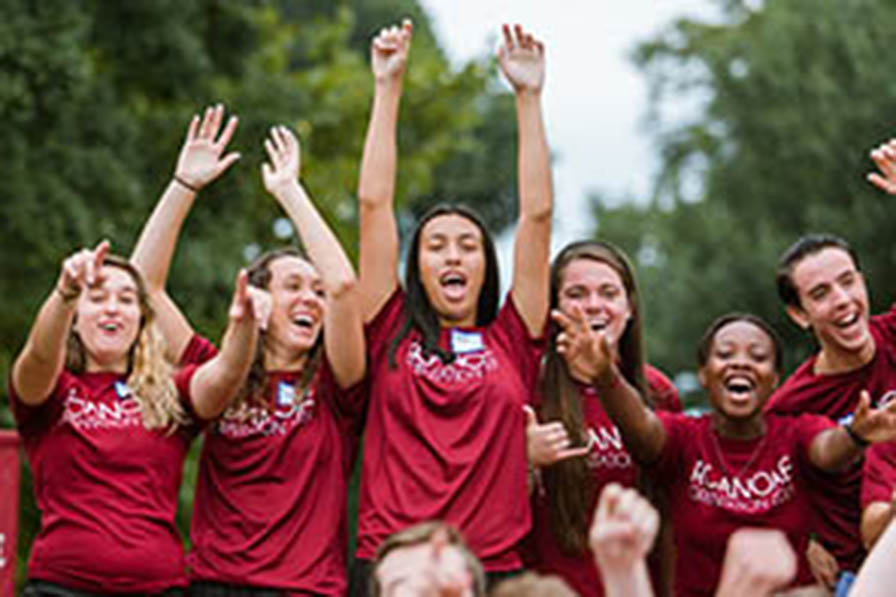 Welcome Week combines a week of fun class-wide activities, along with small group gatherings designed to help students find their place here.
About the New Student Experience
At Roanoke, we believe that college is about more than courses and credentials. It's about more than developing knowledge and skills, gaining job experience, or finding a path to a career. While important aspects of the high quality education we provide, we believe the purpose of a college experience is about more than just this. It's about understanding who you truly are—what you care deeply about, what you do well, and how you relate to the world. In the classroom, on the athletic field, on the stage, in the residence halls, we push you to think deeply about the choices you make, the skills you develop, and how you'll contribute—to your family, to your community, to your career. We prepare you to not just live and work in the world, but to shape that world and contribute to it in purposeful, thoughtful ways. In other words, we prepare you to Live on Purpose.
And it begins before you even step foot in the classroom. Roanoke's New Student Experience seeks to assist in your transition to college, build the foundation for success in college and in life, and provide you with connections to the people who will support you along the way. Whether a traditional first-year student, transfer student, or commuter student, New Student Experience is designed to give the resources needed to match the challenge of the transition with the support needed to be a successful member of the Roanoke College community.
Find Us on Social Media
Follow us on Facebook and Instagram @RCFirstYearExperience
Join your fellow accepted students in the Roanoke College 2025 Facebook group or in the Class of 2025 group on ZeeMee to get to know one another before school starts. It's a great opportunity to talk about college and ask questions concerning your upcoming year while getting acquainted with your new classmates.