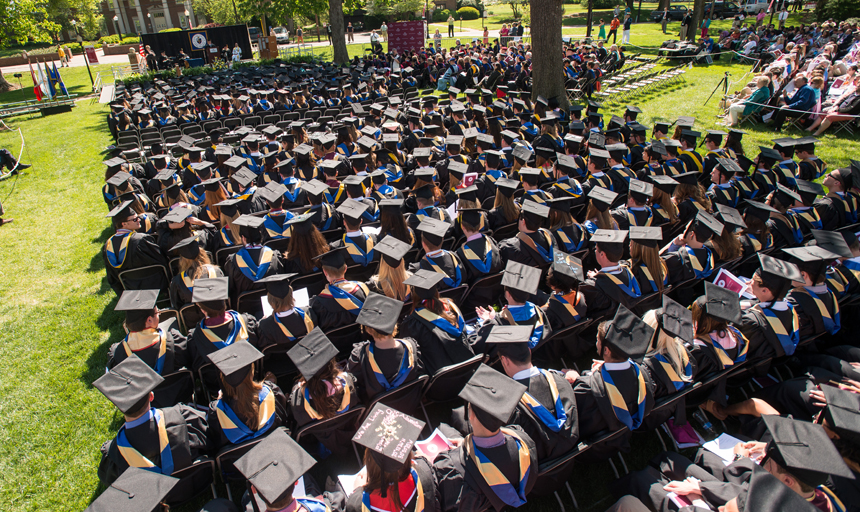 4.11.2019
By Roanoke College News
Roanoke College Commencement scheduled for May 4
Commencement exercises for the Roanoke College class of 2019 will be held on Saturday, May 4, and will include approximately 460 graduates. Roanoke will be highlighting student speakers from the Class of 2019 and elected not to have a conventional guest Commencement speaker this year. The ceremony will include remarks from President Mike Maxey and valedictory address by the student valedictorian(s).
Two honorary degrees will be awarded during the ceremony. Morris M. Cregger Jr. '64 and Sheila Cregger will each receive the honorary doctor of commerce degree.
Seniors kick off senior-week celebrations on Wednesday, with multiple events planned for the days leading up to Saturday's Commencement ceremony.
Below are highlights of Commencement week events.
On Friday, May 3:
The baccalaureate service will be held at 4:30 p.m. in the Cregger Center Arena, with the Rev. Christopher Bowen—Timothy Pickle Dean of the Chapel at Roanoke College—as featured speaker. Mainstreet, the all-women's a cappella group and a local professional ensemble, Brass 5, and organist Melissa Hudson will provide the music. No tickets are required.
From noon to 2 p.m., Olin Galleries will host the closing reception for the annual Studio Art exhibition by the College's art majors and minors. This exhibition represents a wide variety of media, styles and artistic ideas.
Most academic departments will hold receptions for graduates and their families in the afternoon and early evening.
At 8 p.m. at Salem Baptist Church, 103 North Broad Street in downtown Salem, the Roanoke College Choir presents its Farewell Concert. Hear the choir in its final performance of the season in a farewell tribute to the choir's graduating seniors.
On Saturday, May 4:
Commencement exercises begin at 10 a.m. on the John R. Turbyfill Quadrangle, located off High Street on the front lawn of the campus.
In the event of severe weather, Commencement will be moved to the Salem Civic Center, 1001 Roanoke Boulevard, Salem. No tickets are needed for Commencement, whether outside or indoors.
For complete details on these and other events, please visit roanoke.edu/commencement.