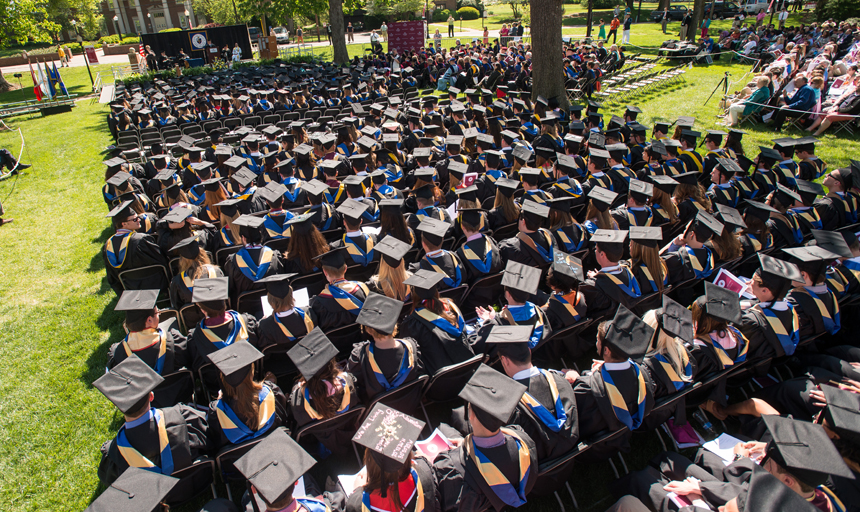 Roanoke ready for Commencement on May 4
Commencement exercises for the Roanoke College class of 2019 will be held on Saturday, May 4, and includes 457 graduates. Roanoke will be highlighting student speakers from the Class of 2019 and elected not to have a conventional guest Commencement speaker this year. The ceremony will include remarks from President Mike Maxey and valedictory addresses by the three valedictorians.
Three graduates earned the honor of valedictorian – a record for Roanoke College. The valedictorians are: Cody Morgan Dillon-Owens, a psychology major from Roanoke; Matthew C. Johnson, a biochemistry major from Almond, New York; and William "Liam" Barrett Lambert, a mathematics and physics major from Staunton.
Three graduates earned salutatorian honors as well. They are: Natalie Logan Cox, a biology major from Radford; David Biagio Moreau, a physics major from East Haddum, Connecticut; and Noelle Annette Warfford, a psychology major from Simpsonville, South Carolina.
Two honorary degrees will be awarded during the ceremony. Morris M. Cregger Jr. '64 and Sheila Cregger will each receive the honorary doctor of commerce degree.
Morris M. Cregger Jr. '64 is the owner and CEO of Cregger Company, Inc., and of Cregger Capital Investments, Inc. Mr. Cregger is a native of Roanoke and attended Fork Union Military Academy before earning his bachelor's degree in economics from Roanoke College, where he was an accomplished student-athlete. Mr. Cregger is a 1992 Roanoke College Distinguished Alumnus and joined the College's Board of Trustees in 1999. He served as its chairman from 2011 until his recent retirement in April 2019.
Sheila S. Cregger is the CFO and controller of Cregger Company, Inc., and of Cregger Capital Investments, Inc. She was the first member of her family to attend college, graduating cum laude from the University of South Carolina in 1978 with a bachelor's degree in accounting. She has been CFO and controller of the Cregger Company since its inception and has been instrumental in its growth as one of the top 40 largest distributors of plumbing, electrical and heating, ventilation, and air-conditioning products in North America.
The Creggers are charter members of the Presidents Society, as well as longtime members of the Society of 1842 and Associates Society. They provided the lead gift for the Morris M. Cregger Center, as they believe that students learn self-discipline and teamwork through athletics.
Road Closures and Traffic Information:
North College Ave. between Main Street & Clay Street will be closed from 8 a.m. until 10 a.m.
High Street between Peery Street & Clay Street will be closed from 9:45 a.m. until 12:30 p.m.
There will be heavy traffic prior to Graduation from 8 a.m. through 1:30 p.m. surrounding the campus, especially areas near Thompson Memorial; Peery Drive; High Street; Clay Street & Hawthorn Street.
Below are highlights of Commencement week events.
On Friday, May 3:
The baccalaureate service will be held at 4:30 p.m. in the Cregger Center Arena, with the Rev. Christopher Bowen—Timothy Pickle Dean of the Chapel at Roanoke College—as featured speaker. Mainstreet, the all-women's a cappella group and a local professional ensemble, Brass 5, and organist Melissa Hudson will provide the music. No tickets are required.
From noon to 2 p.m., Olin Galleries will host the closing reception for the annual Studio Art exhibition by the College's art majors and minors. This exhibition represents a wide variety of media, styles and artistic ideas.
Most academic departments will hold receptions for graduates and their families in the afternoon and early evening.
At 8 p.m. at Salem Baptist Church, 103 North Broad Street in downtown Salem, the Roanoke College Choir presents its Farewell Concert. Hear the choir in its final performance of the season in a farewell tribute to the choir's graduating seniors.
On Saturday, May 4:
Commencement exercises begin at 10 a.m. on the John R. Turbyfill Quadrangle, located off High Street on the front lawn of the campus.
In the event of severe weather, Commencement will be moved to the Salem Civic Center, 1001 Roanoke Boulevard, Salem. No tickets are needed for Commencement, whether outside or indoors.
For complete details on these and other events, please visit roanoke.edu/commencement.