Study Abroad Opportunities
Students at Roanoke College have the opportunity to spend a semester, a month, a summer, or a full academic year studying abroad, all the while earning college credit and wonderful experiences. Study abroad is particularly enriching for students interested in the English language and literature, both because of the wealth of international cultures whose native language is English, and because the study of language and culture is fundamental to our discipline.
Of the many international study opportunities available to Roanoke College students, the following are of particular interest and have proved valuable and enriching to English and Communication Studies students:

Virginia Program at Oxford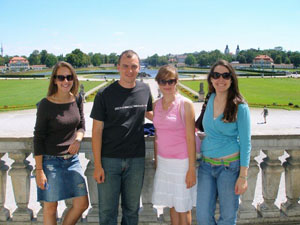 Students spend a summer totally immersed in English culture and academe, earning two Roanoke College credits. Housed at Oxford University's St.Anne's College, the program follows the English system, combining lectures and weekly tutorials conducted by Oxford dons. Tutorial groups are small, allowing for considerable individual attention and active participation. Offers courses in Literature and History. Open to juniors and rising seniors, though exceptional sophomores may be considered. Cost: $600 estimated; special financial aid is available.
University of East Anglia (England) Exchange Program
Students who select the University of East Anglia Exchange Program live and study for a year with English students while earning a full year of Roanoke College credit. The location is ideal, mixing the charm of the English countryside with easy access to all that London has to offer. Extensive course offerings. Open to full-time juniors and seniors, though exceptional sophomores may be considered. Minimum GPA of 3.0; applicants must be in good standing and follow the Roanoke College approval procedure. Cost: Roanoke College tuition, room, and board, plus transportation, medical insurance, personal spending money, and any special fees required by UEA; regular financial aid applies.
ISEP: International Student Exchange Program
Roanoke College offers global opportunities for study abroad for a semester or full academic year through this international exchange program. The programs of most interest to English majors include opportunities to study English and American literature and language both in English-speaking and in foreign-language speaking nations around the world. Eligibility standards and costs vary according to the country and program; see the Director of International Studies for further information.
May Travel Courses
May Term travel courses have been a tradition at the college since the early 1980s. Roanoke students travel abroad under the supervision of one or more professors to study for the month of May while earning a course credit. Destinations have included Australia, England, Ireland, Italy, Spain, Mexico, Tanzania, Zimbabwe, and other countries. Trips to museums, plays, and local landmarks are just some of the enhancements to learning usually offered. Courses in all areas of study, but English courses usually are offered. Open to rising sophomores, juniors, and seniors. See May Term page.