Frankie Allen '71 inducted into Small College Basketball Hall of Fame
November 14, 2023
Category: Alumni
Franklin "Frankie" Allen '71 has always been a groundbreaker, whether he was the lone Black student in a historically white classroom during integration or racking up school records as Roanoke College's all-time leading scorer in basketball.
Now, Allen has blazed a trail to national recognition with his induction into the Small College Basketball Hall of Fame, which celebrates the most outstanding coaches, players and contributors in small college basketball programs across the country. Established in 2015, the organization has recognized only a few dozen players in its hall of fame.
"It was truly an honor that I didn't expect," Allen said. "Sometimes you don't get your flowers when you can still smell them, so for me to be able to get this recognition and to be able to feel the joy in the recognition means a lot. This is probably the most prestigious award I've ever won, and the fact that it came out of nowhere is a blessing from God."
Allen's characterization of the honor as a surprise speaks to his humble nature, because to those who have joined him on the court or watched him play and coach, the national recognition comes as no surprise at all.
As a member of the Roanoke College men's basketball team, the 6'6" forward scored a record 2,780 points and 1,758 rebounds, making him the all-time leading scorer at any collegiate level in the state of Virginia. In 115 games, he averaged 24.3 points per game and 15.3 rebounds per game. He still holds 18 individual school records, including career-made field goals (904), career-made free throws (992) and career free-throw percentage (80.4). He also set five single-season and individual-game marks that still stand, including a 49-point effort against The Citadel.
Allen stacked up far more laurels than that (see below), but those who know him best say that his achievements in basketball represent only a part of what makes him an exceptional human being.
"You hear a lot of times, 'great player, better person.' In my opinion, that's true of Frankie," said George Seals '70, who was Allen's teammate, resident advisor and friend. "He always does the hard things. Everything he takes on, he puts all of his effort behind it, and he's been successful doing it."
As a kid growing up in Charlottesville, Virginia, Allen fell in love with basketball in his own backyard, where he watched his older sister and brother, Jeanette and Ernest, shoot hoops. It was fortuitous that he found the sport, he joked, because he was good at everything about baseball except actually hitting the ball, and although he played football with friends, he did not have a passion for the sport.
By the time he was in fourth grade, Allen was already showing so much skill at basketball that he was recruited to play with a group of sixth graders against a seventh-grade team in an exhibition game at the elementary school's new gym and rec center. Although the seventh graders won, he scored nine of his team's 12 points. The adrenaline rush was enough to turn him into a basketball fanatic; he took to playing ball at Booker T. Washington Park all the time, even shoveling snow off the court in winter with his friends so they could play.
All of this took place against the backdrop of integration, which did not unfold smoothly in Allen's hometown. In 1956, two years after the Brown v. Board of Education decision, Black families had to sue the Charlottesville School Board for access to white schools. Ordered to integrate Venable Elementary School and Lane High School, the school system opted to close both schools in an effort to circumvent the ruling. Shortly after they were forced to reopen, Allen entered Venable, where he was the only Black student in the entire sixth grade class.
When he matriculated at Lane High School, the ratio was not much better, Allen said. Coaches wanted him to play football and basketball, but they worried he would endure racism — not only at Lane, but at away games. Many emotional conversations took place among Allen, his parents and school coaches and administrators. That uncertainty about whether he could play, coupled with discrimination he faced at school, is part of why he calls eighth grade the most difficult year of his life. Ultimately, he decided that having basketball in his life was worth the risk.
After high school, where he was an All-State standout, Allen had his sights set on earning a college degree – but he wasn't confident that it would be possible. He had watched his older brother, also a talented player, miss out on the chance. "I wanted to go to college," he said. "Nobody in my family had attended college. My mother and father were hard-working people, but there was no college fund for me."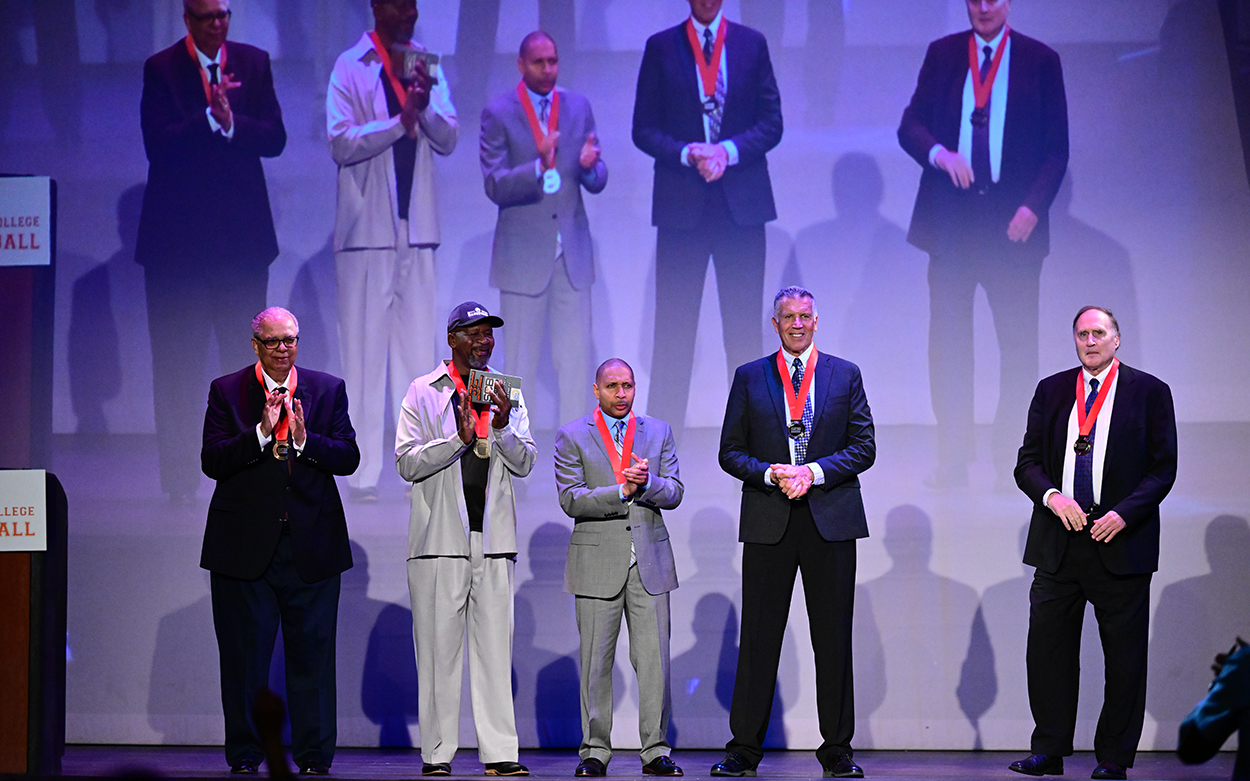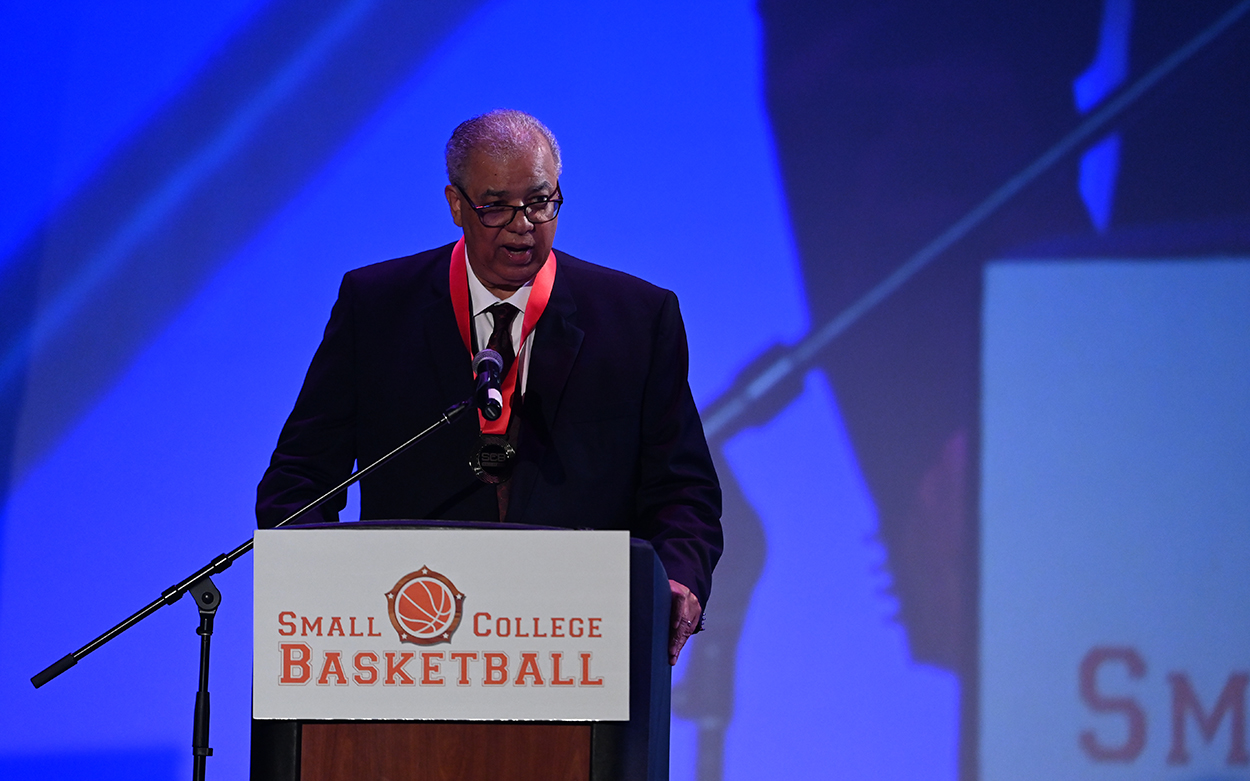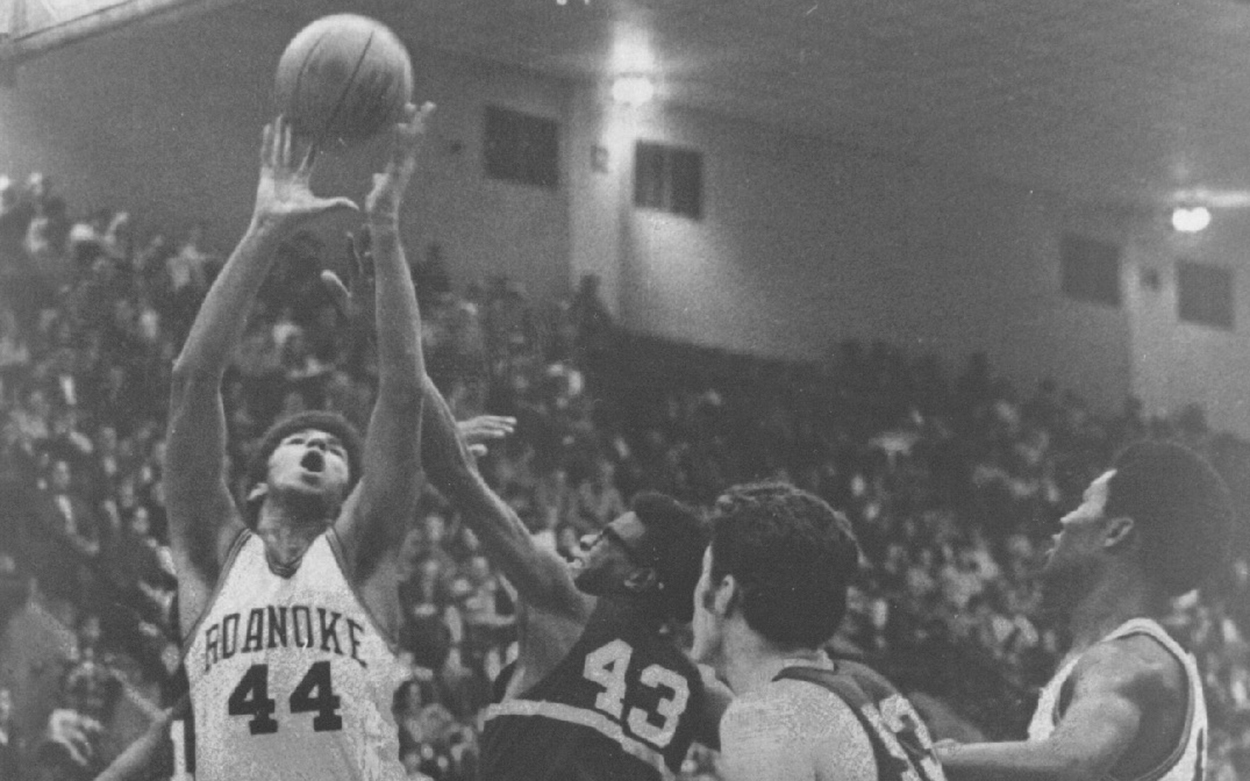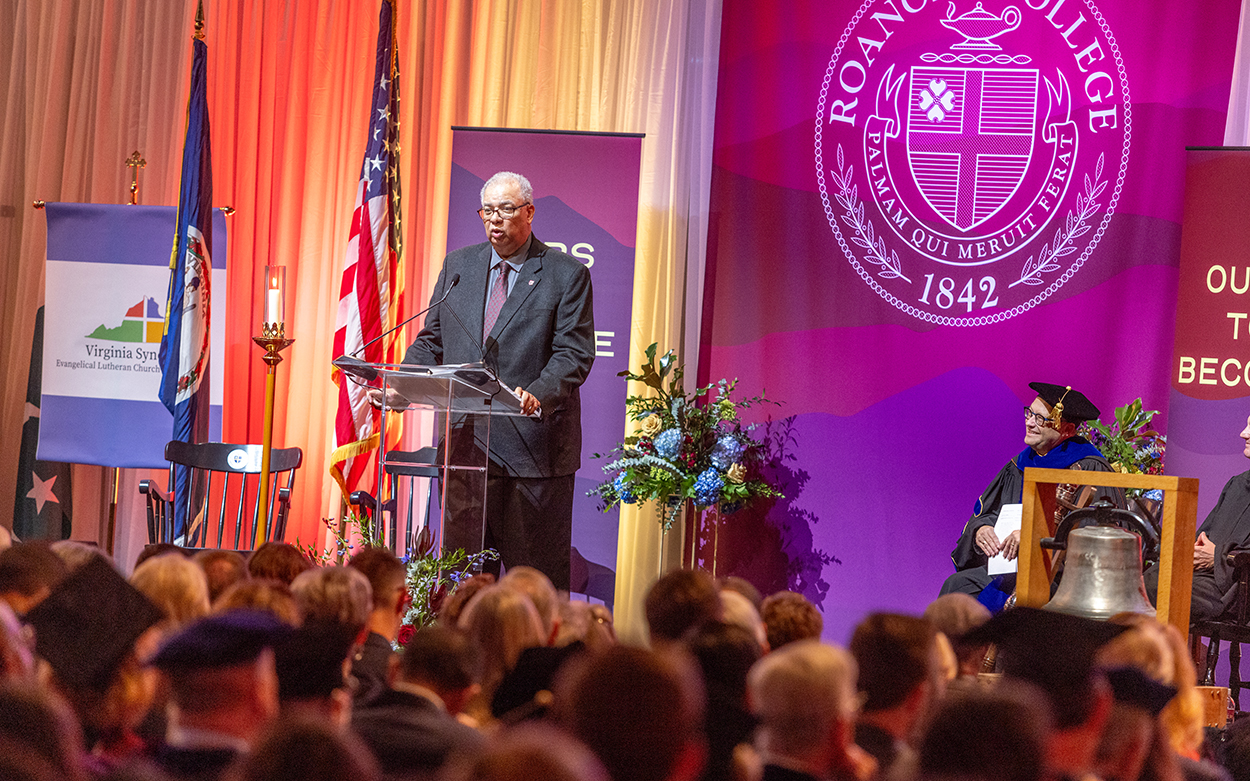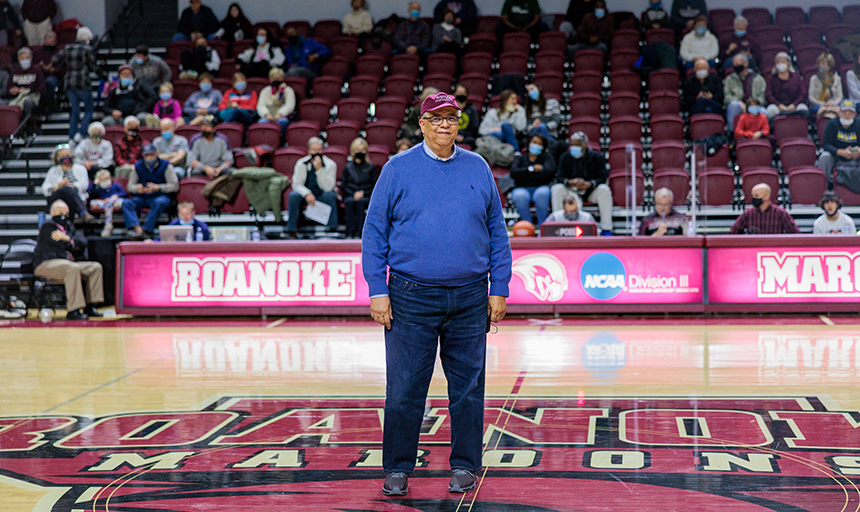 Of the three schools that expressed interest in Allen, Roanoke College – then a Division II school – offered him a full scholarship. His mother, ever-cautious but also prayerful, prayed hard about the decision and decided it was meant to be. Allen arrived on campus in fall 1967, the first Black residential student at Roanoke and the first Black student-athlete.
Despite the racial inequity and discrimination he'd experienced in high school — and the tone of the times nationwide — Allen said he went through four years at Roanoke College without a single incident of racism. "As I said when I was the keynote speaker on Alumni Weekend in 1997, 'It was the best of times, it was the best of times,'" he said.
That speech, "The Roanoke Way," contributed to Allen's legendary status at the school. His description of the close-knit community at Roanoke, and the way he was embraced on campus, is still referred to as "The Roanoke Way" today.
It probably helped that as a student, Allen had unparalleled support from his basketball teammates, including Seals, who was a sophomore RA in Bowman Hall when Allen moved onto the floor. Seals became a friend and supporter of Allen, as did other members of the basketball team. Any arguments they had, Allen said, had to do with basketball, not race.
Allen's support network also included faculty, staff — especially staff members of color — and even then-President Perry F. Kendig, who stopped Allen on campus to offer encouraging words.
"My support system at Roanoke was just unbelievable," he said.
Allen, who earned a degree in philosophy at Roanoke, went on to become an accomplished basketball coach. After several years coaching basketball at the high school level, he served as assistant coach at Virginia Tech (under his former Roanoke College coach, Charlie Moir). When he became head coach at Tech, he was the first Black head coach at a predominantly white university in Virginia, and he was named both Rookie Coach of the Year and Metro Conference Coach of the Year. Later, as head coach at Tennessee State University, his team became back-to-back Ohio Valley Conference tournament champions in 1993 and '94, and TSU was the first historically Black college to represent a white conference in the NCAA tournament. He has also served as head coach at Howard University and University of Maryland Eastern Shore, and as assistant coach at Radford University and University of Maryland, Baltimore County.
Allen was inducted into the Roanoke College Athletic Hall of Fame in 1976 and the Virginia Sports Hall of Fame in 2013. His Roanoke College jersey has been retired. He also was awarded the Roanoke College Medal for outstanding alumni in 2022, is a longtime supporter of the Maroon Club, and is a member of the Society of 1842.
More than 50 years after their graduation day, Allen remains close to many of his Roanoke College basketball teammates. Several of them, including Hal Johnston '72, Gene Luna '71 and James "Sticks" Stewart '72, piled into a van and traveled 14 hours to Lakeland, Florida, for the hall of fame induction ceremony on Nov. 3.
"It was great to see him honored in that way," Seals said. "I think it was well deserved, and it brought back a lot of memories. He was very gracious to the rest of the players, and it was just a great event. Anytime we get together, we have a good time."
The ceremony was also attended by Page Moir, a major gifts officer at Roanoke and Charlie Moir's son, and Vice President for Advancement Kim Blair '93.
"Frankie Allen is an extraordinary pillar within the Roanoke College community," Blair said. "He seamlessly blends his prowess as a basketball player with his groundbreaking role as the first Black residential student on campus. Frankie is as good a human as he was a basketball player, and his legacy will be etched not only in the records of the game but also in the record book of life, making him a truly outstanding representative of The Roanoke Way."
John McCarthy, founder of Small College Basketball, said Allen's inclusion was a no-brainer.
"Frankie Allen is a college basketball legend, and it was an honor to induct him into the Small College Basketball Hall of Fame.," McCarthy said. "He obviously earned this national recognition, and it was wonderful to see that, all these years later, his teammates and school representatives came to Lakeland, Florida, to be there for his induction. Frankie raves about his experience at Roanoke, his teammates and his coach, Charlie Moir. Congratulations to Frankie Allen, now a member of the Small College Basketball Hall of Fame."
A few of Allen's most impressive stats
All-time leader in points (2,780) and rebounds (1,758) at all NCAA levels in Virginia
At Roanoke, averaged 24 points per game and 15.2 rebounds per game
First person named to the AP Virginia All-State team all four years
Roanoke compiled an 82-win, 34-loss record during Allen's career, including two Mason-Dixon Conference Championships and two NCAA Tournament berths
First player in Roanoke College history to have his jersey retired
Holds 18 individual marks in Maroon record books
Was named Virginia College Division Player of the Year three years in a row (1969-1971)
Earned four First-Team All-Mason Dixon Conference selections
Mason Dixon Conference Player of the Year, 1970-71
NCAA College Division All-American honors (1969-1971)
In three years as coach at Albemarle High School, won two district championships and named Central Virginia Coach of the Year
Assistant coach for 11 seasons at Virginia Tech; head coach for five years, earning Metro Conference, Virginia Sportswriters and National Rookie Coach of the Year awards in 1988. Coached NBA standout Bimbo Coles.
Head coach at Tennessee State from 1991-2000. Ohio Valley Conference and Basketball Times National Coach of the Year after leading Tennessee State to a 15-win improvement, which was the best in the country
Led the Tigers to an OVC Championship and the school's first post-season appearance, as well as NCAA Tournament appearances in 1993 and 1994. Named OVD Co-Coach of the Year in 1995, leading team to third-straight conference win
Coached two-time OVC Player of the Year and NBA Draftee Carlos Rogers
Head coach at Howard University, 2000-2005. Guided team to the school's first winning season in 16 years
Also was head coach at University of Maryland Eastern Shore and assistant coach at Radford University and University of Maryland, Baltimore County