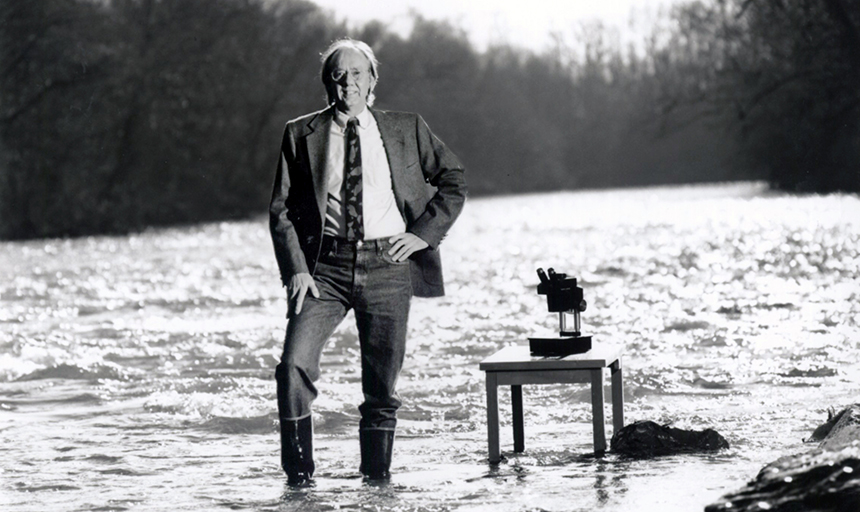 Robert "Bob" Jenkins '61 caught his first fish at age four. Not long after, it became clear that it was his interest that had really been caught – and that fascination with fish would stay with him for a lifetime.
Jenkins, professor of biology emeritus at Roanoke College, died on July 12, 2023, at age 83. His family, friends, colleagues, and the many students he influenced over 40 years of teaching at Roanoke are left to marvel at his accomplishments as an ichthyologist, naturalist, teacher, author, angler, marathon-runner, music lover and father.
Born in Brooklyn, New York, on Feb. 9, 1940, Jenkins grew up on Long Island, where his parents encouraged his love of natural history – and his father taught him to fish. Jenkins matriculated to Roanoke College immediately after high school, joining Sigma Chi Fraternity and earning a degree in biology.
Following graduation, he attended a master's program at Virginia Tech, then worked for one year in the ichthyology laboratory at the Smithsonian Institute before enrolling in a doctoral program at Cornell University. At Cornell, he conducted extensive research on multiple fish species, including Nocomis, or chubs. He ultimately chose to dedicate his doctoral thesis to the Catostomidae family, or sucker fish, and would continue to study suckers for the remainder of his career, ultimately establishing himself as the world's leading authority on the species. He would often refer to himself as "a sucker for suckers."
"Dr. Robert E. Jenkins was a pioneer in recognizing the diversity of southeastern redhorse suckers," said Brett Albanese, assistant chief of wildlife conservation for the Georgia Department of Natural Resources, and a friend and colleague of Jenkins. "His work has led to greater understanding, appreciation and conservation of these amazing fishes."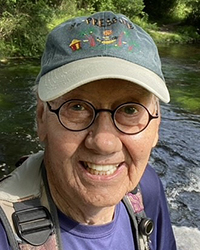 In 1968, Jenkins joined the faculty at Roanoke College, where he taught biology for about a decade before leaving for a stint at Virginia Commonwealth University in Richmond. Two years later, the Blue Ridge Mountains lured him back, and he resumed teaching at Roanoke College, where he stayed until his retirement in 2007.
At Roanoke College, Jenkins taught courses including General Zoology, Introductory Biology, Human Anatomy, Vertebrate Morphogenesis and Field Biology of Fishes. He especially enjoyed taking students into the field, exposing them to research in locations as far away as the Florida Keys and the Bahamas. His May Term course in Field Biology was popular among students, who were encouraged to experience the many types of natural habitats in Virginia, from the Eastern shore to the mountains.
Mark Clements '00 worked as a research assistant to Jenkins at Roanoke for three years. He said they traveled thousands of miles around the southeastern U.S., catching and studying fish. Clements went on to earn a Ph.D. in ecology and evolutionary biology at Tulane University, and he now teaches biology at Northern Essex Community College in Massachusetts.
Clements described Jenkins as a highly engaging teacher, a great storyteller, a meticulous researcher with a photographic memory, and a dear friend. As an adult student, he said, he needed to earn money to make ends meet, so Jenkins found funding to pay him for his laboratory work. Later, when Clements and his partner were displaced from New Orleans by Hurricane Katrina, Jenkins found them laboratory and office space at Roanoke College to work on their doctoral theses.
"Bob was more than a mentor to me, he was also a close friend," Clements said. "We spent a lot of time together while I was a student, and we continued to communicate regularly over the next 23 years. We shared a common curiosity for fish and fishing, and in the late 90s, I had not met another person who shared that passion. It was inspiring. His death leaves a big void."
Over the years, more than 40 students assisted Jenkins with research in his laboratory, and seven wrote or co-wrote peer-reviewed papers. Jenkins' research and mentorship of students earned him multiple awards, including the Thomas Jefferson Medal for Outstanding Contributions to Natural Science (awarded by the Virginia Museum of Natural History) and two Roanoke College awards, the Sesquicentennial Distinguished Alumnus Award and the Professional Achievement Award. In addition, an undergraduate scholarship in his name has been awarded annually by the Virginia Chapter of the American Fisheries Society since 2003.
Jenkins' career was marked by many significant discoveries, including more than a dozen new fish species. Multiple species are named in his honor, including Percina jenkinsi and Etheostoma jenkinsi. He has also discovered or helped discover species believed to be extinct, such as the yellowfin madtom. Jenkins' work evaluating the conservation status of fish species resulted in some species being listed as being of special concern, threatened or endangered. He also advocated for the protection of fish habitats, which included efforts to block dam construction.
Noel Burkhead '73 began working with Jenkins when he was a student at Roanoke, and that relationship would become a 13-year mentorship and collaboration. The two co-authored a book, "Freshwater Fishes of Virginia," that was Jenkins' proudest professional achievement. Published in 1994, it featured several chapters co-authored by Roanoke College students. It remains one of the most comprehensive books published on the subject and is still considered an essential guide to the fish of Virginia and central Appalachia.
"Bob had one of the best 'fish eyes' – the ability to identify hundreds of similar-appearing fishes with a quick glance. In fact, the reason he decided to study suckers is because so many fish biologists and ichthyologists made mistakes in identifying species," Burkhead said. "Bob is recognized as one the foremost ichthyologists of our time, one who would have normally been employed at a museum or university, but he chose Roanoke College. I never asked him why, but I think he enjoyed his time as a student and believed the education he received fully prepared him for graduate school. I know that was my experience."
Jenkins, who ran cross country as a Roanoke College student, was also an accomplished marathon runner who competed in many long-distance races. He finished in second place in the Masters division of the Boston Marathon with a time of 2:24:08. He was inducted into Roanoke's Athletic Hall of Fame in 1980.
He also enjoyed watching sports of all kinds, creating beautiful aquariums teeming with life, reading novels, bicycling and listening to music, especially his favorite bands, the Grateful Dead and Pink Floyd.
Jenkins' survivors include his daughter, Katherine "Katey" Jenkins '96; his son, Glenn Jenkins; and his former wife and friend, Diane Giessler.
A celebration of Jenkins' life is planned for 11 a.m. on Saturday, Sept. 16, 2023, at Antrim Chapel on the Roanoke College campus. The celebration will then move outside to the Olin courtyard and amphitheater for live music, refreshments and storytelling. All are welcome.