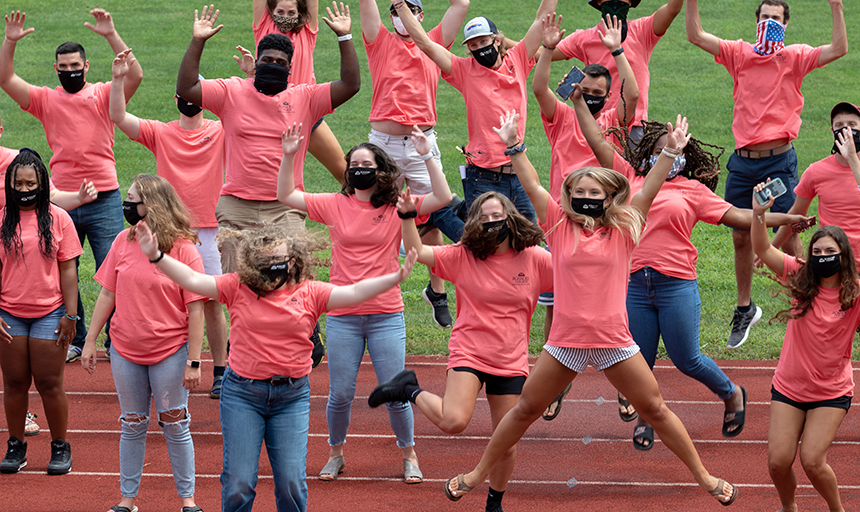 Roanoke College's 2020 in review
2020 brought change and uncertainty to the world. In some ways, things seemed to be on hold, yet in other ways there was turmoil. At Roanoke College we felt these extremes along with the moments in between. As we look back on the year, we are reminded of the talented students, dedicated faculty and staff and wonderful ways we all came together. Let's take a look.
On Feb. 4, we welcomed former White House intern Monica Lewinsky to our campus where she advocated for a "cultural revolution" in response to cyberbullying.
"We need a cultural revolution, a shift, a return to compassion and empathy," Lewinsky said to a crowd of 800 students, faculty and staff in the Cregger Center.
Little did we know that the event held in the Cregger Center would be the first and last large event held on campus that year. On March 11, upon the students' arrival back to campus from Spring Break, the Roanoke College community received an email saying that face-to-face meetings of classes were suspended for the next three weeks; however, face-to-face meetings would soon be suspended for the remainder of the semester. At that time, there were no confirmed cases of COVID-19 on campus.
While away from campus, three Roanoke College students — Chloe Van Duyne '23, Eddie Dixon '23 and Tess Weidenkopf '22 — created Maroons Make Masks to support health workers in need. The students created a website, maroonsmakemasks.org, to provide instructions on how to make masks and donate from home. The site also tracked the number of donations the program made to the Bradley Free Clinic in Roanoke.
"Even though we're not with our Roanoke family right now, we're doing what we can to help our home away from home," Van Duyne said.
Maroons Make Masks ended up collecting more than 2,200 masks, among other supplies for Bradley Free Clinic and other organizations.
On Saturday, May 2, the College conferred 429 degrees during a ceremony that was broadcast via Facebook Live. Three graduates earned the honor of valedictorian, tying the College's record which was set the previous year. The Class of 2020 valedictorians were: Kyle Elizabeth Grohbrugge, Kaitlyn Renee Hefele and Benjamin Allen Vester.
In June, Roanoke College announced the establishment of the Center of Studying Structures of Race, a center dedicated to the study of historical and contemporary issues dealing with race and the legacies of slavery in modern American society. This addition came at a time when racial tensions were high in the nation.
"The goal of this Center is to teach and learn about and become compassionate about the ongoing presence of institutional racism in our society," Dr. Jesse Bucher, a history professor at the College and director of the Center, said.
"Even though we're not with our Roanoke family right now, we're doing what we can to help our home away from home."
Chloe Van Duyne '23 on Maroons Make Masks initiative
Steph Zemba's '21 research on the way religion comforts immigrant elders gained national attention and Zemba was accepted into the American Sociological Association (ASA) Honors Program where she presented her research at the ASA's annual conference. The ASA Honors Program is an extremely competitive national program that provides undergraduate students with a taste of life as a professional sociologist. Zemba's presentation focused on how religious communities can serve as a source of social support and assistance for immigrant elders.
On Aug. 15, the College welcomed the Class of '24 to campus. The incoming class and their families were screened for COVID-19 symptoms upon their arrival and were able to get acclimated to campus without the upperclassmen for a few weeks. Classes began virtually on Aug. 19, and upperclassmen could move in Sept. 11-12.
Throughout the month of October, the College managed to keep the active COVID-19 case count low thanks to cooperation from students and encouragement from faculty and staff. The outside picnic tables and benches on the quad were often occupied with students, and Roanoke's Campus Activities Board and student activities got creative to organize fun and safe events for students, socially distanced and outside. Additionally, the opening of Freshens Fresh Food Studio provided a healthy dining option for students and while doing so lessened the congestion in Commons and Cavern.
Students had the opportunity to join a Zoom call with two Supreme Court Justices. Roanoke College students were invited to watch Supreme Court Justice Neil Gorsuch talk on Constitution Day, and event sponsored by The National Constitution Center. On Nov. 10, the College hosted Supreme Court Justice Sonia Sotomayor virtually through a Zoom call with more than 300 students, faculty and staff. She talked about the experiences she had and the lessons she learned that made her feel like she belonged. Ten students had the opportunity to ask Sotomayor a question on the call.
The semester wrapped up earlier than normal with Nov. 17 marking the last day of class. Students completed exams over the course of the next week and were finished up just in time for the Thanksgiving holiday. However, even with students gone, the turmoil of 2020 continued. Mid-December, students, faculty and staff were told to log out of all RC accounts until further notice due to a cyber event.
Looking back on 2020 with 20/20 vision, it is evident that the RC community is resilient, ambitious and dedicated to the greater good. We are fortunate to see the close of another calendar year and look forward to what 2021 will bring when students arrive back in February.