French
French has long been the mother tongue of diplomacy, art, history and culture. Spoken worldwide, the study of French opens doors to travel, graduate study and career opportunities as diverse as medical research, museum curation and the intelligence services.
International travel, independent research and internship opportunities offer you the chance to gain extraordinary real-world experiences while developing your French language skills.
Roanoke's special relationships with universities across the globe give you access to outstanding study abroad experiences throughout France, Morocco and Switzerland.
French students frequently pursue careers in international relations, business, healthcare, education, social services, criminal justice and political science.
We offer both a major and a minor in French.
Error rendering content unit:*[@Name='MarketingContent']
Error occurred during XSLT transformation: Stylesheet MarketingContent.xsl cannot be found.
Stylesheet MarketingContent.xsl cannot be found.
French & Chemistry?
Watch Video
Kate combines two interests to create a career she will love
"Our mission is to give our students the opportunity and the challenge to live multilingually. Proficiency in another language provides insights and understanding that are so needed in today's world."
Dr. Charlene Kalinoski, professor and chair of Modern Languages department
Sample Course Offerings:
FREN 338: Second Language Learning
FREN: 380: Contemporary France
FREN 431: The Renaissance Era

View all courses
The history and international relations major is only the second Roanoke student to be awarded a Gilman for study in Europe.
Roanoke College students have earned a record number of Fulbright awards this year. Five students, all women, learned this month that they would be doing research and studying in Austria, Spain, Mexico, Germany and Scotland with the prestigious Fulbright program.
"My semester in Morocco was absolutely life-changing. It was so fascinating to explore a country and a culture so different from my own. I was constantly out of my comfort zone, and I was always challenging myself. I loved practicing my French with Moroccans and my host family because everyone was so nice and encouraging, and I was able to become much more comfortable speaking the language." -Katie Thornton, '12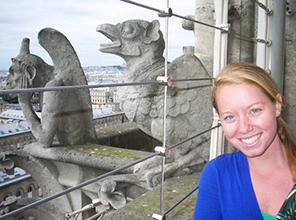 "This trip was my first time outside the country and while I had many foreign experiences, the presence of a Roanoke professor and thirteen fellow students provided me with a sense of familiarity. My favorite day included the Louvre, Berthillon ice cream, strawberry and Nutella crepes, going up the Eiffel Tower, and taking a Bateau Mouche boat tour on the Seine. I would do this May Term over and over again!" -Meghan Wilcock, '13
Language students get into well-respected graduate programs