German
German is the language of three major cultural and financial hubs - Austria, the fourth richest country in the European Union, Switzerland, home of the majestic Alps, and of course Germany, the foremost European business center.
German is the language of internationally acclaimed writers, philosophers, scientists, musicians, theologians, psychologists and artists.
As a German student, you'll be encouraged to explore the world through travel, with options ranging from intensive three-week travel courses to semester or year-abroad programs.
German provides excellent preparation for you if you wish to work and study in German-speaking areas.
We offer a minor in German.
The inaugural Roanoke College International Film Festival will kick off next month, aiming to bring together the campus and Roanoke communities through culture and film.
Two professors are making study abroad more accessible with this program.
"Studying in Bern, Switzerland was one of the best decisions I have ever made. I found a place where I could study my major while still learning about the many different facets of my minor, German.... It was incredible being able to go out and discover how to speak and live life Swiss style."
Laura Fredell '14
German Immersion Through Leipzig Semester Program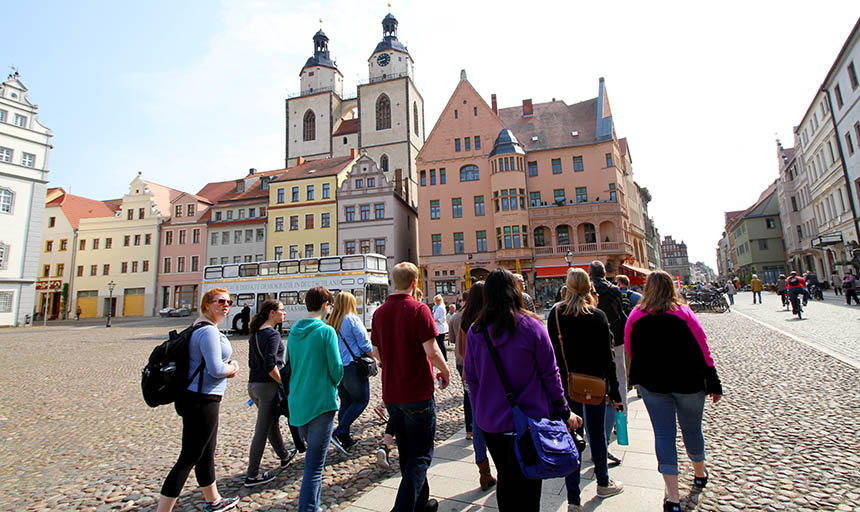 Dr. Willingham and Dr. Hakkenberg are hosting a study abroad opportunity for Roanoke College students in Leipzig, Germany. This semester-long program will immerse students in both the German language and culture, all while allowing them to receive regular course credit. Courses vary each semester, but range from German and history to literary studies. "The goal of it is to make study abroad more accessible," says Dr. Willingham. "We're charging less for this semester than we do for European may terms. It is open to all majors, and there is no language prerequisite."
Sample Course Offerings:
GRMN 311: German Civilization and Culture
GRMN 380 Special Topic: Middle Ages
GRMN 380: German Language Literature Culture

View all courses
Scott is Roanoke's first Fulbright to Europe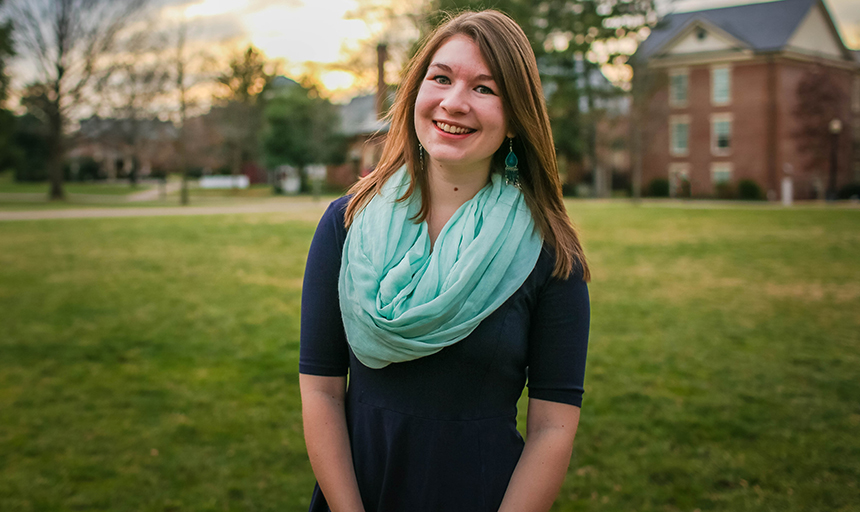 Savannah Scott '17 has accepted a Fulbright study/research award to study at the University of Technology of Vienna, Austria. Scott, who is from Huntington, N.Y., is a member of the Honors Program and a biology major, with minors in chemistry and French. She will be studying water quality in Austria from October 2017 to June 2018. Scott is Roanoke's first Fulbright to a European country. Austria awarded only seven Fulbright research awards this year and Scott successfully competed against students with masters degrees and Ph.D. students. Scott will be doing environmental microbiology research using microbial source tracking methods to assess levels of water contamination from human sources. She will be testing a variety of rivers and other bodies of water, including the Danube.
Exchange program in Germany
Roanoke College's exchange with Otto-Friedrich-Universitat in Bamberg, Germany, is designed to help students enhance their German language skills and gain firsthand knowledge of German culture. Bamberg, located in the very center of Germany, is a charming medieval town composed of winding streets and quaint architecture. Bamberg is known for its history, scenic beauty and quaint cafés. The historic Altstadt (Old Town) area of Bamberg has been declared a World Cultural Heritage site by UNESCO.
Shields heads back to Germany with Fulbright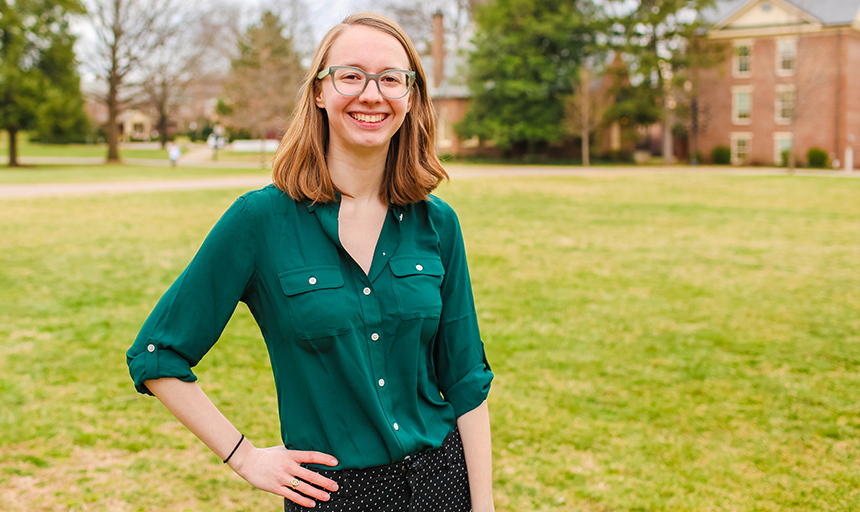 Stephanie Shields '17 has been selected for a 2017-18 Fulbright U.S. Student Award to Germany. She will be doing research at Ludwig-Maximilians-Universität München in Munich, Germany. Shields will contribute to work on vocal learning - the capacity to learn to produce new sounds through imitation - in the bat Phyllostomus discolor. Shields is a psychology major with a neuroscience concentration and a German minor. After her Fulbright work, Shields plans to earn a Ph.D. in neuroscience. Shields has been conducting research at Roanoke with Dr. David Nichols for several years, and her work resulted in one first-author publication and another first-author manuscript submitted for publication. One of her projects relates to facial attractiveness and emotionality in which she used EEG to investigate the timing of neural responses to faces.
The Modern Language Department holds this event to inform students about the various language clubs on campus, as well as the opportunities of majoring or minoring in a foreign language. Open to all!
Date | Time: Tuesday, April 23, 2019 | 2:00 PM
Location: Lucas Hall First Floor Lobby
The 2019 Commencement activities will begin on Friday late afternoon, May 3, with the Baccalaureate ceremony at 4:30 p.m. in the Cregger Center Arena. This celebratory event is an important part of Commencement exercises and is an occasion for thanksgiving as our students complete their educational program.
Date | Time: Friday, May 03, 2019 | 4:30 PM
Location: Cregger Center