Pre-Occupational Therapy
Occupational therapists treat injured, ill, or disabled patients through the therapeutic use of everyday activities. Occupational therapists help patients perform all types of functions, from using a computer to caring for daily their needs such as dressing, cooking, and eating. Occupational therapists help patients recover and improve the skills they need for daily life.
Pre-occupational therapy students participate in the Health Professions Advising Group (HealthPAG), which is designed for students interested in careers in a variety of health fields.
A rigorous preparation in the sciences along with a strong liberal arts background and access to clinical experiences and research opportunities will give you an edge in gaining admission to top-quality graduate programs across the country. You'll be encouraged to complete internships with occupational therapy professionals. The Roanoke Valley is a medical hub for Southwestern Virginia. Roanoke's rapidly growing medical community, including a new medical school and two major hospital systems, creates tremendous learning opportunities for you. You'll also have the opportunity to participate in a wide variety of high-level research projects at Roanoke.
Faculty advisors will work with you from your freshmen year and every step of the way. They not only help you select appropriate coursework and extracurricular activities, but also work with you to prepare for admissions testing, draft personal statements and develop strategies for professional school interviews.
Undergraduate students can major in any academic discipline, but most occupational therapy graduate schools require you to complete courses in anatomy, biology, chemistry, physics, physiology, psychology, sociology and statistics.
Pre-occupational therapy students of all majors are eligible to participate in this pre-professional program.
There's a Buzz in the Hallways
The Bureau of Labor Statistics expects the demand for occupational therapists to grow by 27% from 2014-2024.
Putting passion into practice
Occupational Therapist and Entrepreneur
After Roanoke, Laurel Brennan '95 received a master's in occupational therapy from Texas Women's University. She worked at Genesis Rehab Services, and then started LSBOT, an in-home provider of occupational therapy in the Baltimore area. Laurel recently founded, with her husband Mel Brennan, The XP Movement, a charity "delivering unique and challenging experiences to adolescents in ways that measurably contribute to their positive development." Laurel is The XP Movement's Chief Occupational Therapy Officer. She credits Roanoke College for guiding her to her career. "It was my major in psychology and my internship and coursework in social work that led me to occupational therapy," said Laurel. "I did not have a car, and my professor arranged for me to borrow a Roanoke College car to get to my internship at Roanoke Memorial Hospital."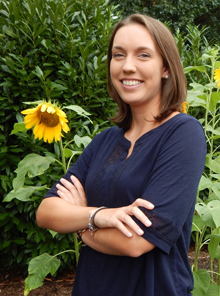 She loves working with the elderly
Like so many Roanoke students, Kasey Hash '16 found her career path through internships and research. Hash cites her independent study on geriatric fatigability as her most rewarding Roanoke experience. She used both survey responses and functional mobility scores to predict performance as it pertained to fatigability. Through this research, Hash gained foundational knowledge that helped her get into grad school, and she learned to present her findings to large, professional audiences. "I was fortunate to have three professors guiding me with my research. I learned what I was really capable of."
Hash is a master's candidate in Occupational Therapy at Radford University.
Internships give you the experience you need to get into great grad schools
We've established relationships with internship and placement sponsors in a wide range of medical organizations. Our students have completed internships at organizations such as:
Blue Ridge Behavioral Healthcare
Brandon Animal Hospital
Carilion Community Hospital
Child Abuse Prevention Council
Lewis-Gale Clinic
Merck Laboratories
Physicians to Children
Q-Biochem, LLC
Thompson's Brain Injury Rehabilitation Center
Faculty/student research: a hallmark of our pre-professional programs
Jim Buriak, associate professor of athletic training, is personally involved with students in Roanoke's pre-professional health programs, helping them set up internships, independent study and research that will help them get into great graduate programs.
"It's really very satisfying," he says, "to see freshman come here with only a vague idea of what they want to do, and through first hand experiences, find their passion, and grow into thoughtful, committed professionals."
Buriak is conducting research on the impact of sleep time on strength improvements and body composition. A strong proponent of undergraduate research, he'll be working closely with a Roanoke student, giving that student an opportunity to participate in all aspects of the study.