Pre-Occupational Therapy
Available as a pre-professional program
Occupational therapists treat injured, ill or disabled patients to help them recover and hone the skills they'll need for daily life. This important therapy can include working with patients on all types of functions, from using a computer to caring for their everyday needs such as dressing, cooking and eating.
Here at Roanoke College, we offer a rigorous preparation in the sciences, along with a strong liberal arts background and access to clinical experiences and research opportunities. That give our students an edge in gaining admission to top-quality graduate programs across the country.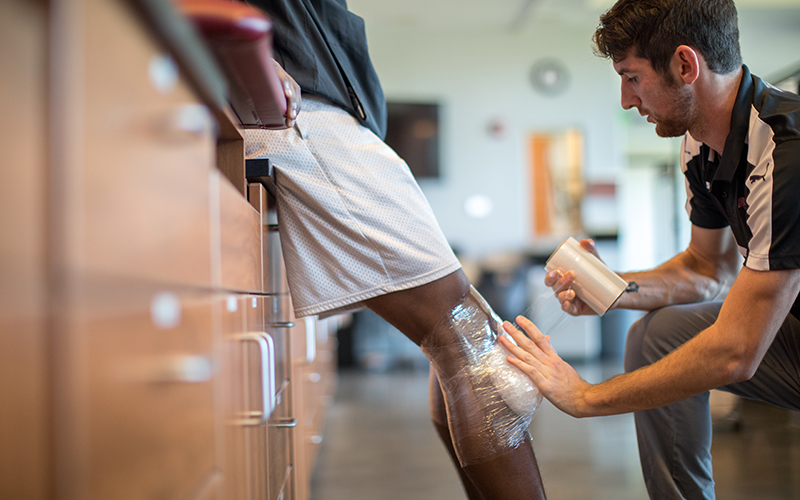 What Makes Roanoke Different?
Join us at Roanoke College for a lecture on values and ethics in leadership by 3-time cycling Olympic Gold Medalist, Kristin Armstrong.

Date:

October 3, 2023

Time:

7 - 8 p.m.
As a student in Pre-Occupational Therapy, you'll participate in the Health Professions Advising Group (HealthPAG), which is specially designed for students interested in careers in a variety of health fields.
You'll be encouraged to complete internships with occupational therapy professionals. Many of those opportunities can be found right here in the Roanoke Valley, which is a medical hub for Southwest Virginia. Roanoke's rapidly growing medical community, including a new medical school and two major hospital systems, creates tremendous learning opportunities for you. You'll also have the chance to participate in a wide variety of high-level research projects at Roanoke.
Faculty advisors will work with you at every step of the way beginning in your freshman year. They not only help you select appropriate coursework and extracurricular activities, but also work with you to prepare for admissions testing, draft personal statements and develop strategies for professional school interviews.
Roanoke students in Pre-Occupational Therapy can major in any academic discipline, but most graduate schools require completion of courses in anatomy, biology, chemistry, physics, physiology, psychology, sociology and statistics.
We offer a pre-professional program in Pre-Occupational Therapy.