Health and Exercise Science
Studying health and exercise science will provide you with a solid understanding of human physiology, human movement and the role exercise plays in human health.
Health and exercise science at Roanoke prepares students for a diverse array of careers, as you build a broad foundation of scientific inquiry and critical thinking. You'll explore the physiological, biochemical, psychological, behavioral and mechanical principles of applied exercise science.
In concert with courses in human physiology, movement science and fitness/wellness, you'll be encouraged to pursue research and internship experiences in kinesiology, exercise science or the rehabilitation sciences, and participate in projects that are presented at regional and national conferences. Internship options are also available on and off campus at a variety of work sites, community health organizations, and fitness, clinical and rehabilitative facilities.
Through a diverse array of real-world learning opportunities, you'll be positioned to make a real difference before and after graduation. Health and exercise science students are prepared for careers in medicine, rehabilitation, public health, movement science, wellness, nutrition, sport performance and more.
We offer a Bachelor of Arts (B.A.), a Bachelor of Science (B.S.) and a minor in health and exercise science.
Cutting Edge Facilities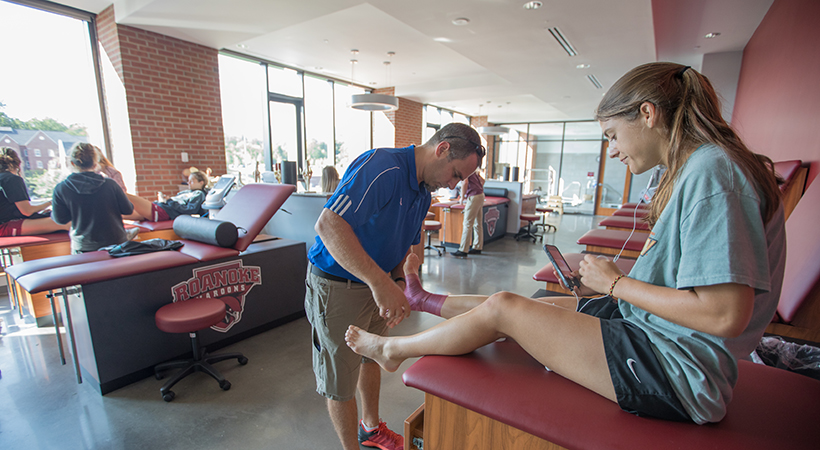 Our state-of-the-art Athletic Training room serves our athletes while providing a venue for hands-on classroom experiences and internships.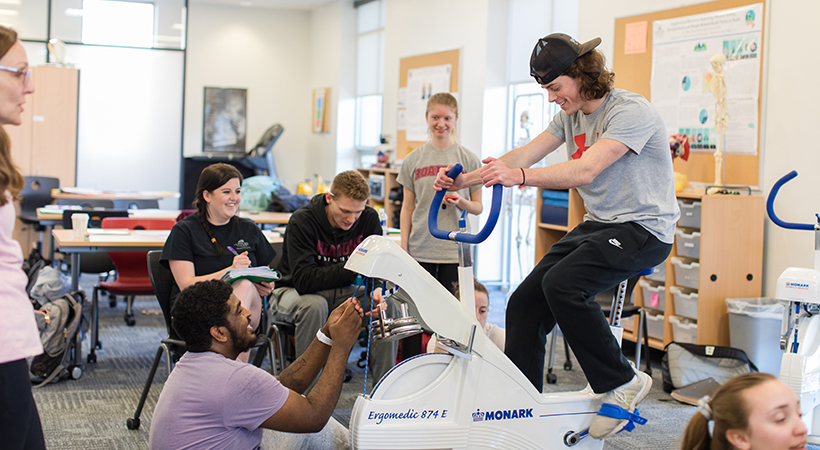 The Health and Human Peformance Lab is fully-equipped with everything you need to explore clinical exercise science, movement science, and fitness and wellness. Classroom, small-group, and one-on-one experiences are tailored to support skills building in a variety of subfields, including athlete performance testing, functional protocols for special populations, rehabilitative methods, motion analysis, and explorations in epidemiology.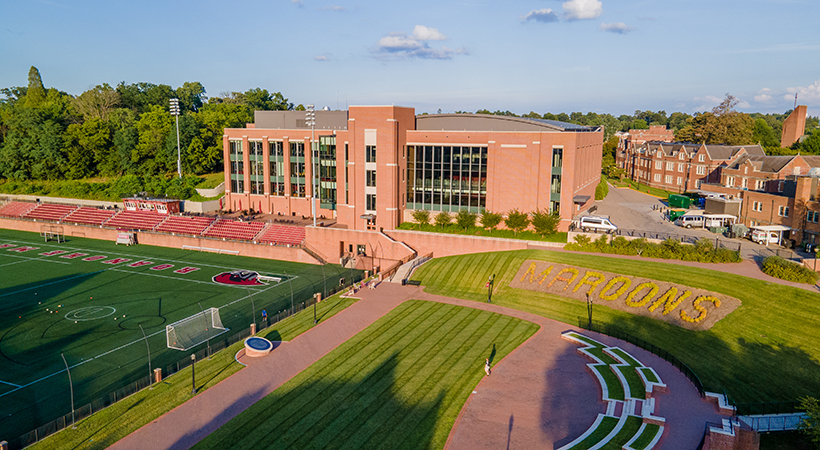 The Cregger Center is the home of the Belk Fitness Center and the Roanoke College Athletic Training Program. It has two classrooms, an instructional technology classroom, the Athletic Department and an indoor track in the Fieldhouse.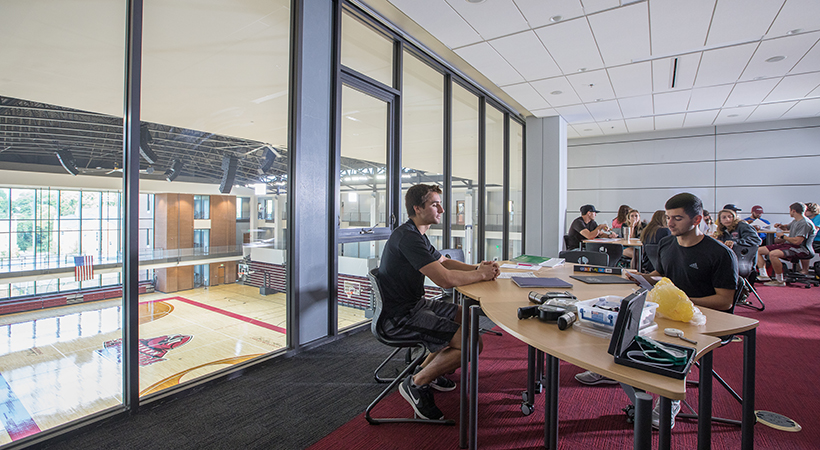 Modern classrooms feature bright, airy spaces conducive to collaborative, hands-on learning.
A Roanoke student uses the latest portable equipment to measure metabolic response to physical activity.
Health and exercise science can open the door to advanced study in graduate school and to careers in clinical and rehabilitative specialty fields, fitness and wellness or performance coaching.
When You Get That Spark | Sarah Matteo
Work with faculty
Alongside our faculty members, both in the classroom, research lab, or and in the community, you'll experience innovation in action. We design immersive experiences for students to gain real-world learning through professional shadowing and internships, cutting-edge research experiences, and collaborative projects with community partners in health care, sport performance, city government and the nonprofit sector. Through community partnerships Campus resources, such as our state-of-the-art Human Performance Lab, the Center For Community Health Innovation, and the Work-Study Research Program, provide multiple avenues of support for student engagement, including paid internships and research experience, and funding for materials for students to explore their own research topics.
Roanoke lays the groundwork for Olympian
Shelley Olds '03 has always placed athletics near the top of her must-do list. At Roanoke, the Health and Human Performance major was captain of the Women's Soccer Team. Two years after graduation, she was introduced to cycling. Since then, she has soared, becoming one of the highest-ranked women's cyclists in the world. In 2012, she reached the pinnacle, competing in the London Olympic Games as a member of the U.S. Women's Road Race team. Currently, she is a member of the Bigla Pro Cycling Team, training and competing from her home base in L'Estartit, Spain, her sights set on the 2016 Olympic Games in Brazil. "I believe I was prepared to become a professional athlete and Olympian by many of the experiences I had at Roanoke College," Olds says.