Neuroscience
Neuroscience offers you an opportunity to learn about theory and research the brain and nervous system from a number of perspectives.
You'll come to understand how developments in biology, psychology, chemistry and related fields alter knowledge and research techniques in the other fields. While the psychology department houses the concentration, it's designed to be compatible with majors in biology, chemistry, health and human performance, and physics, since neuroscience is an interdisciplinary field.
You'll be encouraged to work with a professor to conduct research and publish your findings—a key advantage if you intend to go on to graduate programs in neuroscience.
Nikki Hurless '14, a psychology major who concentrated on neuroscience, was accepted directly into a Ph.D. program at St Louis University. As a sophomore at Roanoke, Hurless worked with Professors Edward Whitson and David Nichols using both physiological measures (i.e. heart rate, galvanic skin response, electroencephalography) combined with survey responses on emotional reactivity for an Honors project. She also held an internship at the Salem Veterans Affairs Medical Center, where she helped conduct research. As an undergraduate, Hurless published an article on her research in a noted neuroscience professional journal, a first for a Roanoke College student in this field.
Ranked as one of 35 "great schools for psychology" by The Princeton Review, Roanoke College's psychology department focuses on this subject as a science.
Shields heads back to Germany with Fulbright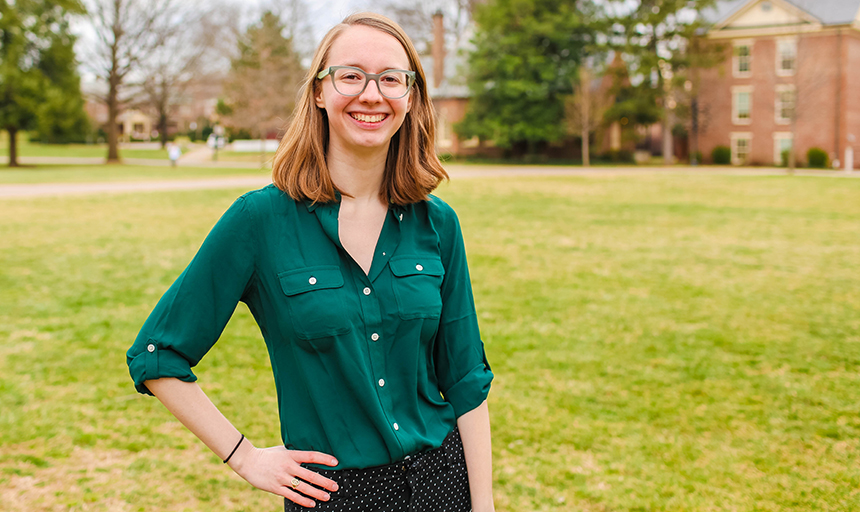 Stephanie Shields has been selected for a Fulbright U.S. Student Award to Germany. She will be doing research at Ludwig-Maximilians-Universität München in Munich, Germany. Shields will contribute to work on vocal learning - the capacity to learn to produce new sounds through imitation - in the bat Phyllostomus discolor. Shields is a psychology major with a neuroscience concentration and a German minor. After her Fulbright work, Shields plans to earn a Ph.D. in neuroscience. Shields has been conducting research at Roanoke with Dr. David Nichols for several years, and her work resulted in one first-author publication and another first-author manuscript submitted for publication. One of her projects relates to facial attractiveness and emotionality in which she used EEG to investigate the timing of neural responses to faces.
Sample Course Offerings:
NEUR 330: Principles of Neuroscience
HHP 306: Motor Behavior
BIOL 420: Developmental Biology
PSYC 335: Neuropsychology
PHYS 410 - Biophysics
Roanoke Teams present neuroscience-based research
Alex Grant, Nathaniel De Young and Dr. Brian Shenal presented "A comparison between QOL in TBI and Memory Disorder Clinics." at the SYNAPSE Conference at UNC Asheville, and Stephanie Shields, Caitlin Morse, and Dr. David Nichols presented "Are electrode caps worth the investment? An evaluation of EEG methods in undergraduate neuroscience lab courses and research." at the Society for Neuroscience meeting in San Diego.