Theatre
Theatre encourages active learning through a mixture of practical work in theatrical production and classroom exercises, putting theory into practice.
The program provides a broad engagement with theatre, from technical expertise and performance to dramaturgy and writing. We offer courses in acting, design, theatre history, musical theatre, directing, and playwriting, giving students an opportunity to experience the full range of the theatrical medium. Theatre Roanoke College (TRC), our production arm of the program, produces three mainstage productions per year, ranging from classics such as A Midsummer Night's Dream to contemporary musicals such as Into the Woods, and everything in between.
TRC also encourages student-led productions in our Studio Theatre, and we have collaborated with various community groups on site-specific staged readings of plays with a focus on social justice, religious belief, and quantum physics, among other topics.
TRC has a strong record of employment within the field for our alumni, thanks to our instructors' extensive professional experience in theatre as well as the rigor of our program. Our graduates have gone on to work as actors, stage managers, designers, technicians, production managers, and teachers.
In other fields, TRC alumni work in accounting for theatre companies, after-school programming for children, and work in television/film/commercials (both onscreen and behind the scenes). Additionally, several alumni have gone on to graduate school at prestigious institutions such as the Royal Central School of Speech and Drama (London), Texas Tech University, and the New School for Acting and Drama (NYC).
We offer a major and minor in theatre.
Take a look at Olin Hall, where our program is housed, in our virtual visit below.
Learn by doing
In our tight-knit theatre program, you'll get hands-on experience right away. Everything we do is student-built, and even as a freshman, you'll have free reign to build a world on stage.
Circle Mirror Transformation
Watch Video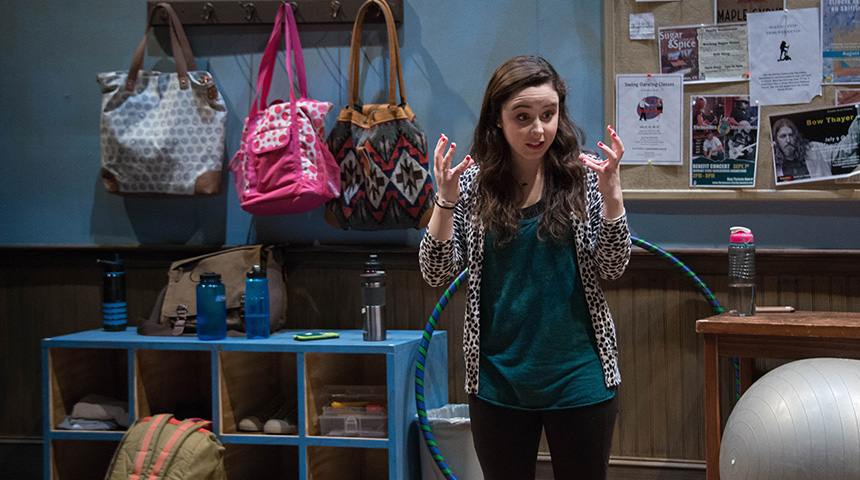 Theatre Roanoke College's production of the award-winning play, "Circle Mirror Transformation," by Annie Baker.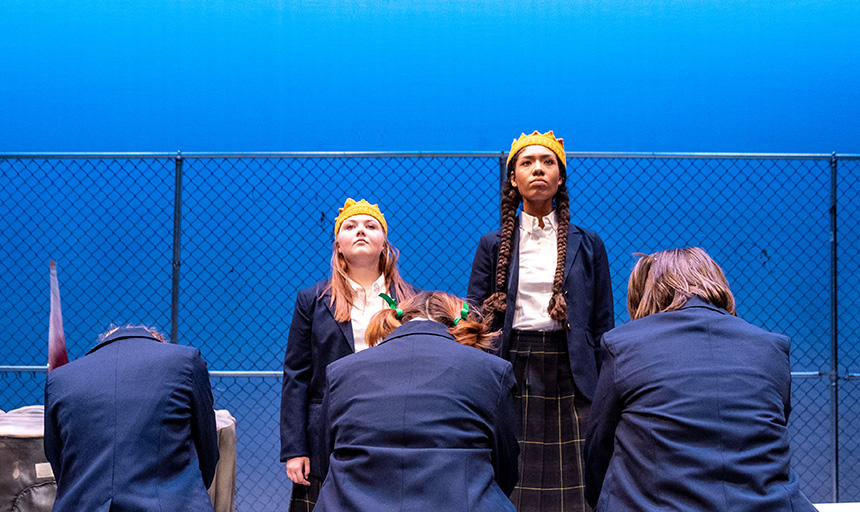 The adaptation of William Shakespeare's classic tragedy will be on stage at Olin Hall Theater through April 22.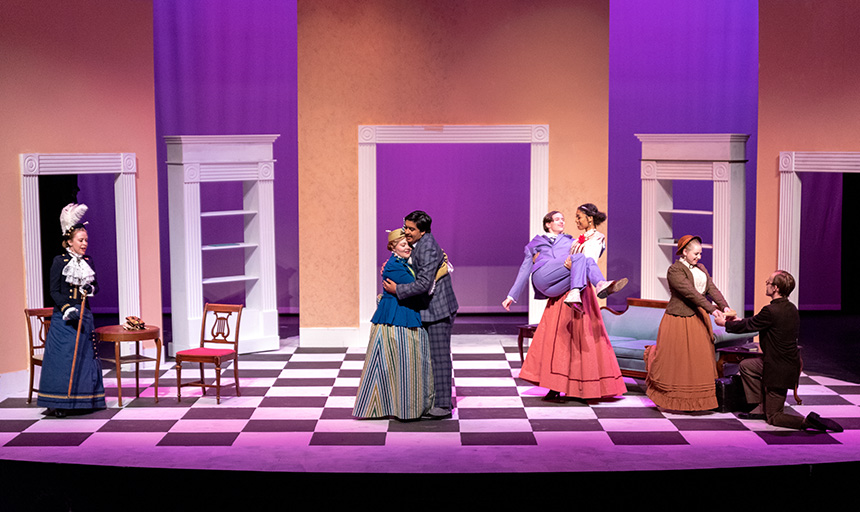 The funny and facrical classic "The Importance of Being Earnest" will be on stage at Olin Hall Theater through Feb. 25.
Sample Course Offerings:
THEA112 - Acting I: learn the basics of acting, from scene work and monologues to preparation skills and analysis
THEA125 - Stagecraft: how to do everything in the shop, like wiring a light and using power tools to put a set together
THEA330 - Modern Drama: read and analyze the masters of Realism, Naturalism, Absurdism, Epic Theatre, and Surrealism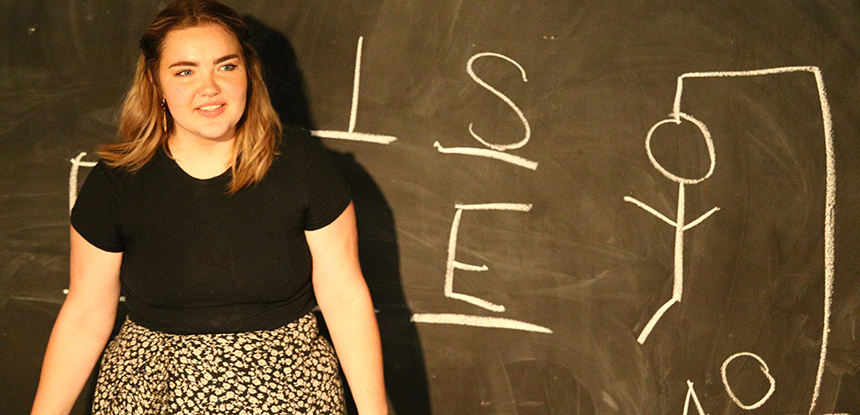 Treading the boards abroad
Adeline Huggins '20 specialized in dramaturgy and performance while majoring in theatre at Roanoke College. After graduation, she went on to London to earn her MFA in Advanced Theatre Practice at the Royal Central School for Speech and Drama. Huggins has since co-founded a devised theatre company, The AMBERSAND Collective, alongside three fellow students from her MFA program and performed at the Form(at) Festival in Camden as well as been invited to submit for the Brighton Fringe festival.
Her theatre company's show, "IDLE: What Next?," premiered onstage at Camden People's Theatre. Recently, Huggins also started work on a dissertation project. "I owe a ton of credit to Roanoke and my professors," she said. "They helped me get to this point and realize this is something I'm passionate about."
Our grads work at great organizations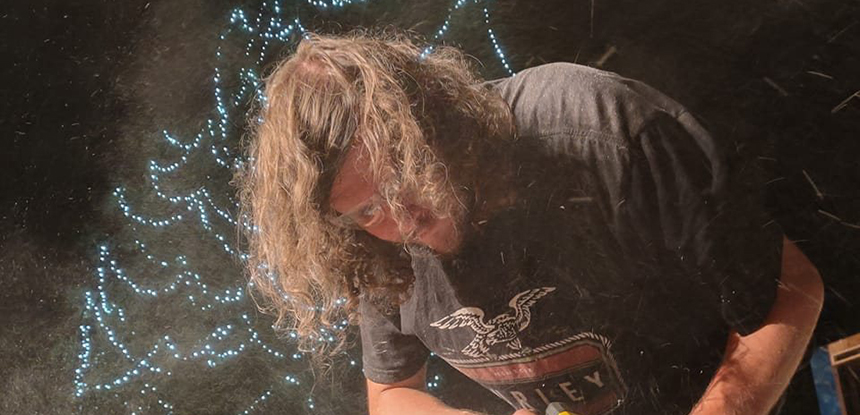 Setting the stage for successful careers
Lane Kinsley '21 came to Roanoke College thinking he would be an actor but quickly discovered a passion for technical theatre. He worked in the scene shop for all four of his years on campus and had a hand in every show mounted during that time. Kinsley now works as a stage carpenter at the historic Barter Theatre in Abingdon, Virginia, undertaking the complex work of building the physical world of a show both for home productions and for tours. Kinsley's career has also taken him onto film sets and to the Virginia Repertory Theatre in Richmond.
Directing the next generation of storytellers
Cue lightning and thunder…
Roanoke regularly brings to campus outstanding artists-in-residence who both perform on stage and work closely with theatre students on an extended basis. Recent residents include Doug Berky, Louis Colaianni, The New Yorkers and the American Shakespeare Center.


Contemporary theatre in the land of the Bard
Setting the stage for success