Creative Writing
Creative writing gives you the chance to explore your experience and imagination in depth through writing and reading poetry, fiction, nonfiction and other genres. As a creative writing major, you'll hone the skills of carefully crafted writing, critical reading, formal analysis and oral communication.
You'll learn to look at and reflect on the world as a writer by closely observing, reflecting, shaping and interpreting real and imagined experience. You'll be prepared for graduate study in creative writing or literature, or for careers requiring strong writing skills and creativity, such as journalism, editing, publishing, law, public relations and advertising.
We offer both a major and a minor in creative writing.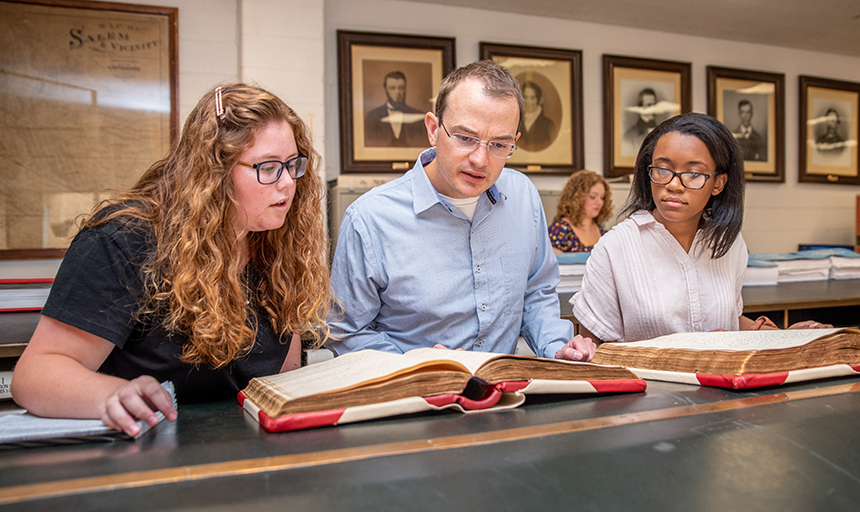 Six students conducted in-depth research to help build a database of information about enslaved people who lived in Southwest Virginia before and during the Civil War.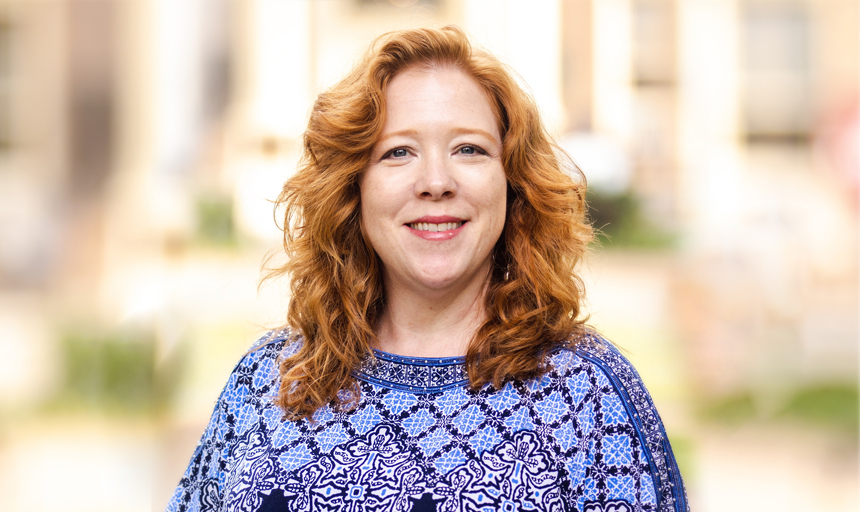 Alumna Lindsey Nair '98 will oversee production of the alumni magazine and collaborate on communications for all College audiences.
The art of travel writing
Lauren Harrison '07, is one of youngest reporters at Newsday
A documentary project as part of an independent study at Roanoke helped Lauren Harrison uncover her passion for storytelling. Video camera in hand, she followed her family's ancestry trail to many places, including West Virginia, Pulaski and Appomattox. She found gravesites, scoured birth and death records and even uncovered a church founded by one of her ancestors. With encouragement from her advisor, English professor Dr. Virginia Stewart, Harrison applied for graduate school at Columbia University's School of Journalism. She won a full tuition scholarship.

After graduating from Columbia, she worked as a reporter at the Chicago Tribune through a two-year residency program. She joined the staff at Newsday, one of the 20 largest circulation newspapers in the United States, in 2010 as a features reporter covering arts, culture and entertainment in Long Island, N.Y.
Sample Course Offerings:
CRWR 215: Poetry
CRWR 215: Creative Writing Fiction
CRWR 317: Advanced Creative Writing: Screenwriting

View all courses
Our grads work at great organizations.
At Roanoke, we believe writing is not merely an act of recording, but a process of discovery.
Mandy Len Catron '03 is a self-proclaimed love story fanatic whose writings on the topic have received national attention. Catron, who teaches writing at the University of British Columbia, writes on the science of falling in love for her own blog, The Love Story Project. Her words garnered national acclaim when the New York Times published one of her essays, "To Fall in Love with Anyone, Do This" as part of its Modern Love Column.
A very creative campus
On Concept's Edge
Roanoke College's literary magazine is entirely student run. The staff selects submissions for print and handles layout and printer selection. On Concept's Edge is printed in the spring semester and is packed to the brim with good writing.
Brackety-Ack
Roanoke College's much beloved weekly newspaper is known for its weird name and its insightful, hard-nosed approach to life on campus. Students handle everything at Brackety-Ack, from writing, photography and editing, to opinion polling, layout and web design.
The Roanoke Review
An annual national journal which publishes poetry, short fiction and nonfiction every spring. Established in 1967 by Henry Taylor, a past Roanoke College English professor and Pulitzer Prize winner, the Review is staffed by current students and Professor Mary Hill.
Visiting Writers
Students meet Pulitzer Prize winners, best-selling authors, eminent scholars and prominent journalists. Through direct exposure to these writers, students gain a greater understanding of the discipline and more confidence in their own writing.
Internship brings Shakespeare to life for Roanoke student
After interning as a dramaturge, backstage manager and line caller, Madison Little '18 knows one thing - She was made for the theater.

Little, a creative writing and literary studies major at Roanoke, landed a summer internship and a spring semester gig with American Shakespeare Center's Blackfriars Playhouse in Staunton, Virginia. Until her internship, she never thought about using her love of writing and storytelling on stage."I really like watching it [Shakespeare] come to life," said Little, a member of the College's improv club who plans to study Shakespeare and performance after Roanoke. "I like seeing how the story threads come together."