Materials & Nanoscience
Materials and nanoscience marries chemistry and physics to make discoveries at the molecular level.
As a student in materials and nanoscience, you'll expand your studies by exploring the frontiers of basic physical science at the atomic and molecular levels. This interdisciplinary concentration is structured to complement current physics, chemistry, applied sciences and technology majors and will benefit students who wish to continue their educations in the field of nanotechnology at the graduate level. Students in this concentration will work directly with faculty to conduct research utilizing cutting-edge instrumentation and techniques such as x-ray diffraction, transmission electron microscopy, infrared spectrometer and more.
We offer a concentration in Materials and Nanoscience.
Professor-Assistant Team Tackles Nanoscience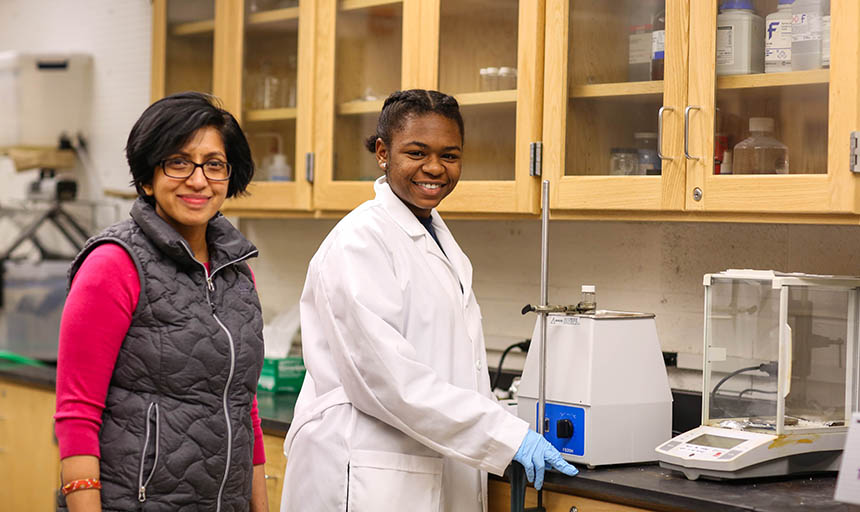 Dr. Rama Bala and her research assistant, Rachel Lindsay, have been working in the field of nanoscience. They hope to build nanomesh of graphene oxide to serve as a filtration system to remove salt and heavy metals. Roanoke College has provided them with the opportunity to work as a team and tackle this complex topic.
"This one-on-one time that I have with students is something that I really value and that is unique to us here at Roanoke College," says Dr. Rama Bala. "I know that students benefit a lot doing this kind of outside of the classroom experience. To see them out there and bloom is just an incredibly gratifying feeling."
"The Fellows Program is the reason why I'm able to do this research," says Lindsay. "It's been an amazing opportunity."
Sample Course Offerings:
Introduction to Nanoscience
Physics of Materials

Descriptive Inorganic Chemistry

View all courses
Our grads go on to great graduate programs
Three Roanoke College materials and nanoscience students have received Goldwater scholarships or honorable mentions in the last two years.
Students learn value of community outreach through work in schools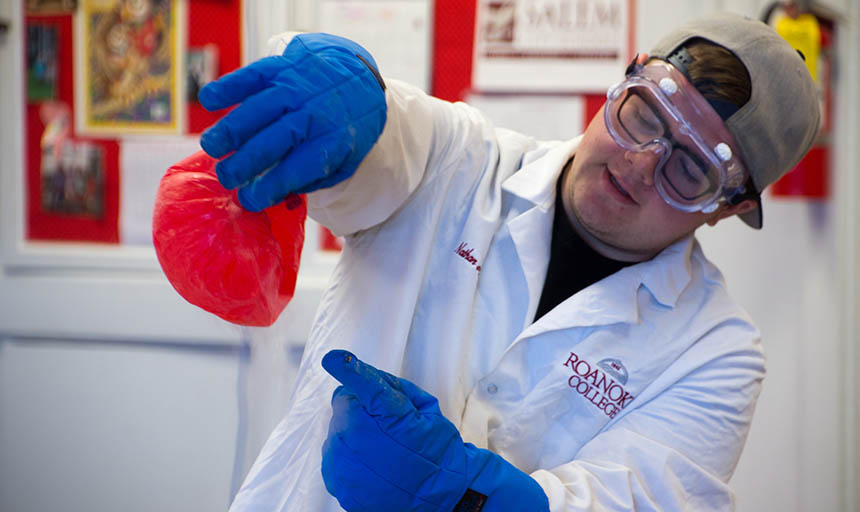 Members of the Society of Physics Students have been working with local elementary school students through an after-school STEM program. "We hope that getting kids excited about exploring science and math will help keep them engaged in their STEM classes," says club member senior Morgan Heckman. The opportunity to run this program has also been an educational experience for club members. "Learning how to communicate and foster excitement about STEM is a necessary skill for anyone in the STEM fields. Kids helps us find ways to do this more effectively, and their enthusiasm can be infectious."
Many opportunities for independent study
Nanotechnology: Daniel Ballou synthesized Goethite nanotubes.
Material Science: Anne Kyner analyzed Mossbauer data from planet Mars.
Lambert receives Goldwater Scholarship – the preeminent undergraduate science scholarship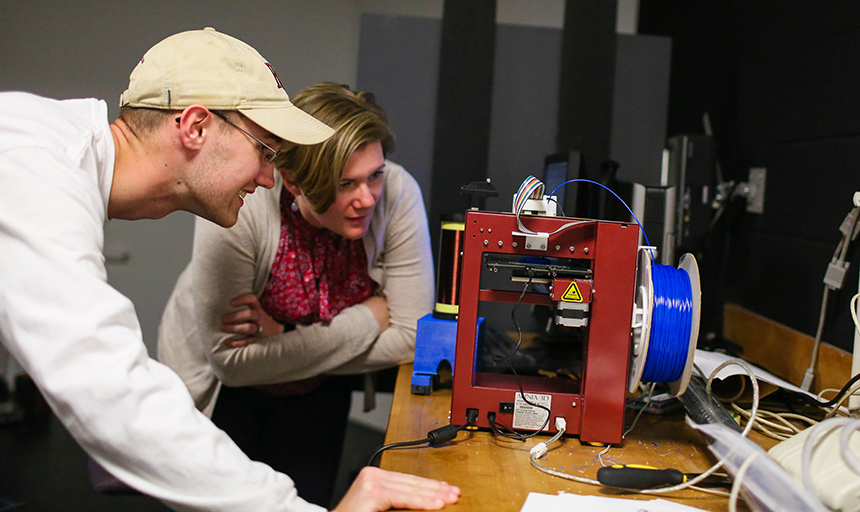 William "Liam" Lambert, a double major in physics and math, was awarded a prestigious Goldwater Scholarship, the preeminent undergraduate science scholarship. The 2018 Goldwater Scholars were selected based on academic merit from a field of 1,280 natural sciences, mathematics, and engineering students from over 2,000 colleges and universities nationwide. Lambert receives a membership to the American Physical Society and the organization featured his Goldwater award and covered his research.
Peering into the nano world
The Physics Group has purchased a high-resolution atomic force microscope (AFM). This instrument can produce high-resolution images of structures that are 1,000 times smaller than a human hair. Physics students and faculty use the AFM for mapping micro and nanostructures, studying surface properties of thin films, and manipulating matter at the nanoscale.