Pre-Physician Assistant
Physician assistants are licensed to diagnose and treat illness and to prescribe medication for patients. As part of a primary care team, physician assistants can provide nearly all of the clinical services of a licensed MD.
Pre-physician assistant students participate in the Health Professions Advising Group (HealthPAG), which is designed for students interested in careers in a variety of health fields.
A rigorous preparation in the sciences along with a strong liberal arts background and access to clinical experiences and research opportunities will give you an edge in gaining admission to top-quality graduate programs across the country. You'll be encouraged to complete internships with physician assistant professionals. The Roanoke Valley is a medical hub for Southwestern Virginia. Roanoke's rapidly growing medical community, including a new medical school and two major hospital systems, creates tremendous learning opportunities for you. You'll also have the opportunity to participate in a wide variety of high-level research projects at Roanoke. Faculty advisors will work with you from your freshmen year and every step of the way. They not only help you select appropriate coursework and extracurricular activities, but also work with you to prepare for admissions testing, draft personal statements and develop strategies for professional school interviews.
Undergraduate students can major in any academic discipline, but most physician assistant graduate schools require you to complete courses in anatomy, biology, chemistry, physics, physiology, psychology and statistics.
Pre-physician's assistant students of all majors are eligible to participate in this pre-professional program.
US News & World Report ranks Physician Assistant as ranked the 5th best job in America in 2016.
Kate Yukuboff: Research will give her an edge applying to grad schools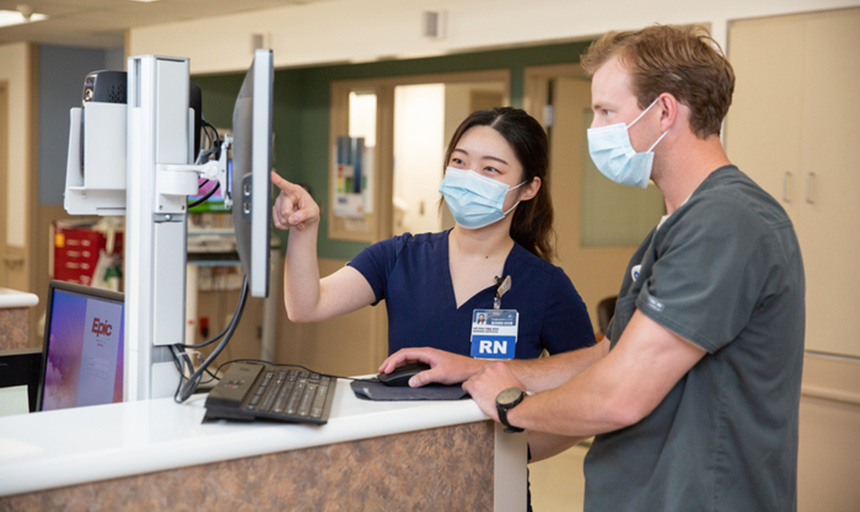 Partnership will advance education and workforce development to improve community health and well-being in the Roanoke Valley.
Internships give you the experience you need to get into top graduate programs
We've established relationships with internship and placement sponsors in a wide range of medical organizations.
Our students have completed internships at organizations such as:
Blue Ridge Behavioral Healthcare
Brandon Animal Hospital
Carilion Community Hospital
Child Abuse Prevention Council
Lewis-Gale Clinic
Merck Laboratories
Physicians to Children
Q-Biochem, LLC
Thompson's Brain Injury Rehabilitation Center
Pursuing their dreams
Emergency medicine is his passion
After Roanoke, Michael Gil '09 received his master's in Physician Assistant Studies from the Massachusetts College of Pharmacy and Health Sciences, then returned to Virginia to participate in the Emergency Medicine Physician Assistant fellowship program at Eastern Virginia Medical School. Michael is now working as an emergency medicine physician assistant at Emergency Physicians of Tidewater in Norfolk, VA.
Athletic injuries spark interest in future career
Brayden Gerrie '13 was an All-American lacrosse player at Roanoke. His own athletic injuries sparked an interest in orthopedics and sports medicine, leading him to conduct a physiological study of his teammates, where he looked at measures of oxygen efficiencies, anaerobic responses, and body composition. "I was able to show them the scientific work I was doing," Gerrie said, "and how it related to our performance on the field."
Gerrie feels research was his most important experience at Roanoke. His study, "The Evolutionary Role of Physician Assistants Across The United States, Canada, and The United Kingdom"--which was co-authored with Professor Elizabeth Ackley--was published in the International Journal of Exercise Science in 2013.
Research was instrumental in securing a job as a clinical research assistant at Houston Methodist Hospital, where he analyzed data about injuries with the Houston Ballet, Houston Astros and Rice University. Gerrie is now a Physician Assistant Candidate at the University of Toronto.
The Bureau of Labor Statistics expects the demand for physician assistants to grow by more than 30% from 2014-2024.
Practical research can change the world
Elizabeth Ackley, associate professor of exercise science, has helped the City of Roanoke win a grant from the Robert Wood Johnson Foundation to take part Invest Health, an initiative transforming the way leaders in mid-size cities collaborate to help low-income communities thrive.

Ackley's innovative research on health outcomes in Roanoke schools, using GPS to pinpoint health disparities within micro-geographies, was instrumental in winning funding for this project. Ackley-Holbrook is passionate about health science research. "The practical application of research has excited me since my undergraduate days-what we learn can actually change the world!" Her team's findings have already been recognized by Invest Health, and shared with pilot cities nationwide. "Another reason I love research is seeing how it inspires all kinds of students-up-and-comers as well as academic stars." Ackley-Holbrook plans to engage a number of different Roanoke students in this project, where they'll gain valuable research skills and work closely with leaders in the city health community.