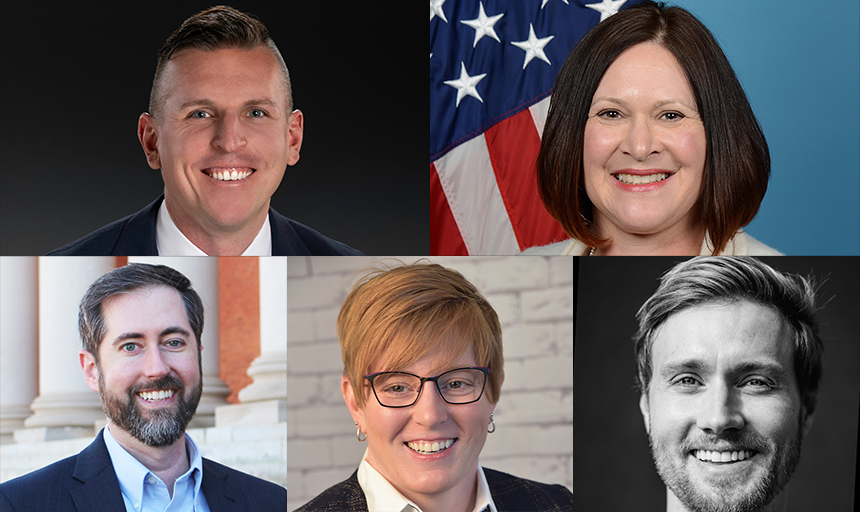 Clockwise, from top left: Bennett Love , Elisabeth Shuba, Alex Burkhead, Amy Bayse and Eric Pernotto. Photo credit: Churchill Asset Management LLC (Love); Department of Defense Education Activity (Shuba)
Alumni News - March 2022
Bennett Love '06 has joined Churchill Asset Management LLC as Principal and Head of Fund Finance. Love will be based in the Charlotte, North Carolina office of Churchill, an investment specialist that provides financing solutions to private equity firms and their portfolio companies.
Prior to joining Churchill, Love spent 12 years at Wells Fargo, most recently as Director of Corporate Debt Finance. He holds a B.B.A. from Roanoke and an M.B.A. from Queens University of Charlotte. He also holds the CFA (Chartered Financial Analyst) certification.

Amy (Layman) Bayse '01 has been named Vice President, Sales and Professional Service for NorthWinds Technology Solutions. Jointly owned by Delta Dental of Illinois, Delta Dental of Wisconsin, and Delta Dental of Virginia, NorthWinds provides dental and vision administrative platforms and infrastructure services.
Bayse has been with Delta Dental and its affiliates for 11 years and has over 20 years of experience in benefits and health care management. She earned a B.A. in Spanish at Roanoke.

Eric Pernotto '03 received his Ph.D. in Educational Leadership (Higher Education) from Clemson University in December 2021. Pernotto currently serves as Associate Director of Residential Learning at Clemson. He holds a B.A. in biology from Roanoke and an M.Ed. from the University of Notre Dame.

Elisabeth Shuba '92 was selected as 2022 District Teacher of the Year for the Department of Defense Education Activity (DoDEA) schools in Europe East. Shuba, who serves as the ESOL (English as a Second Language) teacher at Ramstein Intermediate School on Ramstein Air Base, Germany, represents a district that operates 31 schools in Germany across 10 communities.
In addition to teaching ESOL, Shuba serves as the district ESOL Parent Leadership Council (PLC) facilitator and provides professional learning to other ESOL teachers in collaboration with the district office. While assigned to Mannheim, Germany, she taught kindergarten, ESOL and preschool services for students with disabilities.
Shuba has taught for DoDEA for 12 of her 22 years in education. Before joining DoDEA, Elisabeth taught in Fairfax County Public Schools, and the Poudre School District in Fort Collins, Colorado. She holds a B.A. in international relations from Roanoke and an M.Ed. from George Mason University.

Alex Burkhead '11 has been selected as one of six inductees to the Forsyth Country Day School athletics hall of fame. Burkhead, a 2007 graduate of Forsyth Country Day School — a private college preparatory school in Lewisville, North Carolina — was all-conference in football and lacrosse and earned honorable mention all-state honors in football in 2006. He went on to play lacrosse at Roanoke College, where he was a three-time all-ODAC selection and a two-time USILA (U.S. Intercollegiate Lacrosse Association) Division III All-American. Burkhead played professional lacrosse for the Charlotte Hounds and the Charlotte Copperheads.
Burkhead, who received a B.B.A. at Roanoke and an M.B.A. at Durham University, is Director of Product and Business for Findlay International in the Greater New York area. He will be inducted into Forsyth Country's athletics hall of fame in May.
Have news to share? Send it to us at rcmagazine@roanoke.