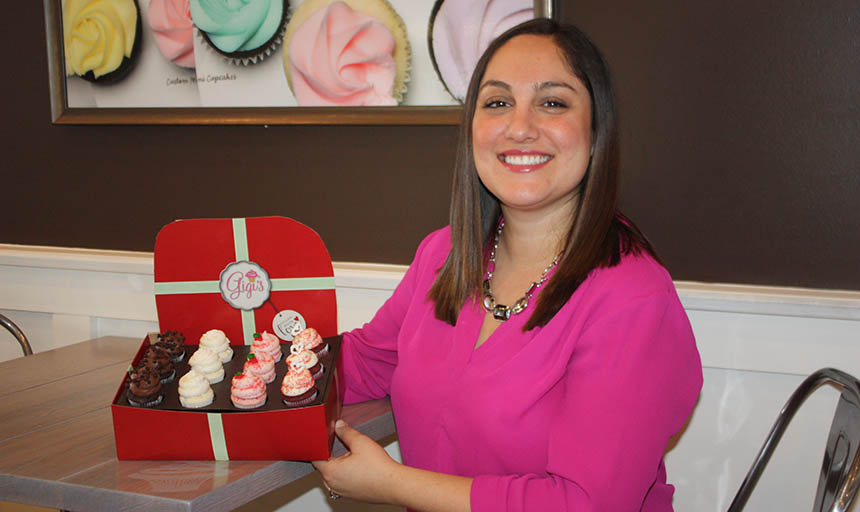 2.12.2018
By Lee Belote, The Virginian-Pilot
Young opens cupcake business in Virginia Beach
By Lee Belote

Kaitrin Young '09 has sweet childhood memories of standing on a chair while helping her mom and grandma bake intricate desserts like baklava and struffoli.
Years later at Roanoke College, Young would spend all afternoon baking in her dorm room and would deliver her made-from-scratch treats such as brownies and raspberry swirls to the library.
Her baking skills made her a popular study partner.
Now, the Virginia Beach, Virginia resident is making and decorating cupcakes with signature swirls, creamy frostings and creative toppings for her customers.
In December, Young opened up Gigi's Cupcakes at the Marketplace at Hilltop in Virginia Beach.
"I have always had a passion for baking," said Young. "While on vacation in Orlando, I fell in love with Gigi's Cupcakes and knew I needed to bring the franchise to Virginia Beach."
The first Gigi's Cupcakes opened in Nashville in 2008 and now has over 100 locations.
After college, Young worked for five years at the Head Start Preschool program in Roanoke and volunteered in youth centers. She said her dream was always to teach in underprivileged schools, but her heart still yearned to bake. So, Young and her husband - Grey Young '08 - sold their house and moved to Virginia Beach, Young's hometown, to make her dream a reality.
The bakery sells creative cupcake flavors such as chocolate chip cookie dough, salty caramel cheesecake, red velvet, strawberry shortcake and other varieties. It offers freshly-baked bread, custom cakes, cookies, muffins, cinnamon buns, ice cream and coffee.
Beth Gills, a Great Neck Meadows resident, recently ordered 60 cupcakes for her husband's 60th birthday party.
"They were the hit of the party," said Gills. "The presentation was outstanding and the cupcakes were extraordinary. The flavors were true and the cake was good."
She added that her personal favorite was the chocolate salted caramel.
Samantha Phillips, a Little Neck resident, has visited Gigi's Cupcakes several times. Her favorite flavor is the strawberry cupcake with cream cheese frosting.
"It's just the perfect bit of sweetness added to the cake," said Phillips. Young said she's having a great time working in the kitchen with her talented bakers and decorators, and their passion for baking is contagious.
"My favorite part about owning a cupcake store is the level of excitement," said Young. "It's hard to be in a bad mood around cupcakes."
The owner answered these questions about Gigi's Cupcakes.
What does the bakery offer? We have an assortment of miniature and full-sized cupcakes, custom cakes, cheesecakes, muffins, cookies, cinnamon buns, ice cream and a full espresso bar. We also offer gluten-free options.
All made from scratch? Yes! We bake from scratch daily. We even muddle fresh strawberries for our strawberry shortcake cupcake.
What makes you different from other bakeries? Our hours. We open at 8 a.m., so we are the perfect stop for grabbing a morning coffee, baked muffin, cinnamon bun or cupcake. We're also open until 8 p.m. on weekdays and 9 p.m. on Fridays and Saturdays, so it's a fun after-dinner treat for the family.
Most popular item? The wedding cake is our most popular flavor, which is a white cake topped with vanilla buttercream frosting and sprinkled with white nonpareils. A close second is my personal favorite, chocolate chip cookie dough that features a chocolate chip cookie cake with cookie dough frosting, chocolate chips and topped with a Gigi's chocolate chip cookie.
Any unique services? We can cater desserts for any event and also offer decorating parties in the bakery.
Story and photo reprinted with permission from The Virginian-Pilot; "There's a new sweet spot at Hilltop: Gigi's Cupcakes," by Lee Belote, Jan. 3, 2018.