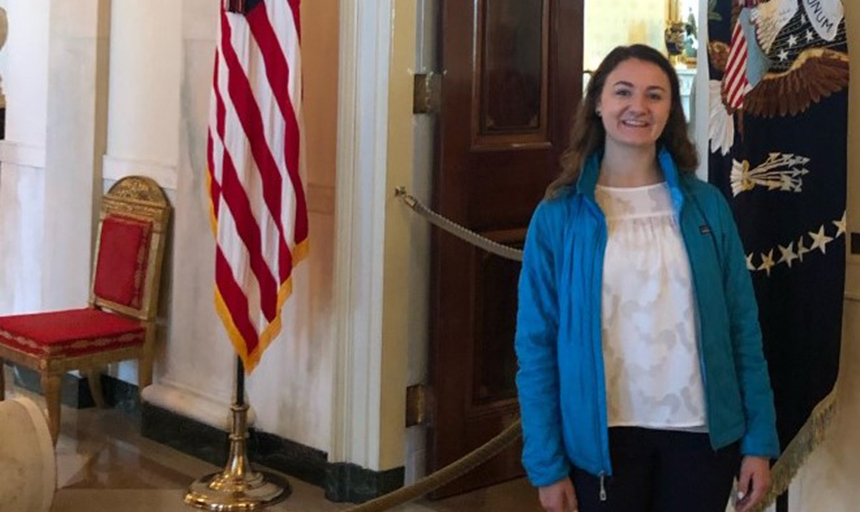 Leisl Greider '21 in Washington , D.C. where she is interning this semester through the Lutheran College Washington Semester Program.
Washington Semester offers range of internships in the nation's capital
One of the many appeals of participating in the Lutheran College Washington Semester program is the opportunity it offers students to work in a professional environment that is directly applicable to their major.
Eight Roanoke College students are participating in the program this fall semester. They have a variety of majors and minors, leading to a uniquely diverse group of internship opportunities, including one at the Smithsonian Institution.
Liesl Greider '21, a history major and a member of the Honors program, is working at the Smithsonian's National Museum of American History. Her job in the museum's Department of Home and Community Life entails photographing an education collection with over 2,000 objects, updating web labels for the Smithsonian's website, cataloguing historical objects and writing posts for the museum's blog.
Her first, "Illustrating Ichabod," was appropriately posted on Halloween.
"Every day is a little different and I'm really enjoying the work that I do at this museum, where interns are truly valued and appreciated," she said, describing her experience at the museum. "Everyone is always looking for ways to help us grow, and boy have I grown as a result of that!"
Being immersed in Washington, D.C. means being immersed in American history. Greider, who is especially interested in American history, says that "by being in the [nation's] capital and in a museum that focuses specifically on the part of history which I most enjoy, I have been able to narrow my focus." This narrowing of focus has helped her make the decision to pursue graduate studies in American history.
"Everyone is always looking for ways to help us grow, and boy, have I grown as a result of that!"
Liesl Greider '21, LCWS intern at the Smithsonian's National Museum of American History
Other Roanoke students participating in the Lutheran College Washington Semester program this fall include: