Political Science
Roanoke's Political Science program encourages you to examine the ideals of governance, politics and responsible citizenship—both in your own life and on the world stage.
Seminar-style classes allow you to take a proactive approach to problem-solving in governance, equipping you with both the insight and skill to affect public policy.
Our distinctive Washington Semester and the Institute for Policy and Opinion Research offer you the rare opportunity to engage in the political arena as undergraduates.
Roanoke's political science students have been accepted to top-ranked graduate and law schools, such as George Washington University, Harvard Law School, Penn State Law, University of South Carolina, University of Texas at Austin, University of Virginia, Washington and Lee, and William & Mary.
Many graduates currently work as lawyers, judges, policy experts, professors and political advisors.
We offer a major in political science.
Roanoke's Henry H. Fowler Public Policy Program has hosted presidents, prime ministers, national commentators, the first female Supreme Court justice, renowned scholars and recipients of the Nobel Peace Prize. Students have the chance to connect with global leaders and hear firsthand about issues facing the world.
From Internship to Job

Zahava Urecki '16 set her sights on a career in Washington, D.C. as an 11-year-old watching "The Daily Show with Jon Stewart" and "The Colbert Report." The shows ignited her excitement about what was going on in the world.
Fast forward to Roanoke College where she interned for U.S. Sen. Joe Manchin and lived and worked in D.C. through the College's Lutheran College Washington Semester Program. Now she wants to write legislative policy.
"I saw a lot of the behind-the-scenes people," she said of her Washington experience. "They were at the heart of everything, getting everything done. I really wanted to be a part of that."
After graduation, it was an easy transition to a job. Urecki is now a staff assistant working in Manchin's office.
Live, Study and Intern in the Nation's Capital | Washington Semester Program
Our grads work at great organizations.
Sample Course Offerings:
POLI 202: Voting in Elections
POLI 222: Comparative Political System: Asia
POLI 261: Arab Israeli Conflict

View all courses
The end-of-year presentation included an honorary award for Salem Mayor Renee Turk '77 and a new recognition for first-year students.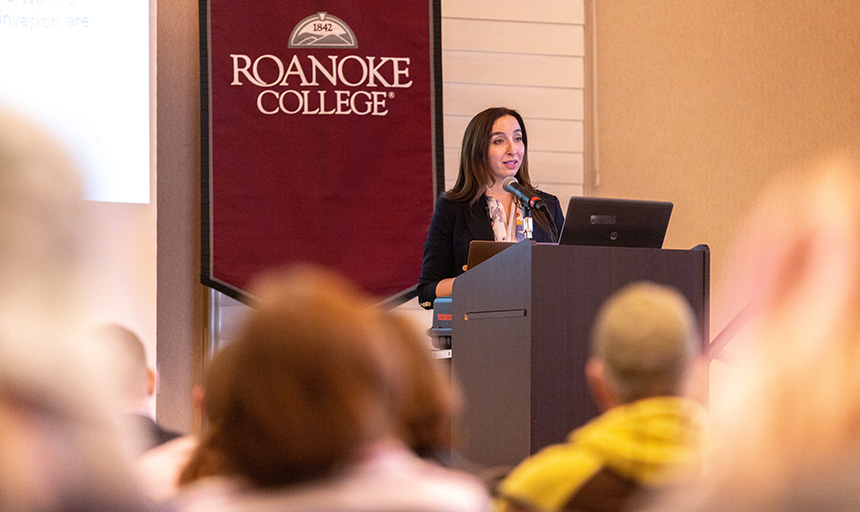 In an event that coincided with Women's History Month, international attorney Leila Hanafi spoke on campus about women's pursuit of justice in post-conflict societies around the world.
African Faces and Voices: History and Political Science
Public Affairs Society Encourages Discourse, Critical Thinking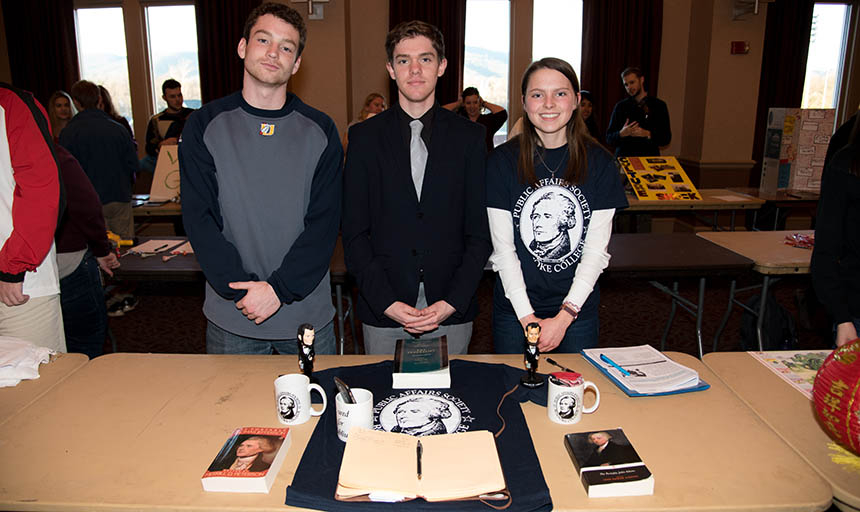 The Public Affairs Society at Roanoke College offers students the unique opportunity to encourage public discourse between the various disciplines of the public affairs department, such as political science, criminal justice, and international relations. The organization aims to promote awareness, as well as participation, in public issues that affect students in any and every major on campus. It offers students the unique opportunity to encourage and partake in public discourse; something that not every club can offer.
Polling Political and Economic Issues | Roanoke's Institute for Policy and Opinion Research
The Institute for Policy and Opinion Research (IPOR) conducts regular surveys within the Commonwealth of Virginia. These polls focus on political, economic, and social issues of importance throughout the state. Many of these polls focus on electoral politics, but we also poll on important social issues. IPOR is the only organization measuring consumer sentiment and real estate outlook in Virginia. Those polls are conducted quarterly in November, February, May and August.
Public service drives alumnus' career calling
Andrew Sturmfels '05 is fulfilling his call to public service. As Deputy Director for Legislative Affairs at the Department of General Services for California, Sturmfels says he likes to "work with stakeholders to solve problems and make it easier to do business in California." His interest in public service started at Roanoke College where he helped launch the College's first Relay for Life fundraiser for the American Cancer Society. "Roanoke instilled in me the belief that I could do anything, which gave me the confidence to go to graduate school so that I could pursue my master's in public policy and my true calling to public service," said Sturmfels, who earned a master's degree from Sacramento State University in 2012.
Politically-driven alumna
A Capitol Hill internship during the Lutheran College Washington Semester program gave Maggie Anderson '13 a jump in her political career. Anderson now is a legislative correspondent for Sen. Mark Warner, D-Va., working in the same office as her internship.
As a Roanoke student, she immersed herself in politics. She volunteered for President Barack Obama's 2012 campaign, and she was president of Roanoke College Democrats and the Public Affairs Society.
At Warner's Washington, D.C. office, Anderson, originally from Charlottesville, Va., covers agriculture, the environment, animal welfare and other issues. "I have a deep passion for public service, especially in Virginia," she says.