Peace and Justice Studies
Peace and Justice Studies is an interdisciplinary program that examines conditions for bringing about a just and peaceful world order.
The field of Peace and Justice Studies relates scholarship to practice and challenges you to develop new ways of thinking and acting in the world. Peace and Justice Studies is an excellent program to combine with a major in International Relations, Political Science, History, Religion or any other major.
Peace and Justice Studies, in combination with your major, can be a great stepping stone to graduate school, law school, government service, non-governmental service, international organizations and non-profit organizations.
We offer a concentration in Peace and Justice Studies.
Christian Weisenbacher '12 was the first student to concentrate on Peace and Justice Studies. As a junior, he participated in the Lutheran College Washington Semester, where he had an internship at the Leadership Conference on Civil and Human Rights. While at Roanoke, he did research on the legitimacy of nonviolent movements, which he presented at the Peace and Justice Studies Association annual conference in Memphis, Tenn. Weisenbacher went on to study at the Edward. J. Bloustein School of Planning and Public Policy at Rutgers University, and then to Rutgers School of Law. "The Peace and Justice Studies concentration helped build a solid foundation for my graduate studies and professional career," Weisenbacher said.


"An eye for an eye only makes the whole world blind."
Mahatma Gandhi
Matt Spangler '13 majored in international relations, with a concentration in Peace and Justice Studies, and was in the James C. and S. Maynard Turk Pre-law Program. While at Roanoke, he did an internship with Commonwealth Catholic Charities in the area of immigration and human rights. Spangler continues to work in immigration with Catholic Charities in Mt. Pleasant, S.C.
"Through the Peace and Justice program, I was able to take an internship in immigration law, and became an integral part of winning a compelling, time-sensitive political asylum case," Spangler said. After graduation from Roanoke, he went on to the Charleston School of Law.
Sample Course Offerings:
HIST 255: South Africa
PEAC 301: Seminal Figures and Issues
COMM 360: Studies in Intercultural Communication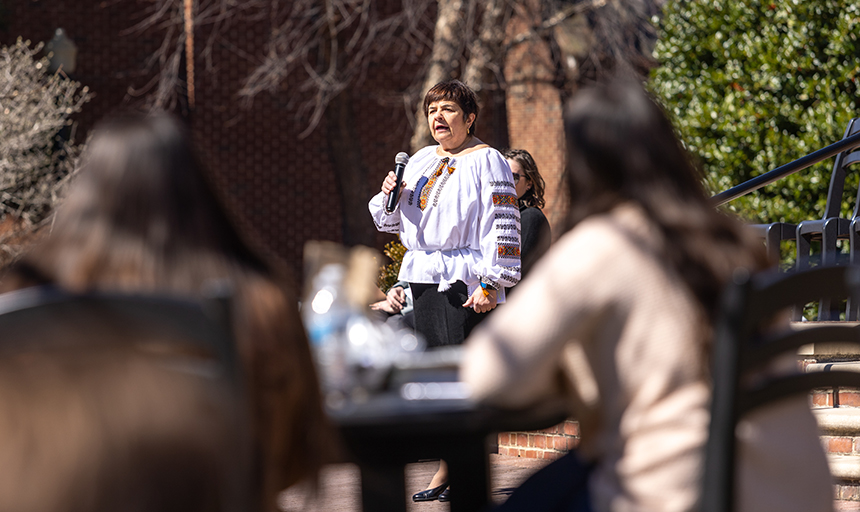 Faculty members used their variety of expertise to put the conflict in context and provide insight as to what might happen next.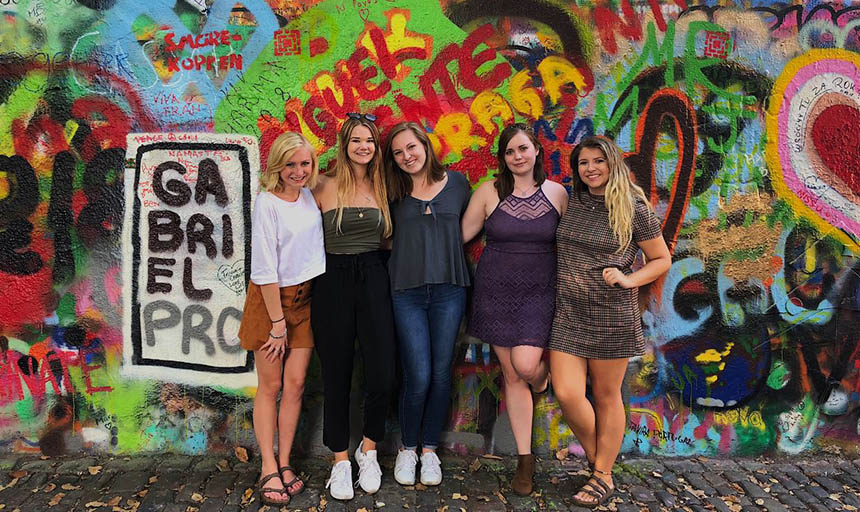 The program will allow ten to fifteen Roanoke College students to take four courses in Leipzig. Students accepted to the program will be participating in an experience that completely immerses them in German culture.
Contemporary India in the Shadow of Gandhi
Mathilda Nassar '15 received the prestigious Benjamin A. Gilman International Scholarship, sponsored by the U.S. Department of State's Bureau of Educational and Cultural Affairs. Nassar is an international relations major with a concentration in Peace and Justice Studies, who originally came from Bethlehem, Palestine. Her family now lives in Richmond, Va.

"I am honored to have won this award. Studying international relations in another country gave me a different perspective that I would not necessarily have gotten in the classroom," Nassar said. "However, I couldn't have gotten this award without the help and guidance of my mentors at Roanoke."
Roanoke faculty learn from international peace experts
Roanoke College faculty members who teach courses in peace studies attended the sixth annual Summer Institute at the University of Notre Dame. They included: Dr. Mike Heller and Dr. Srikanth Mallavarapu, both English professors and co-coordinators of Roanoke's Peace and Justice concentration; Dr. Shannon Anderson, a sociology professor; and Dr. Andreea Mihalache-O'Keef, a professor of public affairs.

The four-day institute gave participants an opportunity to interact and network with a wide group of researchers, teachers and activists from 15 institutions, ranging from Stanford University to the Catholic University of South Sudan and the United States Institute for Peace.