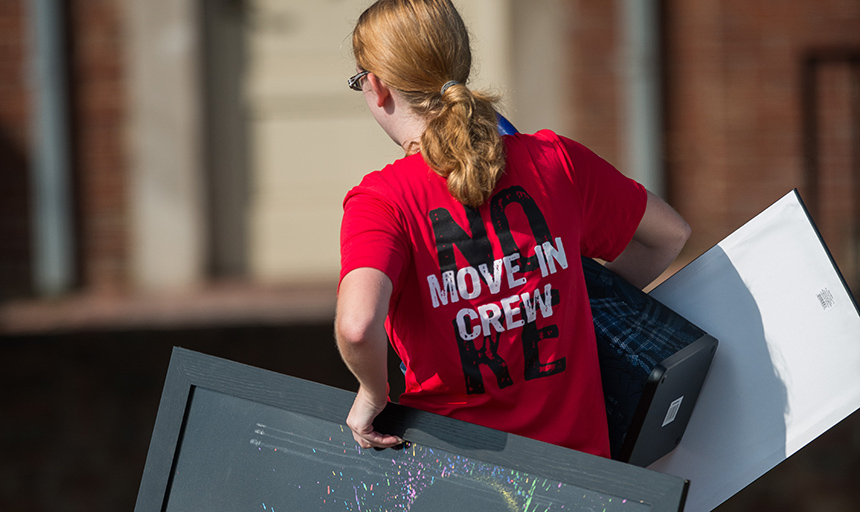 8.23.2017
By Roanoke College News
Roanoke ready for new Maroons
Orientation is an exciting whirlwind of activity for incoming students. This year, Roanoke College's newest Maroons will be moving into residence halls, exploring the downtown area of the city of Roanoke, helping to build a Habitat for Humanity house on campus-and much more.
The Quantico Marine Corps Band performs for Roanoke's 175th anniversary. Opening convocation is the college's academic opening ceremonies. A new living piece of artwork, a topiary of Roanoke mascot Rooney, will be dedicated before the Maroons men's soccer game.
On Saturday, Aug. 26, orientation will begin for approximately 630 new Roanoke College students. The class of 2021 represents 33 states and 20 countries. Among them:
Liam Courtney, a graduate of Hamilton High West in Hamilton, New Jersey. Liam, who graduated second in his class, plans to become an orthopedic surgeon.
Shanice Morgan, a senior at Oscar Smith High School in Chesapeake, Virginia. Shanice received the prestigious Horatio Alger National Scholarship, given to students who overcome great odds to achieve academically.
Donovan Hill, a graduate of Newark High School in Newark, Delaware. Donovan was awarded the John J. Adams Memorial Scholarship for 2017, awarded to a student who best exemplifies the life of New Jersey Judge John J. Adams and his dedication to civic and charitable endeavors.
Anna Clowdis, a graduate of Halifax County High School in South Boston, Virginia. Anna, a softball standout at Halifax and an All-Piedmont District First Team pick as an outfielder, will continue her softball career at Roanoke.
Anthony Beccaria, a graduate of Fairfield Ludlowe High School in Fairfield, Connecticut, and Will Cunnington, a graduate of Notre Dame Preparatory High School in Scottsdale, Arizona, both men's lacrosse recruits. Anthony, captain of his high school team, plans to major in economics/business. Will, a dean's list student, plans to major in business.
Emily Winstead, home-school student from Baltimore County, Maryland. Emily, featured in a Carroll County Times story about home-schooling, was accepted to all eight colleges to which she applied. She plans to study medicine and psychology at Roanoke.

Here are highlights of Roanoke's 2017 orientation events:
Saturday, Aug. 26
Move-In: 9 a.m. to 3:30 p.m. Registration packets may be picked up at the information tent on the Back Quad.
President's Welcome: 4 p.m., Cregger Center. Students sign Roanoke College's official record book making them officially Maroons.
Picnic dinner for new students and families: 6:15 p.m., Back Quad
Sunday, Aug. 27
R House Build: 8:30 a.m. to 4:45 p.m., lower Olin parking lot
R City: 7:15 to 9:45 p.m., downtown Roanoke
Monday, Aug. 28
Quantico Marine Corps Band concert: 7 p.m., Cregger Center - celebrate Roanoke's 175th anniversary. Open to the public.
Tuesday, Aug. 29
Opening Convocation: 11:30 a.m., Cregger Center
Rooney Topiary Dedication: 6:30 p.m., Maroon Athletic Quad (MAQ)
Maroon Tailgate: 7 p.m., Maroon Athletic Quad (MAQ)
Maroons vs. Ferrum College: 7 p.m. Kerr Stadium
Wednesday, Aug. 30
For full schedule click here.
Full schedule at roanoke.edu/orientation.