Sports Analytics
Every professional sports team in the country has made a huge commitment to studying sports analytics over the past couple decades. With a sports analytics concentration, you can prepare to go into this fast-growing field.
You can join Stat Crew, a group of students who go to many of the College's games to track and analyze stats. A group like this is quite rare at the Division III level. Studying sports analytics can help you pursue a wide variety of jobs, even outside of athletics. You'll delve into the world of big data, which translates to any number of career paths beyond sports, and the fact that you have hands-on experience will get your resume to the top of the pile.
We offer a concentration in Sports Analytics.
"Roanoke's Stat Crew is a one-of-a-kind thing. No one has anything quite the same that is hands on like Stat Crew is ... really getting the feel for what to look for in a game and what matters and what doesn't numerically and strategically."
Jake Beardsley ' 22
Putting research into action
Megan Wheeler '21, who played on the women's basketball team at Roanoke, took her study of the game to the next level through statistical research. As a sophomore, Megan created an "expected points" formula for shots given distance, angle, defensive pressure and other variables. Then as a senior she used that formula to relate the number of dribbles and shooting efficiency. Not only did she present at conferences, but she also helped Roanoke's basketball coaches adjust their game plans based on her work.
"Because we have such a great ratio of professors to students, I was able to get more experience than I would have at a bigger school," Wheeler said.
Wheeler is looking to join the Peace Corps after graduation, and hopes to use her majors of sport management and Spanish to help young people from the Dominican Republic pursue their athletic dreams in the United States.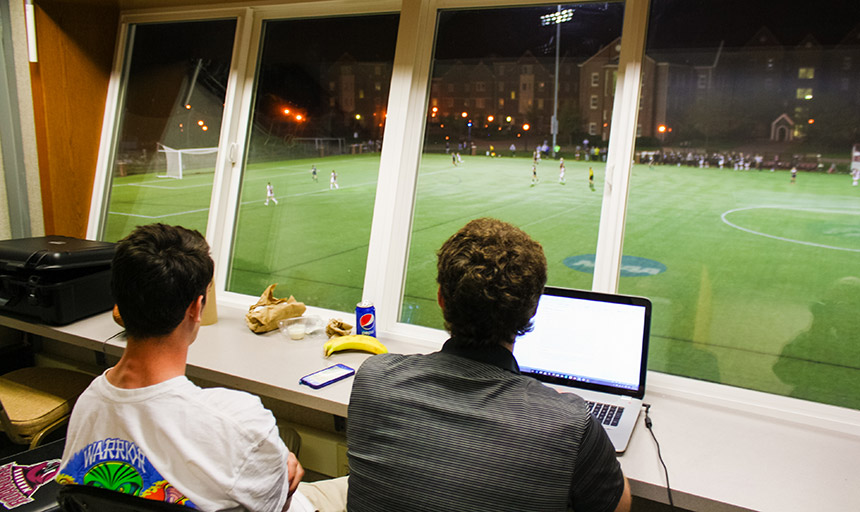 The student crew produces statistics that help find patterns among the players' performances, which help the coaches and teams play more effectively.


Sample Course Offerings:
Sport Management

Data Mining

Stat Crew Management