Christian Studies
By examining the historical development of Christian beliefs through contemporary times, you'll build an understanding of Christianity's place at the crossroads of religion, politics and culture.
Our program focuses on big questions raised by Christianity. This theoretical emphasis can often be neglected in seminary education, where the focus generally falls on practical ministry skills. Studies in Greek, Hebrew, Latin, German and French on campus help you to get to the root of original Christian writings, as well as to interpret firsthand major Christian theologians.
Students who have graduated from Roanoke's Religion, Christian Studies and Philosophy programs have gone on to graduate study at institutions, such as Loyola University, Princeton Seminary, Luther Seminary and the University of Tennessee.
Understanding the way Christianity interacts with the contemporary world can be crucial not only for the ministry, but also for careers as diverse as public policy, foreign service, counseling, media and the law.
We offer both a major and a minor in Christian Studies.
Students study the life of Jesus firsthand in Israel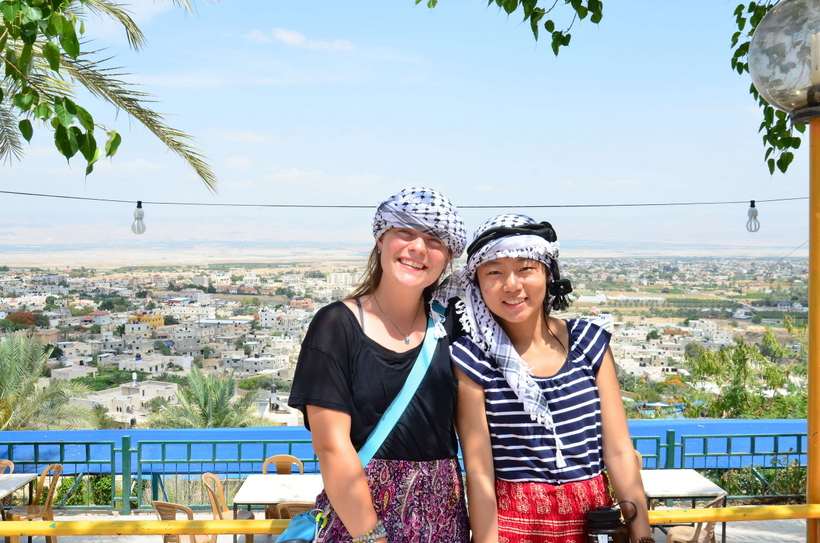 Linnea Kremer and Xiaoyu Lu in front of the city of Jericho wearing Arab scarves that they bought.
All of students look at their maps of Israel in the van en route to the airport.
Hayley Moe riding a camel in Jericho.
Morgan Hughes and Chelsea Shaffer enjoy shopping in the Jerusalem Bazaar.
Benjamin Cowgill and Zachary Wright go swimming in the Mediterranean Sea.
The students visit Herod the Great's Harbor in Caesarea.
Jaina Lanum posing in front of the Sea of Galilee at Tabgha where Jesus fed the 5,000.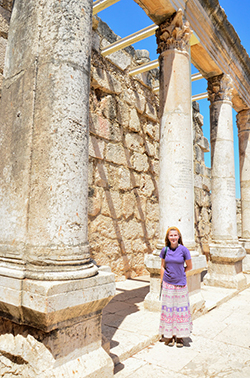 The class visits a 4th century synagogue in Capernaum.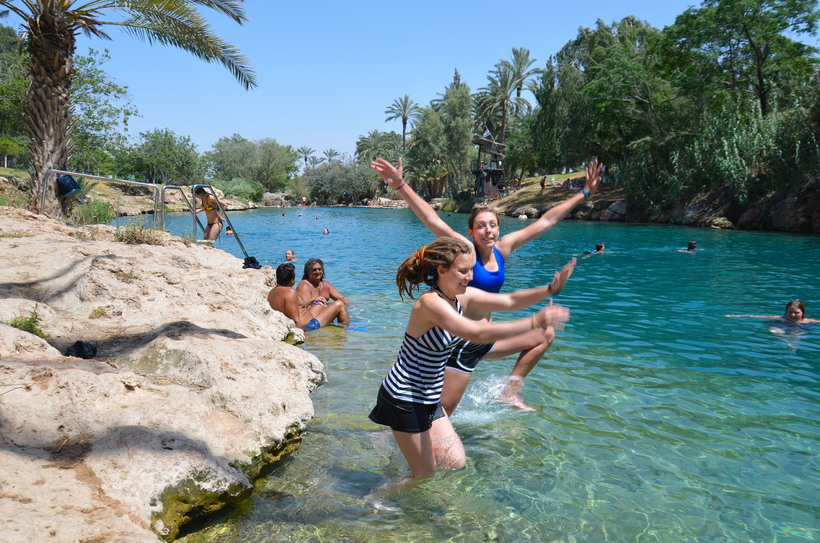 The students get a break from the heat at an outdoor pool.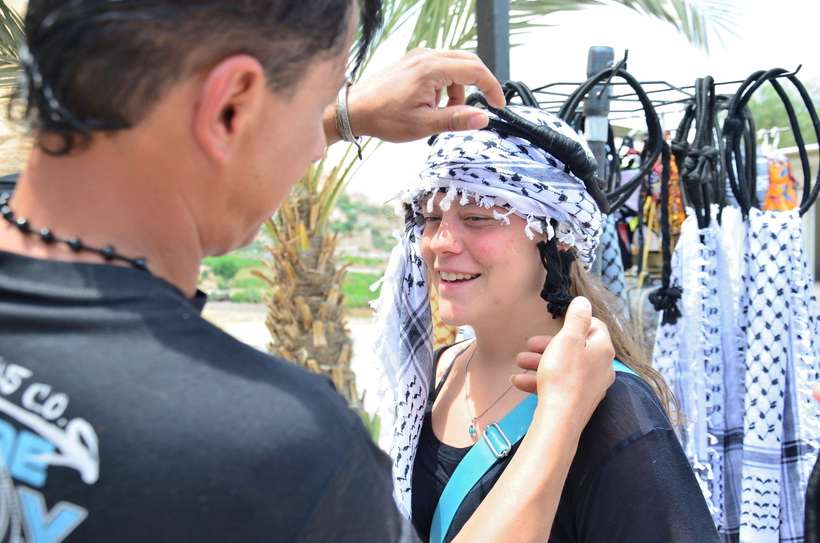 A local Arab helps a Roanoke student put on an Arab scarf in Jericho.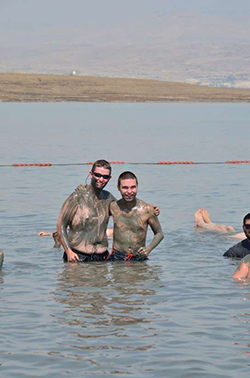 Zach Wright and Ben Cowgill have fun in the Dead Sea.
The whole class gets a group shot in front of the city of Jerusalem.
The College honors its Christian heritage and its partnership with the Evangelical Lutheran Church in America by nurturing dialogue between faith and reason.
A life-changing experience
Sixteen Maroons, led by Dr. Paul Hinlicky, traveled in Central Europe where they studied intensively and experientially in the places where the political religions of the 20th Century (Fascism, Nazism and Communism) predominated. At the climax of the trip, the sojourn to mournful Auschwitz was made to see the "death factory," where more than a million Jews, along with various others, perished.
"Going to Roanoke College has helped me get to where I am because I first discovered how much I enjoy studying theology and scripture in my Christian Studies classes. Also, the workload at Roanoke helped to prepare me for the workload at Princeton Theological Seminary."
Brittany Naumann '18, pursuing Master of Divinity at Princeton
Thought Leaders
Here are some recent books that have been published by Religious Studies faculty.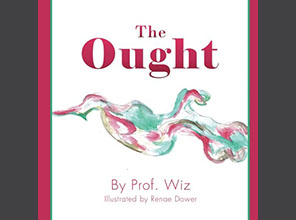 The Ought, Ned Wisnefske

Dr. Ned Wisnefske has created a picture-story book that dives into the ethics of young adults. "The Ought" is written for young adults who wonder where morals originate and why they vary between individuals. Roanoke alumna Renae Dower illustrated the book.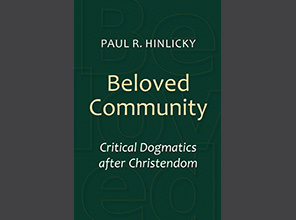 Beloved Community: Critical Dogmatics After Christendom, Paul Hinlicky

In this scholarly work Paul Hinlicky transcends the impasse between dogmatic and systematic theology as he presents an original, comprehensive system of theology especially apropos to the post-Christendom North American context.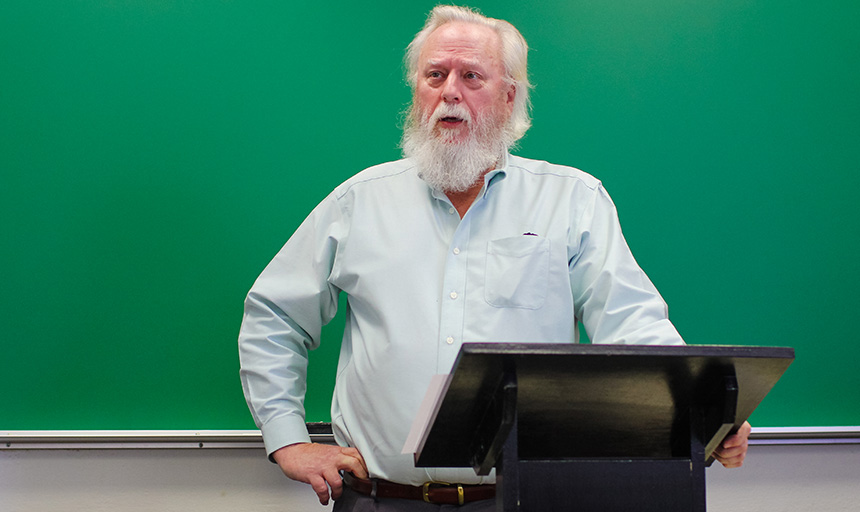 The Rev. Dr. Paul Hinlicky, Tise Professor in Lutheran Studies, releases in June "Divine Simplicity: Christ the Crisis of Metaphysics."
Sample Course Offerings:
RELG 102: Intro to Christian Theology
RELG 270: Explorations of Religion and Society
RELG 317: Systematic Theology

View all courses
Dr. James Peterson | Christian Ethics
Dr. James Peterson was invited to be a member of the International Society for Science & Religion. This society was founded in 2002, and its main purpose is to promote education through facilitating communication between the ideas of science and religion. The society's annual meeting is held every year at its headquarters at Cambridge University and its other gatherings are held around the globe.