Health Care Administration
Health care administration is designed for students interested in hospital or health care administration.
Many students will pursue a master's degree in hospital/health care administration after they graduate from Roanoke and then work for a hospital, health maintenance organization, or public/private medical facility.
Roanoke College's business administration programs enjoy accreditation from the Accreditation Council for Business Schools and Programs (ACBSP). This assures that you'll be learning the latest in business strategies and management.
For the fourth consecutive year, The Princeton Review has named Roanoke College to its list of the top 36 great schools for business/finance majors.
Alum appointed to Virginia Board of Health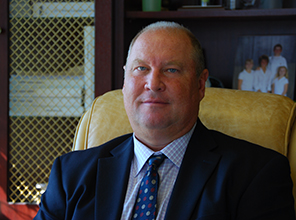 Tommy East '94 has been appointed to the Virginia Board of Health by Governor Terri McAuliffe. East, who is president and CEO of American HealthCare in Roanoke, was appointed to this state board to manage the nursing home industry. In his new role, East will establish the framework for Virginia public health services, work to fight AIDS, promote health education and ensure outreach to the state's citizens, with an emphasis on those in nursing home care.
"Roanoke's education was instrumental in preparing me and teaching me how to make a difference," said East.
Sample Course Offerings:
SOCI 223: Ethics & Medicine
ECON 227: Health Economics

BUAD 274: Human Resource Management
The 2019 Commencement activities will begin on Friday late afternoon, May 3, with the Baccalaureate ceremony at 4:30 p.m. in the Cregger Center Arena. This celebratory event is an important part of Commencement exercises and is an occasion for thanksgiving as our students complete their educational program.
Date | Time: Friday, May 03, 2019 | 4:30 PM
Location: Cregger Center