Roanoke students are fortunate to have many opportunities for realistic business experiences.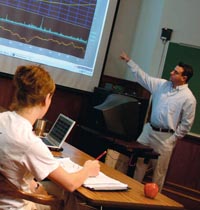 Many students expand their knowledge and skill sets through internship experiences off campus.
In conjunction with earning either the Bachelor of Business Administration or the B.A. in Economics, a qualifying student may earn the Honors in Major Designation.
The Summer Scholars Program at Roanoke College is a grant program that enables qualified students to conduct intensive, independent research for eight to twelve weeks during the summer.
A unique summer program that joins sixteen students from diverse backgrounds and experiences to develop a comprehensive business plan for a new product innovation. Students will research the patent/intellectual property process, organizational structure, production, marketing, financial aspects, funding, product design and possible exit strategies.
Independent studies provide students with a practical application of their particular majors or more specialized study in a particular area.
May Term is approximately a three week period during which students can participate in a wide array of Intensive Learning opportunities, including travel courses as well as on-campus courses.
The Fed Challenge is an academic competition that is regionally sponsored by the Federal Reserve Bank of Richmond.
Brand management and promotion management simulations
Allows students to see real marketing techniques in action. Students will gain understanding and practice in the development of an advertising campaign, the use of promotional tools and much more.
Real-life cases in marketing research
This allows a group of students to go into an actual company and perform all of the tools of marketing research. Students write a proposal and report, conduct quality surveys and use database knowledge to analyze data. They form opinions about marketing issues and suggest improvements based on their findings.
A class where students are in charge of investing and managing a half million dollars in the stock market. Unlike mock portfolios, students will gain valuable financial experience by researching stocks, managing a portfolio and taking risks while working with real money.
Roanoke College encourages all students to gain international experience by studying abroad and offers students a wide range of study abroad opportunities.

For further information and examples of how Roanoke students are able to experience the business environment first hand click here.
"The Student Managed Fund is a great addition
to the business department. Many colleges and universities
have something similar in the form of a "mock" portfolio,
but Roanoke College is unique in that we are using real money."
- Keith Petrus '06, Student Fund Manager