The Summer Scholar Program at Roanoke College is a grant program that enables thirteen students of any major with a GPA of 3.0 or higher to conduct rigorous, independent research for eight to twelve weeks during the summer. This is a full-time, tuition-free, paid position with free housing provided. In addition to the research project, summer scholars will be trained to give professional presentations.
Each summer scholar works with a faculty mentor who guides the project. Over the course of the summer, students and mentors meet for a series of colloquium to share ideas. At the conclusion of the program, during family weekend, summer scholars showcase their work and research. Roanoke students also frequently present their research work at regional and national professional conferences. The ability to conduct and present research professionally is valuable skill to bring to the job market, and the Summer Scholar Program is a perfect opportunity for business and economics students to learn to apply these skills in their respective fields.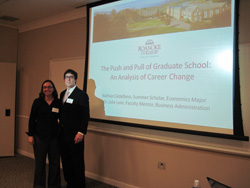 Nathan Castellano presented
his summer research the MARCUS
(Mid-Atlantic Regional Conference of
Undergraduate Scholarship) held at
Sweet Briar College in the fall of 2010.
Reasons to participate
Tuition-free course credit
$2500 student stipend
Free campus housing
$1000 faculty stipend
Develop strong writing and oratory skills
Learn to conduct and present professional research
Enjoy a communal atmosphere with other students and faculty
The due date for submission of one electronic copy of the application is March 15th. Decisions will be announced by April 1.
For the application form click here or contact Dr. Julie Lyon by email or phone: 375-4939.
Examples of Past Summer Scholar Projects
2013- Emma V. Webb, "Undergraduate Wellness Index: Construction and Implementation,"Mentor: Dr. Alice Kassens
2011 - Thornton, Katherine, The ABCs of the IMF: Latin America and the Debt Crisis of the 1980s, Mentor: Gary Fleming
2010 - Castellano, Nathan, A Study of Climates for Teaching and Research and their Impact on Student Outcomes, Mentor: Julie Lyon

2009 - Rice, Carrie, Conversion from U.S. GAAP to IFRS: How Will You Make the Change?, Mentor: Norma Clifton