Music
Our music program provides a nurturing and creative home for you, whether you want to focus on performance, composition, or research into the theory and history of music.
Members of our faculty are professional performers with a range of expertise. You'll work one-on-one with them to develop your talents at your own tempo and through your own pathways. You'll find quite a range of music here in the Roanoke Valley, both on and off campus, from classical and jazz to folk and bluegrass. The Roanoke Valley has a symphony orchestra and opera company, alternative music halls, old-time country jams and a performing arts center that regularly draws world-class musicians. Where and what you explore is up to you.
Roanoke music students have recently pursued graduate studies at the Aaron Copland School of Music, Carnegie Mellon University, Pomona College and University of Chicago. Music graduates are working as professional performers and teachers, as well as in fields as diverse as mental health counseling and wilderness engagement.
We offer both a major and a minor in music.
They make beautiful music together
Watch Video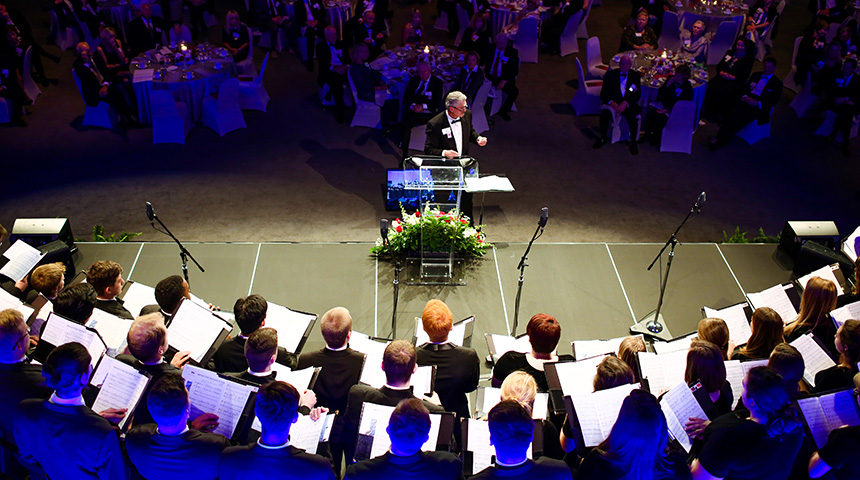 The Roanoke Choir is widely recognized for its versatility, innovative programming and professional sound.
Roanoke offers outstanding performance opportunities on campus, in the community and through concert tours.
You'll find a wide range of musical experiences at Roanoke
Instrumental Ensembles
The College's jazz, wind and chamber ensembles offer students the chance to rehearse and perform music ranging from a Count Basie big band tune to a classical masterpiece.
Internships
Music students have recently interned at Mill Mountain Theatre, Roanoke Symphony Orchestra and Flat Five Press and Recording Co.
Independent studies
We encourage you to pursue your research and creative interests projects. Recent topics include computer-assisted composition, old-time mountain music, music education in early childhood and 21st -century song cycle.
Visiting performers
Through Roanoke College's Performing Arts Series, we have a long tradition of hosting outstanding visiting artists on campus. Past performers include such musical luminaries as Christopher Parkening, Marian McPartland, John Cage, Terence Blanchard, Joe Lovano, Philip Glass, Oran Etkin, Teresa Walters, Chanticleer, Solisti di Zagreb (Yugoslavian chamber orchestra), Metropolitan Opera stars Dawn Upshaw and Jerry Hadley, comedian/pianist Mitchell Zeidwig and jazz legend Dizzy Gillespie. More recently we have hosted So Percussion, Anonymous 4 and the Washington Sazophone Quartet.
International travel
Our choirs tour locations both domestic and abroad. International destinations have included Italy, France, Ireland, Germany Brazil, England, Scotland, Wales, the Netherlands, Belgium and the Czech Republic.
Student-led a cappella
Extracurricular musical opportunities include Main Street, Looking for an Echo, and the RoaNotes. All three groups perform a variety of events.
Musician-Composer-Researcher Brings Creative Talent, Theory to Classroom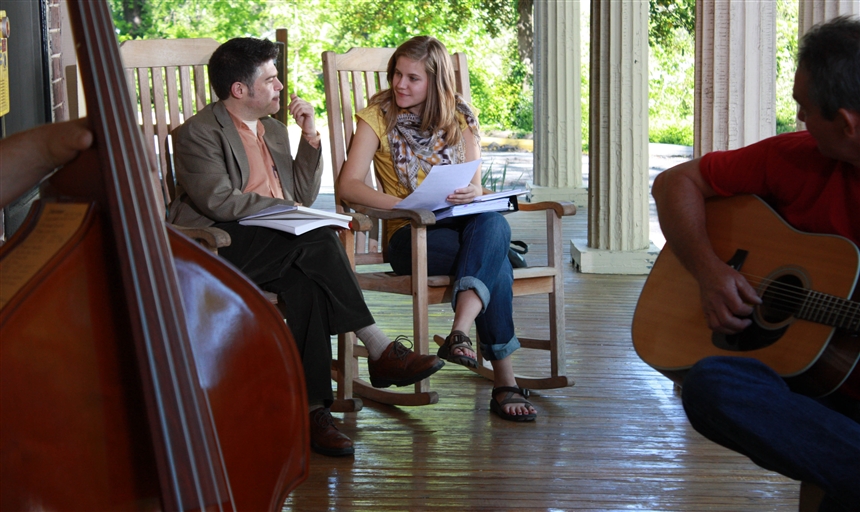 An understanding of how other musicians practice their craft can help enrich the experiences and work of students. Dr. Gordon Marsh, professor of music at Roanoke College, provides a unique classroom experience by being a musician, composer, and a researcher. In his research, he studied the works of Alfred Schnittke, and developed "a theory of understanding how Schnittke approaches musical form." In his compositions, Dr. Marsh writes for many instruments other than his own. When doing so, Dr. Marsh says that, "it's empathy, it's identification, it's knowledge, it's understanding, it's research."



Dr. Moe, associate professor of music from 1968-1996, was the first person to play the Casavant pipe organ when it was originally installed in 1970 during the dedication of the newly constructed Antrim Chapel.
Roanoke College Choir performs for the national Reformation 500 worship service at Washington National Cathedral. On campus, a reenactment of the events in Wittenberg 500 years ago is organized by faculty and students.
Sample Course Offerings:
MUSC 150: Fundamentals of Music
MUSC 240: Music and Culture
MUSC 262: Music History II: 1700 to 1900

View all courses
Professor Joseph Blaha | Music
Summit Records has released a recording of Dr. Joseph Blaha's Sonata for Trombone and Piano. Blaha is associate professor of music and director of bands at Roanoke College. The sonata is included on a CD collection titled American Voices, Vol. II: Sonatas and was recorded by trombonist Mark Hetzler in collaboration with pianist Martha Fischer.
In describing Blaha's four-movement, reflective and introspective Sonata, Hetzler says, "I consider the work to be very deep and outside the box in terms of its formal construct. In some ways it contains Ivesian qualities, not so much in the compositional details, but in the episodic approach and the seemingly larger than life result."
We offer lessons!
Looking to take your performance to the next level? Want to learn a new instrument? We offer a full range of applied music instruction no matter what major you are. Lessons can be taken for credit or for fun! Check out lessons and instructors.
Unlikely path to hip hop producer
Ryan Hunt really doesn't look the part of music producer for rapper Tyga, but that's what he is. He's also now a music major studying composition with Dr. Gordon Marsh and jazz piano with Dr. Joe Blaha. Hunt's path in music started with piano lessons at five, then playing for his church and with his high school choir.

As a teenager, Hunt got into hip hop and music production, which allowed him to combine his knowledge of music with hip hop. He used Twitter to connect with various hip hop artists and submitted beats to several rappers. In 2012, Tyga used one of Hunt's beats for the song 500 Degrees, featuring Lil Wayne, on the Hotel California album. Hunt enjoys many different genres: hip hop, pop, rock music from the 60s to the 80s, jazz, as well as movie soundtrack music. His plan is to pursue writing music, either in the pop or hip hop genre or for TV and movies.