Decals can only be purchased at the above link with a credit card. To purchase a decal with Maroon Money, please come to the Campus Safety Office in person with your RC ID. Decals purchased online will be delivered to your Campus Mail Box within 3 business days.

Established in July 1980, the Office of Campus Safety provides the highest level of professional law enforcement and 24-hour security services to the campus community, with a focus on education, community policing and pro-active crime prevention. The officers are sworn Conservators of the Peace with arrest authority on College property and the department maintains affiliations with the International & State College Law Enforcement Associations (ICLEA & VACLEA), Associations of Campus Law Enforcement Administrators, Virginia Department of Criminal Justice Services, Cardinal Criminal Justice Academy and IPMBA (International Mountain Police Bike Association). Campus Safety also provides a broad range of services, including van certification classes, self-defense training, parking decals, card access / Maroon ID services and unlocks. Any accidents, criminal offenses or security problems need to be reported to Campus Safety immediately.
Your safety and that of others on campus is a matter of utmost importance to everyone in the Roanoke College community. We urge all students, faculty and staff to play an active role in maintaining the security of our campus.
Contact Information
9 N. College Avenue
Salem, Virginia 24153

Phone: 540-375-2310
Fax: 540-375-2008
Salem Police Department Emergency Number: 911
Salem Police Department Non-Emergency Number: 540-375-3078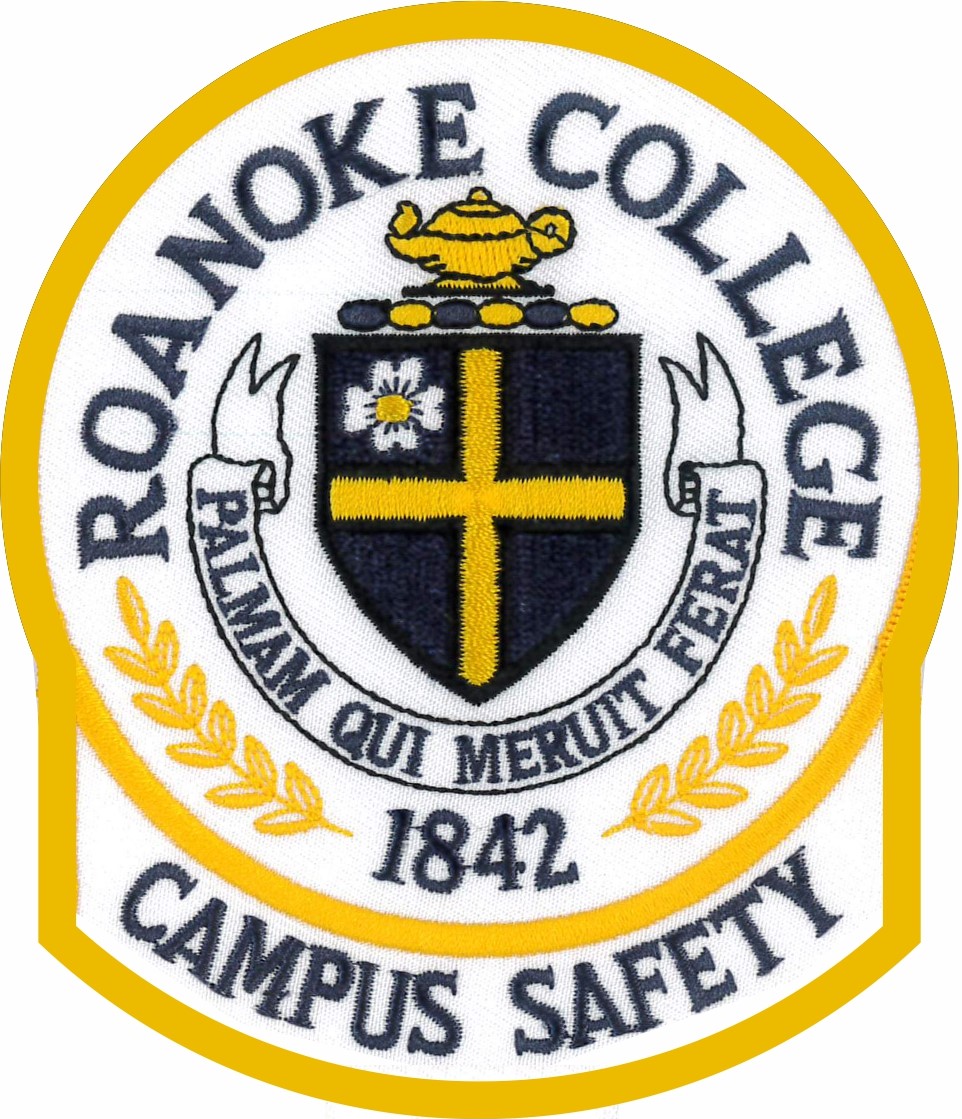 Mission Statement
The Office of Campus Safety supports the mission of Roanoke College by providing a safe, secure and orderly campus environment in which students can pursue their education and faculty and staff can teach and work. We pursue this goal through the protection of life, property and individual freedoms, the preservation of peace and order and the prevention of crime. Each day we work to achieve our goals by providing efficient support services, campus patrol utilizing community policing practices, mentoring and educating students we contact, professional and ethical investigations, effective emergency and crisis response and employing well-trained, courteous officers and staff.
Need to talk to someone outside of regular office hours? Student Health & Counseling Services offers a solution! TimelyCare offers 24/7 telehealth services for students.
For Students
Bicycle Registration – All students are strongly encouraged to register their bicycles with the Office of Campus Safety.
Decal Purchase – Please click the link to get yours! Decals can only be purchased through the link with a credit card. To purchase a decal with Maroon Money, please come to the Campus Safety Office in person with your RC ID. Decals will be send to your Campus Mail Box within 3 business days.
RC ID Replacement – Please make sure to include your Name and RC ID Number in your email request. Lost ID cards are $50 to replace. Broken ID cards are replaced for free if you bring the pieces with you when you pick up your new card. Once a new RC ID has been printed, old ID cards will no longer work, so there are no refunds.
Parking Citation Appeals - Appeals must be submitted in writing within 14 days of receiving the citation. All appeals go through the Dean of Students Office.
For Faculty & Staff
Bicycle Registration – Registration of bicycles isn't just for students! If you ride your bicycle on or around campus, please fill out this form to register it with our office.
Key Request – For faculty and staff to submit requests that keys be issued to students or other faculty/staff.
New Maroon Card - Please upload your photo here for your Maroon card and send an email to CampusSafety@roanoke.edu to let us know. You'll be contacted via email when it's ready.
Motor Pool Reservation Request
For Everyone
Report Suspicious Behavior (via the anonymous Silent Witness form)