Spanish
Spanish at Roanoke College
Watch Video
Explore the unique opportunities offered through RC's Spanish Department.
Spoken by approximately 450 million people, Spanish is the fourth most commonly used language worldwide.
With a major or minor in Spanish, you'll be prepared for an increasingly global future.
Our program allows you to pursue a range of interests through interdisciplinary investigations of Spanish language and culture including linguistics, literature, film, art, history, politics and contemporary issues. International travel, independent research and internship opportunities offer you the chance to gain extraordinary real-world experiences while developing your Spanish language skills.
Our professors are native Spanish speakers from different areas of Hispania and skilled non-native speakers, all of whom are prepared to help you master the Spanish language.
A major or minor in Spanish complements majors in the natural sciences, social sciences and humanities. Spanish students are primed for a wide range of careers in business, international relations, healthcare, education, social services, law, criminal justice and political science. The ability to communicate in Spanish is a professional asset for any career.
We offer both a major and a minor in Spanish.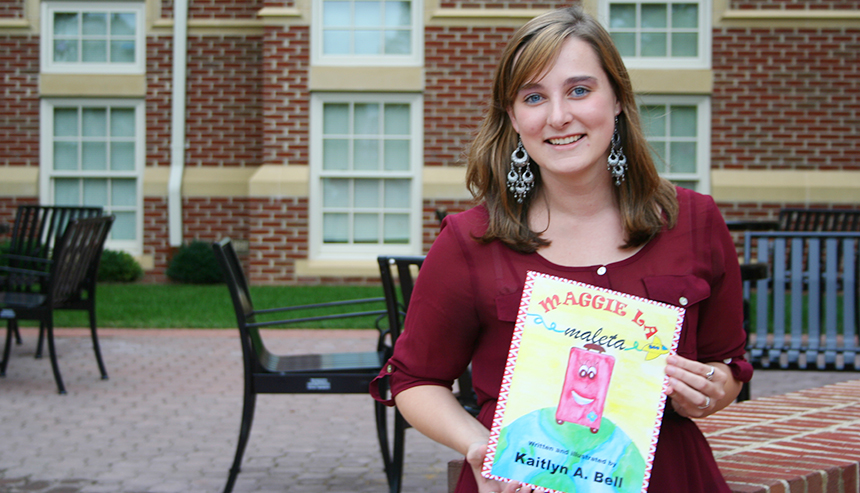 Kaitlyn Bell '14 combined her passions for Spanish and education to write and illustrate her first bilingual children's book during her senior summer. Her book, Maggie La Maleta, tells the story of Maggie, a Spanish-speaking red suitcase who is tired of being stored in an attic.
Bell uses both English and Spanish words in the same sentence or code-switching as it is known to linguists. Combining her Spanish major and education minor, she researched the impact of various types of bilingual stories on children as they try to learn a second language. "[Code-switching] provides more beneficial results for kids because they are reading the sentence and have to use the context to understand the word," Bell said.
Much of the story of Maggie La Maleta is influenced by Bell's own life. She was inspired by a red Samsonite suitcase that her mother gave to her during her college years. "Imagine all the stories that this suitcase will be able to tell," her mother said when she gave her the suitcase. That is exactly what Bell did. She began to write about the red suitcase relative to her own experiences abroad traveling to Nicaragua, Guatemala and Costa Rica, which is Maggie's destination.
Bell has since received her masters degree in Second Language Acquisition from Carnegie Mellon University.
"Studying in Spain unlocked choices I never knew possible. The intensive courses in Spanish and the thematic course on the evolutionary changes between Latin and modern-day Spanish helped me uncover a previously uncultivated passion, one that has ultimately influenced my plans for the future."
Aaron Lam '12
Sample Course Offerings:
SPAN 330: Commercial Spanish
SPAN 377: Cultural Legacies in Peru
SPAN 380: Medical Spanish
SPAN 304: Spanish Conversation

View all courses
Language and Culture of Spain
Roanoke's student-run radio station has added a diverse line up of programming for the year, including the station's first Spanish language, professor hosted show.
Gracie Goodpasture was recognized Friday, Oct. 11 on the International Day of the Girl for being one of only ten young women to receive the National Gold Award from the Girl Scouts.
Cisneros receives Fulbright ETA to Mexico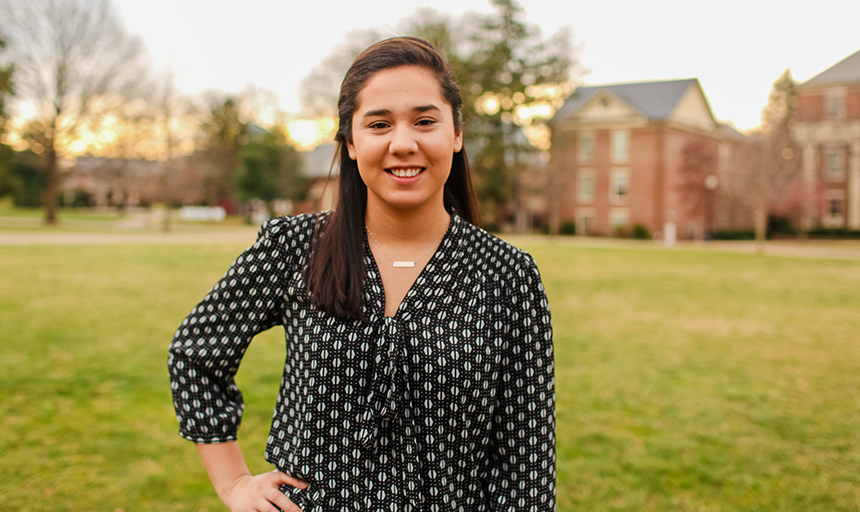 Edyth Cisneros earned a Fulbright Student Award to teach English in Mexico. "Professor Bañuelos Montes pushed me to step out of my comfort zone," Cisneros said. "At one point, he sent me and two other students on a trip to Merida in the Yucatan. That trip solidified my obsession with my heritage and Mexico. I vividly remember the moment I jumped into a cenote 129 feet below ground near Chichen-Itza. That moment made me want more. I wanted to explore the entire cave and my ancestors."
Spanish Language Skills Open Door to Medical School in Spain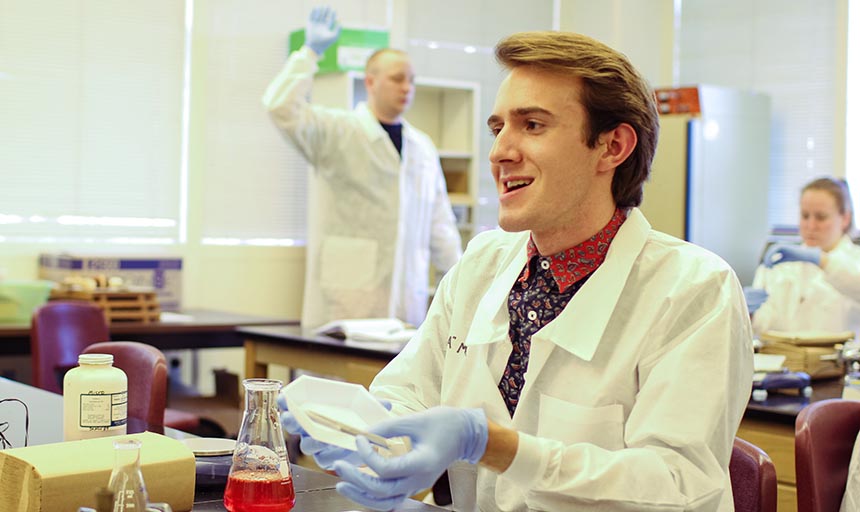 After he graduated from Roanoke College, Andrew March '16 took his love for Biology and his Spanish-speaking skills to Barcelona, Spain. There, March is studying to become a physician with a focus in public health at the Universitat Pompeu Fabra. March hopes to create healthier communities by focusing on finding the root causes for disease in his patients. At Roanoke, "I knew that I wanted to study Spanish and biology before coming to Roanoke, but my professors and coursework were integral in further developing my passion for both [Spanish and science] and allowing me the opportunities to explore interests within the two fields," March said. One of the reasons he loves spanish is he believes it offers him "a unique perspective into different cultures" and gave him "the ability to connect to others through communication," said March.
Professor Flores-Silva's work performed by student group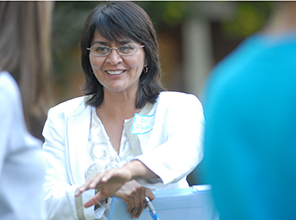 Spanish program students presented a bilingual theatrical presentation which included La Mision, an original one-act play by Dr. Dolores Flores-Silva, a Roanoke professor. La Mision, which starred Charla Henley '14, is a monologue about a Mexican woman who is plagued by the mysteries of an ex-boyfriend.
The play was a winner in a competition sponsored by the Micro Theater Miami (Florida) and was performed in April at the theater.

Flores-Silva encourages the use of foreign languages through theater. She said "Languages are a vital tool for the global world." As a native of Mexico, she knows firsthand the benefits of learning languages and actively promotes others to see them as well.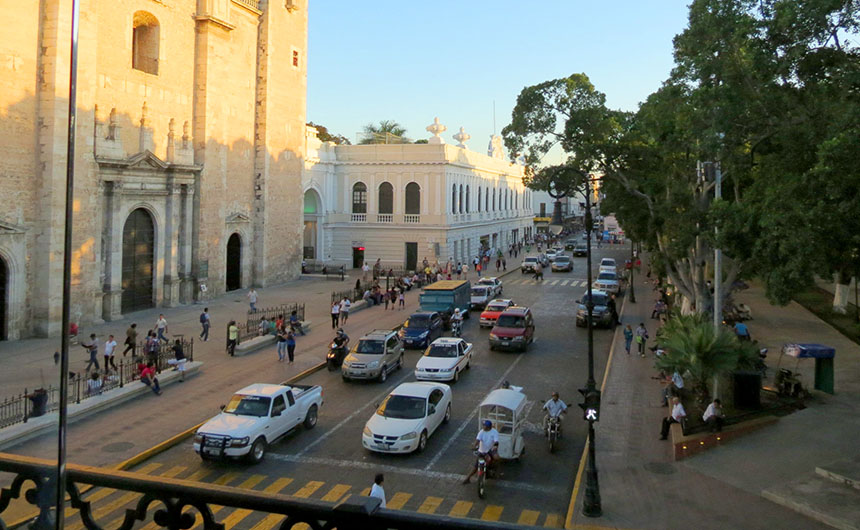 Learning by immersion in the Yucatán
For Alex Nail '16, living and working in the Yucatán during winter break was key to mastering his Spanish language skills. A Spanish major and criminal justice minor, he stayed in a private home and interned for CEPREDEY, a state organization for crime prevention.

Nail assisted with an extensive survey of local citizens that focused on social issues and attitudes towards the government and police. He conversed in Spanish at work, at home and during most other conversations. "The opportunity I had to speak Spanish the entirety of my trip was unlike anything I had experienced before," he said.
Teaching passion drives student's Fulbright work in Spain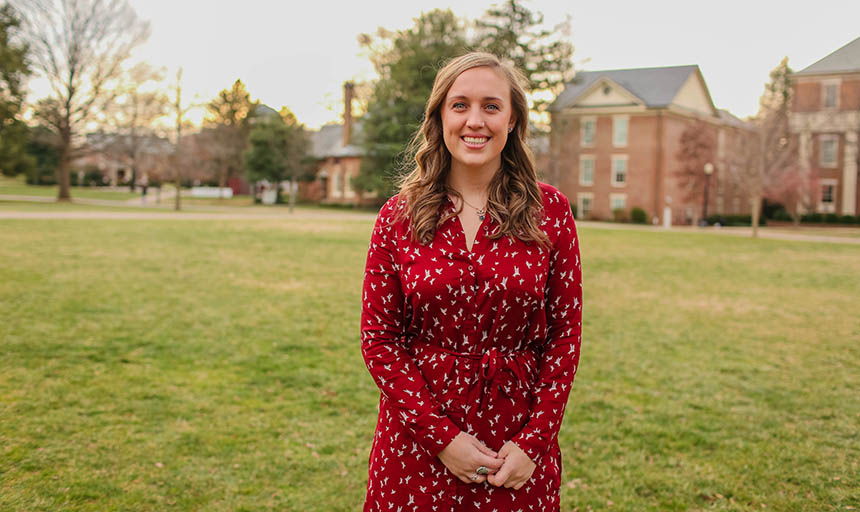 Kristen Wicander '17 was awarded a Fulbright Student Award as an English Teaching Assistant (ETA) in La Rioja, Spain. There, she taught children ages 6-12 about social studies, science, and American culture. "I absolutely love working with children, so I really can't wait to be working with spanish children," Wicander said. She was also very active in the Spanish community and took classes in order to fully immerse herself in the culture. "My professors have always encouraged me to push myself and jump in head-first to every possible opportunity," Wicander said.