Our Community
We're lucky to be part of such a diverse and welcoming community, and are committed to enhancing the lives of its citizens and the learning of our students. We want to connect our school and community in ways that benefit all parties. We encourage students to participate in the rich experiences the Roanoke Valley has to offer, and invite community members to participate in the life of the College through lectures, athletic events, and artistic exhibits and performances. We'd like to build on relationships offered by businesses, government agencies and nonprofits to provide our students with internships and service-learning experiences, and offer the support of our faculty, staff and students to help strengthen community organizations.
We believe the Roanoke Valley can be a laboratory for student/community learning and engagement. To that end, we are working to broaden our relationships with citizens in the Valley and strengthen partnerships with its many organizations:
We welcome the community to our many lectures, exhibits and performances.
We focus College resources where they can best help address local issues.
We encourage faculty to engage students in local fieldwork and urge students to participate in service projects that will benefit the community.
We work with local organizations to provide internships for students and employment for graduates.
We work with local entrepreneurs to strengthen their ventures and act as mentors to student entrepreneurs.
Upcoming Events
Roanoke College Green Initiative Event for Recycling Week
Date | Time: Friday, November 17, 2017 | 6:30 PM
Location: Cregger Center, Roanoke College
"The Trickeries of Scapin," by French playwright Jean Moliere, is a three-act comedy of intrigue, first performed in Paris in 1671.
Date | Time: November 15 - 18, 2017 | 7:30 PM
Location: Olin Theater, Roanoke College
November is Native American Heritage Month, or as it is commonly referred to, American Indian and Alaska Native Heritage Month.
Date: Saturday, November 18, 2017
Location: Roanoke College
Roanoke College Green Initiative Event for Recycling Week
Date | Time: Saturday, November 18, 2017 | 1:00 PM
Location: Back Quad, Roanoke College
Come and enjoy the artwork of Willie Baronet, in addition to highlights from the Roanoke College Permanent Collection (1842-2017) from October 27 - December 3.
Date | Time: Saturday, November 18, 2017 | 5:30 PM
Location: Roanoke College
Roanoke students are serving the community through local nonprofits, including:
Samaritan Inn
Roanoke Rescue Mission
Micah's Backpack
West End Center
Head Start
Lincoln Terrace Elementary School
Star City Foundation
Family Promise of Greater Roanoke
Habitat for Humanity
Commonwealth Catholic Charities
Thank you for offering our students internships
We all pitch in.
Watch Video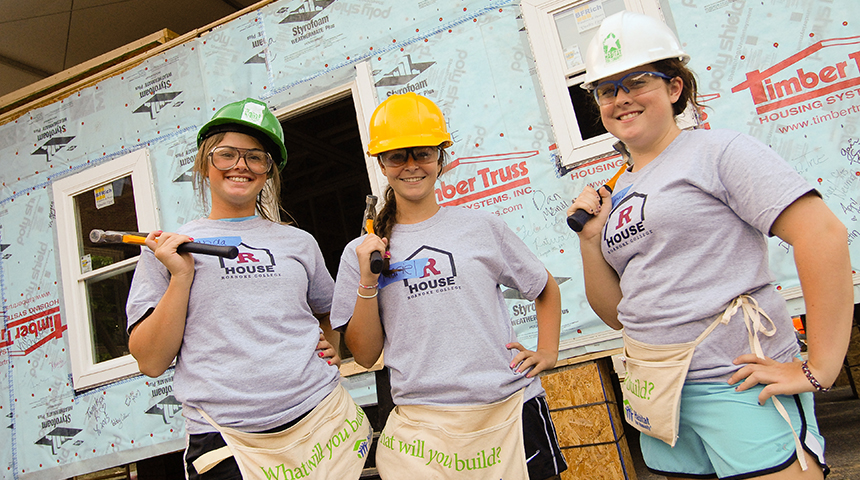 Each year, Roanoke students work with the local Habitat for Humanity affiliate to build a home for a needy Roanoke Valley family.