Fitness Center

The Belk Fitness Center is located on the third floor of the Cregger Center. Members can get a great workout using an assortment of exercise equipment including various cardio machines, selectorized strength equipment, and free weights.
BELK FITNESS CENTER SPRING SEMESTER HOURS:
Monday - Thursday: 6:00am-10:00pm
Friday: 6:00am-9:00pm
Saturday & Sunday: 8:00am-9:00pm
Spring Break 2023 Hours:
Friday March 3, 2023: 6:00am-9:00pm
Saturday March 4-Sunday March 5, 2023: 9:00am-8:00pm
Monday March 6-Friday March 10'th 2023: 8:00am-8:00pm
Saturday March 11, 2023: 9:00am-8:00pm
Sunday March 12, 2023: 9:00am-9:00pm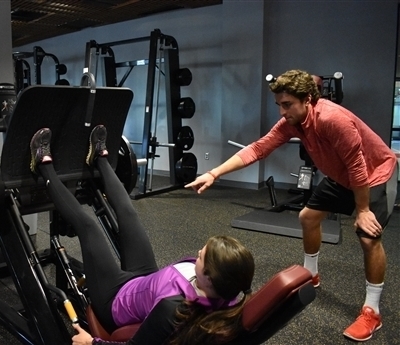 Equipment Orientation
We understand that walking into a fitness center, with its many types of equipment, can be overwhelming. You are encouraged to sign up for a complimentary equipment orientation. During an equipment orientation, you will learn how to use the cardiovascular and/or strength equipment to become more familiar with its functions. Orientations will be one-on-one or in small groups, depending on the preferences of the participants.
You will learn how to use the following types of equipment:
Cardio machines including treadmills, bikes, rowers, and ellipticals
Strength machines including selectorized equipment as well as plate-loaded and free weight equipment, if desired
We hope you leave this appointment feeling more comfortable and confident when using the fitness center.