Congratulations to the Class of 2020
May 01, 2020
The conferring of degrees for the Roanoke College Class of 2020 will occur online Saturday, May 2 at 11 a.m. Full commencement exercises for the Class of 2020 have been postponed due to the outbreak of COVID-19.
The Class of 2020 degree conferral ceremony marks a historic time at the College, with most students completing their studies at home, online, in the midst of a worldwide pandemic.
The Class of 2020 is comprised of 429 graduates from 30 states and 10 countries. Three graduates earned the honor of valedictorian — matching the College's record of three valedictorians last year. Class of 2020 valedictorians are: Kyle Elizabeth Grohbrugge, a health and exercise science major and public health minor from Grantham, New Hampshire; Kaitlyn Renee Hefele, a biology major and Spanish minor from Ashland, Virginia; and Benjamin Allen Vester, an economics and political science major from Morgantown, West Virginia.
Two students earned salutatorian honors. They are: Peyton Jean Holahan, a political science major with a U.S. history minor from Baldwin, New York; and, Lucas Campbell Weaver, a business administration major from Roanoke, Virginia.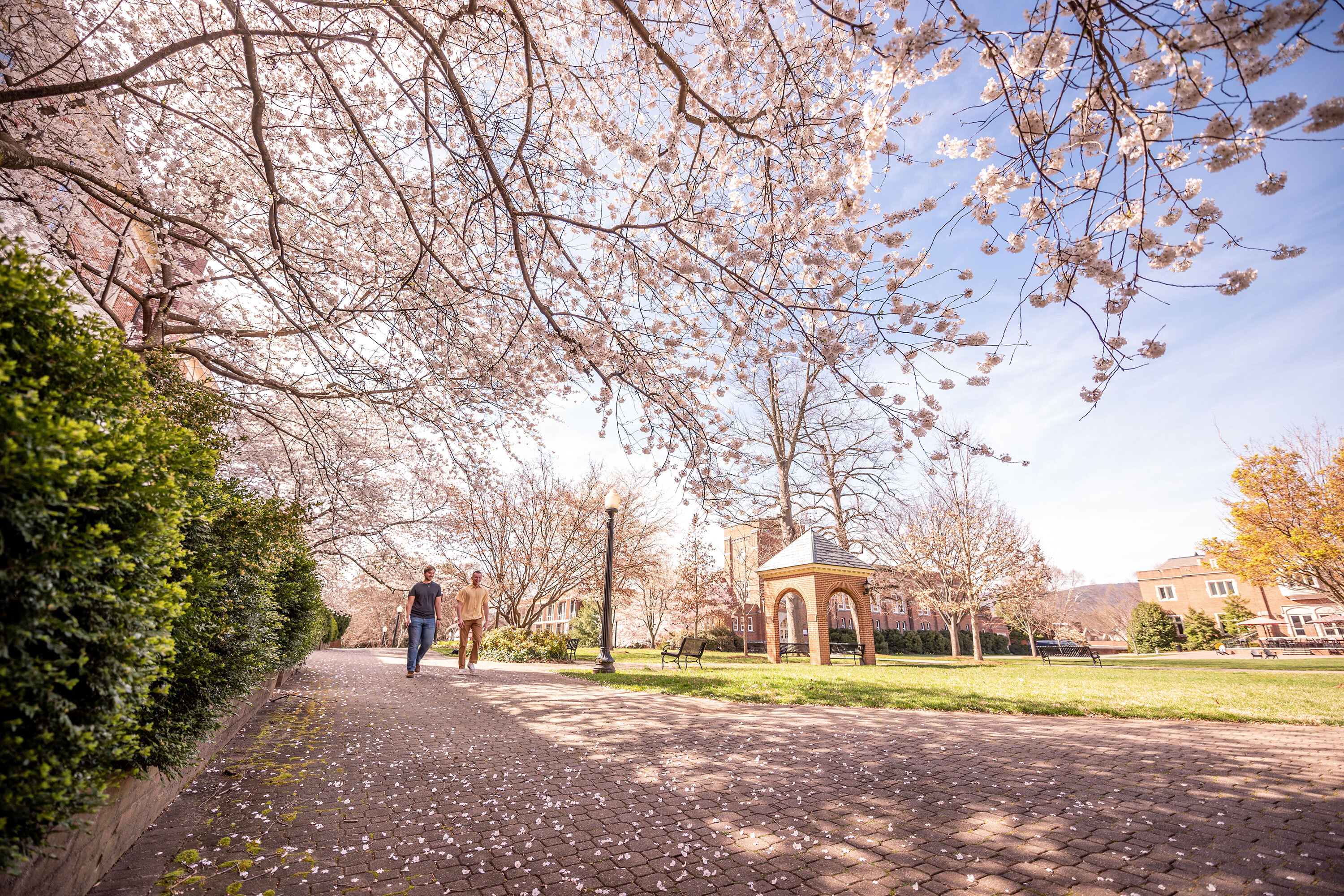 Congratulations Class of 2020! Go Maroons!
Meet these outstanding Roanoke College graduates.
Kyle Elizabeth Grohbrugge majored in health and exercise science at Roanoke College because she doesn't want to work in front of a computer all day. She plans to become a physical therapist.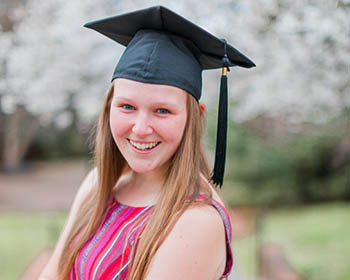 "Kyle is a wonderful student and young woman," says Cynthia Edmunds, a lecturer in health and human performance. "I have had her in a few classes, and I am her advisor. In class, she was always on top of her assignments. I used her final project as an example for the next class."
Grohbrugge says her favorite part about attending Roanoke College goes beyond the classroom.
"At Roanoke, I have enjoyed building another family consisting of new friends, professors, faculty, and staff," she says. "I always had a smiling face greeting me when I walked into Commons and my friends always yelled 'hello' when I opened the door to my hall."
Grohbrugge has been involved with the College's chapter of Alpha Phi Omega, a national coed service fraternity, since her freshman year, and has also been part of been a member of the College's chapter of Alpha Epsilon Delta, the national health pre-professional honor society; Omicron Delta Kappa, the national leadership honor society; and Toy Like Me, a College organization whose members modify toys for children with special needs.
Grohbrugge plans to attend the University of Colorado to earn a Doctor of Physical Therapy degree.
Ben Vester came to Roanoke College from his home state of West Virginia to play soccer, and ended up working for a United States senator. Vester is an economics and political science major with a particular interest in economic development. He hopes to use his education to promote economic development in West Virginia.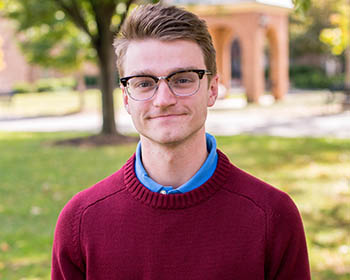 Taking his interests into account, Vester's advisors put him in touch with a recent Roanoke College alumna who works for West Virginia Sen. Joe Manchin. That led to an internship in Washington, D.C., and now Vester has a job working for Manchin.
"I'm really lucky because that experience interning for the senator wouldn't have happened if I hadn't been a Roanoke College student, if I hadn't received attention from advisors and professors who knew me personally and knew my interests," Vester says.
Other than playing for the Maroons soccer team his first year on campus, Vester has worked for the College's Center for Civic Engagement. He is a Habitat For Humanity service coordinator, secretary of the Public Affairs Society, and a student assistant for Dr. Edward Nik-Khah, professor of economics. He also interned for the Witherspoon Institute, a conservative think tank at Princeton University.
Dr. Bryan Parsons, chair of the Public Affairs department and one of Vester's advisors, says Vester's intellectual curiosity has stood out.
"He is willing to ask the hard questions, and also willing to pursue answers to those questions wherever they may lead," Parsons says. "That combination of curiosity and determination will lead to great success in his life after Roanoke, however he chooses to define it."
Katie Hefele's studies have been quite diverse during her four years as a biology major and Spanish minor. She's been involved in biology research, Spanish linguistics research, the Biology Club, and volunteering during her time at Roanoke College. Hefele says the friendships she's made stand out as her favorite part.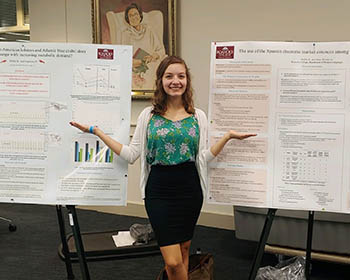 "I've made lifelong friends, and they have really made this experience amazing," she says.
Hefele will pursue a Master of Arts in Teaching degree from James Madison University, with plans to teach high school biology.
Her academic advisor — Dr. Darwin Jorgenson, Thornhill Professor of Biology — says Hefele has repeatedly challenged herself, in the classes she's taken and the research projects she's pursued.
"Her ability to work hard, to persevere, and to stay focused have been plainly evident to me," Jorgenson says.
He says he's also seen Hefele find her calling. She began with ambitions of becoming a veterinarian and pursuing a Ph.D. in science, Jorgenson says. But after working as a tutor in recent years, she has found that teaching is where she belongs.
"She is patient and caring with students who struggle with academic concepts that she finds easy," Jorgenson says.
Hefele says Roanoke College has given her the confidence she needs to pursue her career in teaching.

Peyton Holahan put her political science major to work by interning with a U.S. congresswoman and a U.S. senator.
During the spring 2019 Lutheran College Washington Semester program, Holahan interned on Capitol Hill in the office of Rep. Kathleen Rice, who represents New York's 4th congressional district. (Holohan's home, Baldwin, New York, is in Rice's district.) Holahan also interned in the Roanoke, Virginia office of Sen. Tim Kaine, of Virginia, during her junior year.
On campus, Holahan worked as a Writing Center tutor and academic coach. She is a member of the Alpha Phi Omega national coed service fraternity, and Rotaract, a Rotary-sponsored organization for young adults. Holahan plans to attend law school in the future.
Lucas Weaver was a Fintel Senior Scholar and the Senior Scholar in Business Administration. He also worked in the College Registrar's Office and as a subject tutor for business analytics. He is a member of the Academic Integrity Council. During his Roanoke College experience, he completed an honors project on online impulse buying, traveled to Paris with a May Term course and was a marketing intern for Black Dog Salvage in Roanoke, Virginia — the company associated with the TV show "Salvage Dawgs."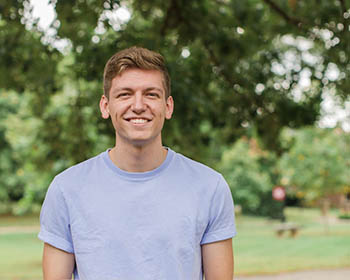 "I would not be the person that I am today without these experiences," Weaver said. "I am grateful to those within the Roanoke College community who have supported me over the last four years, especially my family in the Registrar's Office, my professors, and the Business Administration department chair, Dr. Sharon Gibbs."