Biology
Biology at Roanoke College
Watch Video
Check out what our students do within the biology department!
The Biology curriculum is designed to engage you in the process of discovering what remains unknown about the living world.
We want you to build a solid foundation of knowledge in the field and develop your ability to "do" biology—to ask questions, propose hypotheses, conduct experiments, analyze data and draw logical conclusions. Through your interactions with faculty and your peers (whether in the classroom, the lab, or the field), you'll acquire the information and skills necessary to be successful in whatever career path you take beyond the undergraduate level.
There are many ways you can gain firsthand experiences that will give you an edge in graduate school, professional school or the work force. They include assisting professors in research, conducting fieldwork through a May Term Intensive Study program and participating in internships with medical professionals and businesses in the area.
We offer both a major and a minor in Biology.
"You're digging up 14-million-year-old material, and you're the first person to ever touch it."
Jordan Hutton, about a spring break paleontological dig in Fredericksburg, Va.
Study Tropical Marine Biology in Mexico
Toy Like Me has grown over the past year, spreading more joy to kids throughout the Roanoke Valley and beyond.
Dr. Susan Ford '74 has conducted years of research on primates.
Research Leads to Job, then Graduate School
Seth Fortmann graduated from Roanoke College in 2015, and while here he completed research with Dr. Chris Lassiter. "The 3.5 years of research that I did at Roanoke absolutely gave me an advantage when applying for research assistant positions at Johns Hopkins University," Fortmann said. "I followed my passion and went to Johns Hopkins University to continue doing molecular biology research. What I came to love most was the opportunity to use my creativity to ask and answer interesting questions."

Fortmann is now a M.D./Ph.D. student at the NIH-funded Medical Scientist Training Program at the University of Alabama at Birmingham School of Medicine.
Sample Course Offerings:
BIOL 235: Microbiology Lab
BIOL 340: Animal Behavior
BIOL 420: Developmental Biology

View all courses
Student publishes research; lands aquaculture research position
Alex Kramer '17 conducts research in Dr. Chris Lassiter's aquaculture lab. His studies and a lifelong enthusiasm for aquarium fish are propelling Kramer towards a career as a hatchery manager. Aquaculture is "an environmentally friendly way to provide food where global hunger is still a problem," he says.
Kramer and Lassiter's toxicological research on the craniofacial development of zebrafish embryos was published in the scientific journal "Environmental Toxicology and Pharmacology."
Kramer's lead authorship helped secure a competitive research position at the Virginia Institute of Marine Science. He'll conduct chromosomal research that could directly impact the production yield of oyster hatcheries.
Our grads go on to great grad schools
"I am very thankful for all of the time and support I have received from Dr. Lassiter, who has allowed me to go above and beyond what I thought possible for my academic career at Roanoke College."
Alex Kramer '17
Alumna's career based on the causes she cares about | Dr. Melissa Puppa '08
Children, health, education, and science and technology—those are the causes Dr. Melissa Puppa '08 holds dear. As a postdoctoral researcher at St. Jude's Children's Research Hospital, Puppa is researching how skeletal muscle regulates whole body aging, and how exercise improves how well treatments work. Puppa earned her Ph.D. from the University of South Carolina, where she also taught anatomy and physiology. Pursuing her interest in education, Puppa recently accepted a junior faculty position at the University of Memphis.
"The greatest reward in biomedical research is when the work that you do gets translated from the bench to the bedside," said Puppa, who majored in Biology at Roanoke.
Our grads work at great organizations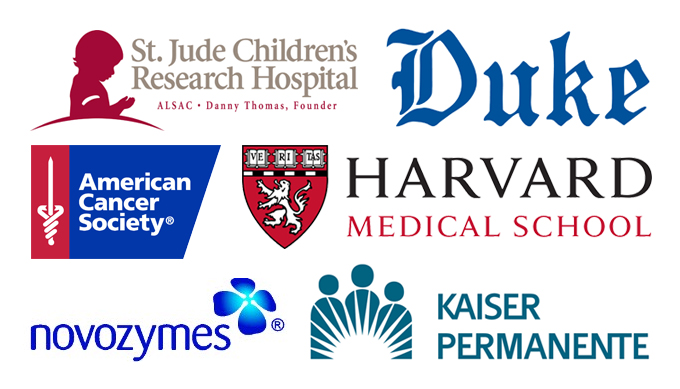 Scott is Roanoke's first Fulbright to Europe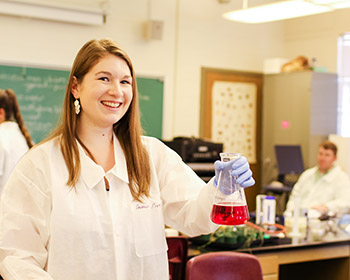 Savannah Scott '17 has accepted a Fulbright study/research award to study at the University of Technology of Vienna, Austria. Scott, who is from Huntington, N.Y., is a member of the Honors Program and a biology major, with minors in chemistry and French. She will be studying water quality in Austria from October 2017 to June 2018. Scott is Roanoke's first Fulbright to a European country. Austria awarded only seven Fulbright research awards this year and Scott successfully competed against students with masters degrees and Ph.D. students. Scott will be doing environmental microbiology research using microbial source tracking methods to assess levels of water contamination from human sources. She will be testing a variety of rivers and other bodies of water, including the Danube.
From research to internship to a career in marine biology
"I've been passionate about marine life for as long as I can remember, but Roanoke has pushed me in the right direction to find a job doing what I love," said Heather Duvall '13, a biology major.
After graduation, Dr. Rachel Collins, a biology professor, recommended Duvall for a competitive internship with the U.S. Navy Marine Mammal Program. It led Duvall to work with pregnant dolphins. She even witnessed the birth of a dolphin calf. After two internships with the U.S. Navy, Duvall is now a dolphin trainer with the U.S. Navy marine mammal program.
Hudon is Rhodes Scholar Finalist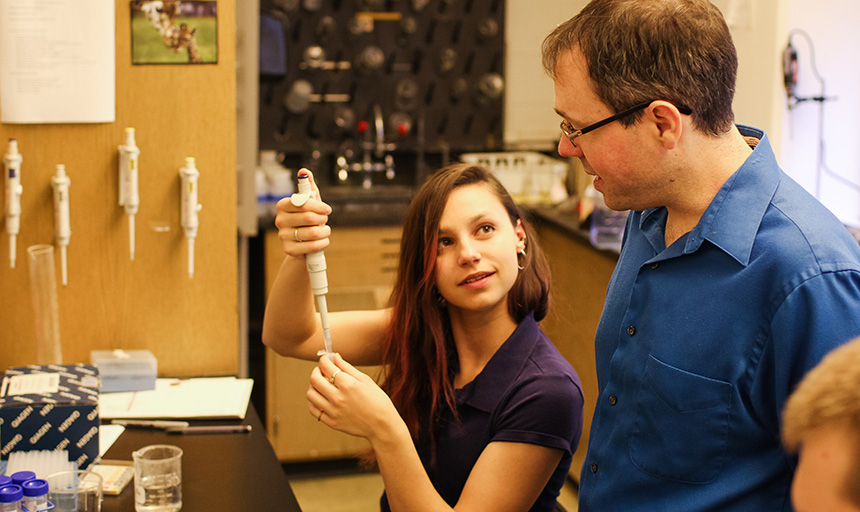 Biology major Rebecca Hudon was named a Rhodes Scholar finalist. Hudon has been working as a research assistant with Biology Professor Chris Lassiter on a genome editing tool to create mutant lines of zebrafish. She is also a pre-med student. "I'm interested in the perspective of caring for people, rather than caring for the disease," Hudon said. She aspires to become a surgeon.

"As a finalist for a Rhodes Scholarship, she has achieved a level of personal distinction that few students ever achieve," Dr. Richard Smith, vice president and dean of the college, said.
Lydiah Mpyisi researches tuberculosis to help home country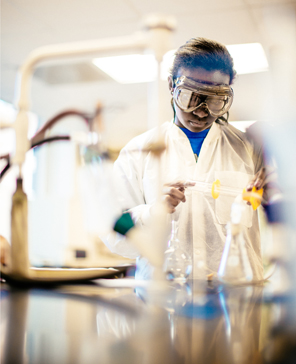 Lydiah Mpyisi '16 has a knack for lab research. While at Roanoke, she studied four Tuberculosis proteins to identify targets for antibiotics. "I got interested because tuberculosis is a big problem in Africa and Kenya, where I come from," said Mpyisi, who was born in Kenya, and is majoring in Biology and Environmental Science and minoring in Chemistry. Her research helped Mpyisi land an internship last summer at Salem-based Novozymes, a global biotech company. Mpyisi hopes to continue her research and lab work in medical school or a biochemistry job.
The 2019 Commencement activities will begin on Friday late afternoon, May 3, with the Baccalaureate ceremony at 4:30 p.m. in the Cregger Center Arena. This celebratory event is an important part of Commencement exercises and is an occasion for thanksgiving as our students complete their educational program.
Date | Time: Friday, May 03, 2019 | 4:30 PM
Location: Cregger Center
Commencement Day: Saturday, May 4, 10:00 a.m., John R. Turbyfill Quadrangle.
Date | Time: Saturday, May 04, 2019 | 10:00 AM
Location: John R. Turbyfill Quadrangle (RC Front Lawn)