Intentional Living Communities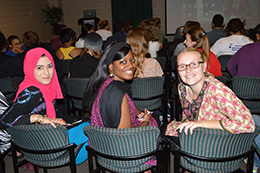 Roanoke College offers three types of Intentional Living Communities (ILCs):
Academic Residential Communities
As academically based living communities, students within these programs immerse themselves in various academic endeavors under the direction of faculty and staff members.
Located in Maxey Hall, this Affinity House houses members and friends of the Honors Program. If you are interested in living in this area, please contact Dr. William (Skip) Brenzovich, Director of the Honors Program, for further information.


Located in Beamer Hall, the Scholars Affinity House provides a living environment for students who wish to focus on their scholarly pursuits. If you are interested in the Scholars Affinity House, please contact Dr. Chris Lassiter, Associate Professor, Biology.


Greek Housing
Housing is provided for Roanoke College's nationally recognized fraternities and sororities.
Chesapeake Hall houses Pi Kappa Phi, Alpha Sigma Alpha, Delta Gamma, and Chi Omega.
The Elizabeth Campus houses four fraternities: Kappa Alpha; Sigma Chi, Pi Kappa Alpha, and Pi Lambda Phi.
Affinity Houses
An Affinity House is a group of people who live together and who share common ideas, values or beliefs, and who are actively engaged in learning from one other. Affinity Houses can give students a unique, inclusive residential learning experience that connects classroom learning with their day-to-day life. Affinity House residents enjoy all the usual advantages of living on campus, with the added benefit of living among a group that shares their interests. Through student, faculty and staff partnerships, and educational and cultural programs, active involvement in an Affinity House allows students to broaden their perspectives and understanding of the world around them, especially as related to the Affinity House theme.
If you're interested in living in one of these communities, please reach out to the advisor of the community. Specific areas may require you to provide additional application information and/or to interview to be considered for membership:
The Eco House is the place for students who have an interest in exploring the topic of "green" living. If you are interested in the Eco House, please contact Laura Hartman, Assistant Professor, Environmental Studies.


Located on the 2nd & 3rd floors of Chalmers Hall, the Global Village houses international students and U.S. students who are interested in other countries and cultures. Special programming, including international dinners, film and culture nights, holiday celebrations, and trips provide opportunities for residents to share their own cultures and learn about others. If you are interested in the Global Village, please contact Sarah Lupton, for further information.
Located in Shenandoah Hall, the Leadership Affinity House houses students with an interest in developing their leadership skills and talents. Students will learn different styles of leadership and be able to participate in events focused on the themes of team-building, communication, and mentorship. If you are interested in the Leadership Affinity House.


Located in Chalmers Hall, ground and 1st floors, this area houses students who are seeking opportunities that living among a diverse population of students can provide. If you are interested in the Multicultural area, please contact Ms. Aly Jones, Director of Multicultural Education and Retention


Located in Catawba Hall, the Sports and Recreation Affinity House is the place for students who have an interest in anything related to sports, outdoor adventures, fitness, and everything in between! If you are interested in the Sports & Recreation House, please contact Daniel Smith, Campus Recreation Manager.
COMING FALL 2023. Located on the 3rd floor of Tabor Hall, the Mosaic House is the place for students who identify beyond the binary or LGBTQ+ or those who are allies of the community! If you are interested in the Mosaic House, please contact Rachael Clark, LGBTQ+ Coordinator.